Last updated on June 1st, 2022
You just received your brand-new Canon m50 Mark I or Mark II camera, and you want to purchase a new one that goes well with it. Or maybe you have had it for some time and are ready to add an extra one. This post articulates the 12 best lenses for the Canon m50 Mark I and Mark II, showing you its features, pros, and cons.
You should know the options are not limited to what we will be discussing in this article. There are several others beyond this list. However, we think you will find at least one in this list you would like to purchase.
Ask yourself what type of lens you need. Would you prefer using a fixed-focal-length or a zoom lens? The former is best if you can get close or far from the subject, while the latter gives the flexibility to zoom range.
Some lenses have special features, such as water resistance and a built-in image stabilization system. These are optional features but may improve your overall experience with your Canon m50 and lenses.
Pin for Later
Best Canon m50 Lenses
1. Canon EF-M 11-22mm f/4-5.6 IS STM Lens
The Canon EF-M 11-22mm is the best wide-angle lens for the m50. It is versatile, compact, fast, and importantly affordable. It works great with the EOS m50 because it provides a decent wide-angle view.
The lens would work great for snapping landscapes, group photos in constricted spaces, and real estate photography.
It has a built-in Image Stabilization Motor that boosts performance in well-lit and low-light areas. The Dynamic Image Stabilization makes capturing HD videos a delight. It also ensures sharp, high-resolution videos and photos.
Some lenses have a loud autofocus system that does not perform well. The 11-22mm IS STM autofocusing system is quiet, refined, and fast.
0.15 meters/5.9 inches minimum focusing distance
0.30x maximum magnification at the telephoto end
Allows for full-time manual focusing mode
Allows for manual focusing after autofocusing
Seven blade's circular aperture helps deliver soft, beautiful backgrounds
The lens retraction mechanism makes the shorter, compact, and lightweight design possible
Pros
Quality build
Compact design
Captures crispy images
Built-in image stabilization
Cons
It does not come with a hood
Shooting RAW images results in a fall-off issue
Some distortion
2. Venus Optics Laowa 9mm f/2.8 Zero-D
The Venus Optics Laowa 9mm is a fixed-focal-length lens with an aperture of f/2.8. It has a minimum focusing distance of 12cm and has a super wide-angle lens covering a 113-degree view angle.
It is the best super-wide-angle lens for the Canon m50. The unit has two aspherical elements and three extra-low dispersion elements, helping correct distortion and chromatic aberration. It is small and lightweight, making it easy to carry around while traveling. If you want to add a filter, its thread is 49mm.
We recommend using it for landscape shots in normal and low-light conditions. The f/2.8 aperture helps draw enough light into the sensor allowing for a crisp image. Be careful it does not get wet because it is not water-resistant.
Pros
Excellent build quality
Interesting shots because of the ultra-wide
Lightweight and compact
Other models work with other mounts
Cons
Full-stops only for the aperture ring
Vignetting is noticeable
3. Canon EF-M 15-45mm f/3.5-6.3 IS STM Lens
The Canon EF-M 15-45mm is the best vlogging and video lens that works great with the Canon m50. It supports image stabilization and comes at a stylish and compact standard zoom form factor. The stepping motor assists in taking quiet and smooth videos and photos. You will barely hear any lens noise while shooting videos.
Manual and autofocusing are supported by the EF-M 15-45mm. Its high-precision, high-speed focusing utilizes the full manual focus mode to achieve adjustments.
The optical image stabilization (OIS) system prioritizes sharpness by reducing camera shake. It results in better and faster overall performance during handheld photography.
It retracts to a compact form factor, which travelers and on-the-go photographers would love. The lightweight design puts portability as a priority. Remember, it is not water-resistant.
Pros
Portable and lightweight
Silent autofocusing even while recording video
its midrange zoom offers extreme sharpness
Cons
A part of it wobbles
Slow focusing if compared with similar models
4. Canon EF-M 18-150mm f/3.5-6.3 IS STM Lens
If you are looking for the best travel and everyday use lens, the Canon EF-M 18-150mm is a great choice. It is perfect for the Canon m50, offering a wide zoom range from 18 to 150mm. You can capture an entire landscape in one second, then zoom through a subject in the next second. It provides the ability for the photographer to capture every important detail.
The 18-150mm offers an 8.3x zoom ratio, meaning you can capture a city skyline and a portrait using the same unit. It is lightweight despite having the ability to zoom in or out. The glass in it has 17 elements in 13 groups. It has a minimum focusing distance of 0.25m at 18-50mm and 0.45m at 150mm.
Pros
Handles and corrects chromatic aberrations and vignetting well
The effective image stabilization system
Captures sharp images across different focal lengths
Silent, accurate, and quick focusing
Cons
Plastic build
f/6.3 aperture early in its focal length range
5. Canon EF-M 55-200mm f/4.5-6.3 IS STM Lens
The Canon EF-M 55-200mm is the best telephoto lens for the m50 because it works well in different situations, such as portraits, wildlife, sporting events, and any subject at a distance. It produces good images in an affordable and compact package.
The equivalent 35mm focal length is 88-320mm, covering a long-range. It brings subjects close to you within a few seconds. The maximum aperture is f/6.3 at the long end and f/4.5 at the other end.
Long focal lengths offer superior isolation to the rest. Background blur is still pleasing despite its maximum f/6.3 aperture. On the other hand, handheld photography becomes more challenging as you zoom further into a subject. Image stabilization shines well in these scenarios because it reduces blur.
Pros
Sharpness at the center is good
Compact design
Image stabilization lessens blur in handheld photography
Cons
The mount is plastic
Softness in some edges
Aperture is narrow
6. Canon EF-M 28mm f/3.5 Macro IS STM Lens
Not everyone is into macro photography. However, if you are one of the few who is interested, we recommend the EF-M 28mm macro for the Canon m50. It is one of the best, if not the best available in the market.
Do you enjoy capturing your dog's eyes? What about the flower dews? Perhaps the diamond in your ring? Macro lenses let you view things from an entirely different perspective.
If you are trying to capture subjects, the built-in Macro Lite assists in lightening these subjects to reveal those bold and vibrant details. The built-in hybrid image stabilization assists in keeping images sharp by reducing camera blur.
Pros
Silent and smooth autofocus
Minimal to no distortion
Captures sharp images
LED light integrates into the unit
Compact
Cons
The mount is plastic
The maximum aperture is narrow
7. Rokinon 8mm f/2.8 UMC Fisheye II Lens
The Rokinon 8mm f/2.8 is the best fisheye lens for the Canon m50, especially in landscape astrophotography. It works well with a mirrorless camera and does not work on a regular DSLR.
By the name itself, the Rokinon 8mm f/2.8 is the second iteration or version of the same unit. You can identify with the II in the camera name.
The second version offers a broader and ribbed focus ring. The aperture and focus rings also rotate smoothly with no issues. The aperture ranges from f/2.8 to f/22.
The Rokinon 8mm f/2.8 is not weather-resistant, so be careful when using it outdoors in inclement weather. It has a thread size of 67mm and a minimum operating distance of 0.3048 meters.
Pros
Excellent build quality
Saturated and sharp images
Accurate color reproduction
Cons
Challenging to use for first-timers
8. Rokinon 35mm f/1.2 Lens
The Rokinon 35mm f/1.2 is the best portrait lens for the Canon m50 because of its wide angle of view and an aperture range of f/1.2 to f/16. It has a minimum focusing distance of 0.38 meters, which is excellent for a 35mm prime lens. It has seven groups of nine elements and a filter thread size of 62mm.
The focus ring of the Rokinon 35mm f/1.2 is terrific. It is big and turns smoothly. It is a great companion for all your landscape and portrait shots. You can remove the lens hood, but we recommend not to remove it.
Pros
Images look natural and sharp
Minimal distortion and no chromatic aberrations were noticeable
Excellent performance in low-light at f/1.2
Cons
No weather sealing
The weight may be too heavy for some users
9. Rokinon 50mm f/1.2 Lens
The Rokinon 50mm f/1.2 is the best 50mm portrait lens on the market. It works great on any mount, including the Canon m50. The glass has ultra multi-coated, allowing sharp images. The optical construction consists of seven groups of nine elements.
The focal length for this model is fixed at 50mm (75mm equivalent) and has an aperture ranging from f/1.2 to f/22. If you plan to add a filter size, look for a 62mm. The fast aperture and sharp image quality make it a perfect 50mm for the APS-C format.
Pros
Nice bokeh effect and contrast
Great control over lens flaring
Low distortion and low vignetting
Produces sharp images
Cons
The hood and barrel are plastic
It does not offer the nicest flares
10. Rokinon 85mm f/1.4 Series II Lens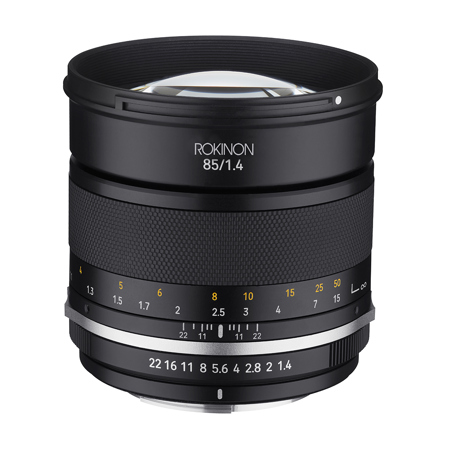 The Rokinon 85mm f/1.4 is one of the best 85mm portrait lenses for the Canon m50. The Series II or Mark II has an optical construction of nine elements in a group of seven. The UMC and hybrid aspherical element maximize image contrast and quality even at the widest aperture. The f/1.4 aperture is fast and performs well in low-light conditions. The lens hood comes with the set and is reversible and removable.
The Mark II has a new focus locking and de-click. It is also weather-resistant, meaning you can use it without worries in inclement weather conditions. The images are accurately vivid, and the focus quality is smooth. You can enjoy smooth bokeh on portraits that effectively separate the background and the subject.
Pros
Produces sharp images and accurate color
Weather sealing
The bokeh effect is creamy
Excellent for interview and portrait photography
Cons
No lens contacts
Not too sharp at the widest aperture
11. Mitakon Zhongyi Speedmaster 35mm f/0.95 Mark II Lens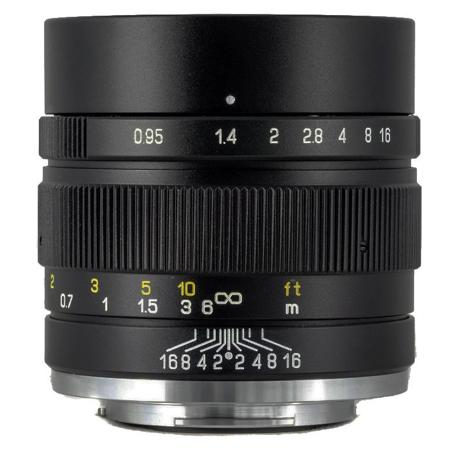 The Mitakon Speedmaster 35mm weighs 460 grams, which is quite heavy for a lens of this focal length. It flares a lot and does not have an autofocusing capability.
However, the f/0.95 aperture makes it one of the best low-light lenses for the Canon m50. The characterful images it produces make it promising if you can get past its flaws.
The Mitakon 35mm is versatile, isolating subjects very well. It performs well in video and photos. It has eight groups and eleven elements and an angle of view of 43.5 degrees.
Pros
Performs well in low light because of the f/0.95 aperture
Precise and smooth manual focusing
Solid build
Nice bokeh effect
Cons
No image stabilization
Weighs a lot for a 35mm focal length
12. Sigma 16mm, 30mm, and 56mm f/1.4 DC DN Contemporary Lenses Kit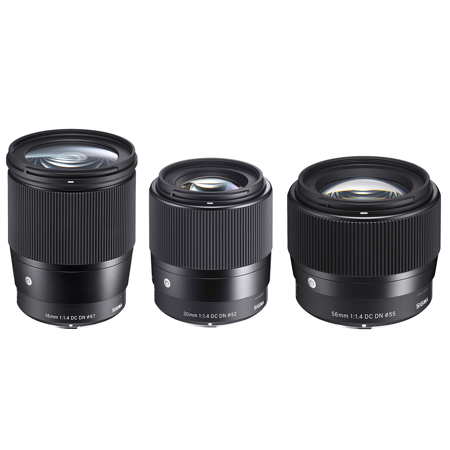 If you are in the market for a lens package set, look no further than the Sigma 16mm, 30mm, and 56mm contemporary lenses kit. These three lenses work best with the Canon m50, providing comprehensive coverage from wide-angle to portrait-length lenses.
All three have a maximum aperture of f/1.4, allowing them to work well in low-light conditions. You can bump up the aperture or increase the shutter speed in well-lit surroundings. The optical construction uses several elements in groups, lessening chromatic aberrations and color fringing.
The stepping autofocus motor in all three lenses is silent, fast, and precise, making it work well in taking videos and stills.
Pros
Excellent maximum aperture at f/1.4
Nine round blades make up the pleasing and smooth bokeh effect
Conclusion
Several lenses work great on the Canon m50. The first thing you need to look at is your need.
Do you need a zoom or prime lens?
When you have the answer to that question, decide what focal length would best work for you.
If you like taking portrait photographs, we suggest a prime lens with an aperture of at least f/2.0. We recommend getting a zoom lens if you prefer an all-around lens that can easily zoom in or out.
Regardless of your needs, there will always be at least one lens that will work great with you. Take a look at the pros and cons of each item mentioned above. Check if you favor the pros and can get past the cons. The ultimate decision lies with you.