Last updated on November 3rd, 2023
Most decent laptops cost $800. But business professionals and remote workers are easily averaging $2000 for a high-end laptop, especially if the brand is from Apple with their new M3 lineup. If your savings account balance or income depends on protecting your workhorse, investing in the best laptop carry-on when traveling by plane, train, or bus is essential.
With today's lifestyles being impacted by technology, remember this factor when packing for your next trip. Aside from your smartphone, you may need to bring a camera, a drone, a tablet, and other gadgets, but the laptop is the top piece of equipment everyone seems to bring. A laptop isn't the easiest to pack, so a robust piece of travel gear to organize electronics will simplify your life.
Travelers are getting smarter as they hit the road and ensuring they are prepared for all situations. They know how to make the most of the little resources they have on hand and minimize their traveling style to help make the trip smooth sailing.
Laptops are getting smaller and thinner every year, and they don't seem to stop with the innovations available to the masses. However, they can still encumber items to bring along on your next trip. Not only should you think about the laptop itself, but the accessories you must bring, plus the safety of your device's hardware and data/software side. As a result, it's crucial to have a laptop-compatible suitcase or backpack for flights or train rides.
Thankfully, luggage and backpack brands are listening to the needs of travelers everywhere. You can now choose from various form factors, materials, and styles. Many reputable brands have made the laptop compartment a staple in their carry-on designs. Read on to see the best carry-on luggage with a laptop compartment.
At a Glance:
What to Look for in a Carry-on Bag with a Laptop Compartment?
What do you need in your bag? A documents storage compartment is a top choice for all your passports and IDs. TSA locks and anti-theft construction are also ideal for saving your most important belongings.
A water bottle pocket and a smartphone holder could keep all the essentials easily accessible. The warranty also lengthens the useful life of your luggage, so you may want to check the terms and conditions of the brand you want to consider. There are a lot of features to think about when making a purchase — more than ever before.
The choices that are made available all have good features, but they cater to particular types of people and travelers. Many claims to be the best carry-on luggage but miss a few features here and there.
Other brands have not adapted to the fast-paced technological lifestyle that many travelers — especially digital nomads — have decided to live. Here are some factors you should consider when shopping for a new carry-on with a laptop compartment to help navigate your new adventure.
Size
Of course — what's the use of a laptop compartment that is way too small or too big for the tech you are packing? You need a snug fit for your laptop to avoid dreaded dents and scratches.
Many luggage dimensions are readily available on their websites or catalogs, so you should know what dimensions to watch for. You should note the size of your laptop and the standard carry-on luggage allowable on your favorite airlines and airports. The cabin sizes for airlines can vary, so stay on the smaller end if you don't usually stick to one airline.
Style
We're not just talking about fashion (but also important). We're looking at the different form factors of carry-on luggage that you can choose.
In our list of the best cabin luggage with laptop compartments, we have popular backpacks and trolleys because of their ability to hide many compartments and hold a large volume of items.
We have some more robust designs and others with a sleek, minimalist look. Very often, the more stylish the design, the more expensive the item is. Ensure you get something that suits your budget and style — you don't want to cramp your outfit with ill-fitting luggage.
Material
Since you are packing away so many items, you should consider if you will get a hardside or softside style of luggage. Each has pros and cons and will affect the items you can pack inside and the luggage's longevity.
If you want lightweight luggage with several pockets, soft-side luggage may be enough for you. But a hard-side case could be the ideal carry-on if you like a bit more structure, security, and minimalist organization. We recommended getting a hardside carry-on luggage with a laptop compartment for maximum protection.
Flexibility
Your luggage should fit in all kinds of spaces you will work within. You never know what situation will arise, and you want to be ready for any travel and storage situation you will end up in.
You might find yourself needing to take a long walk in the absence of taxis or public transport. You might have a tiny hotel room without much space to open a massive piece of luggage. For all these scenarios, you want to be accommodating.
Price
Do you have a budget available for luggage with a laptop compartment? Such extra features sometimes mean a premium on the price tag, especially if it is necessary to use high-tech materials or more precise construction.
Setting aside a budget for a good luggage set with the necessary pockets and compartments would be good. After all, you want a product that will take away the small hassles of jet-setting life while being robust and reliable enough to last you for years.
This is not an exhaustive list of the factors you should consider when buying new carry-on luggage, but these are among the most important ones affecting your purchasing decisions.
5 Best Carry-On Luggage with Laptop Compartment
Are you wading through tons of options in the mall and online? Here are our top picks for carry-on luggage with a laptop compartment available online.
1. Horizon Studios M5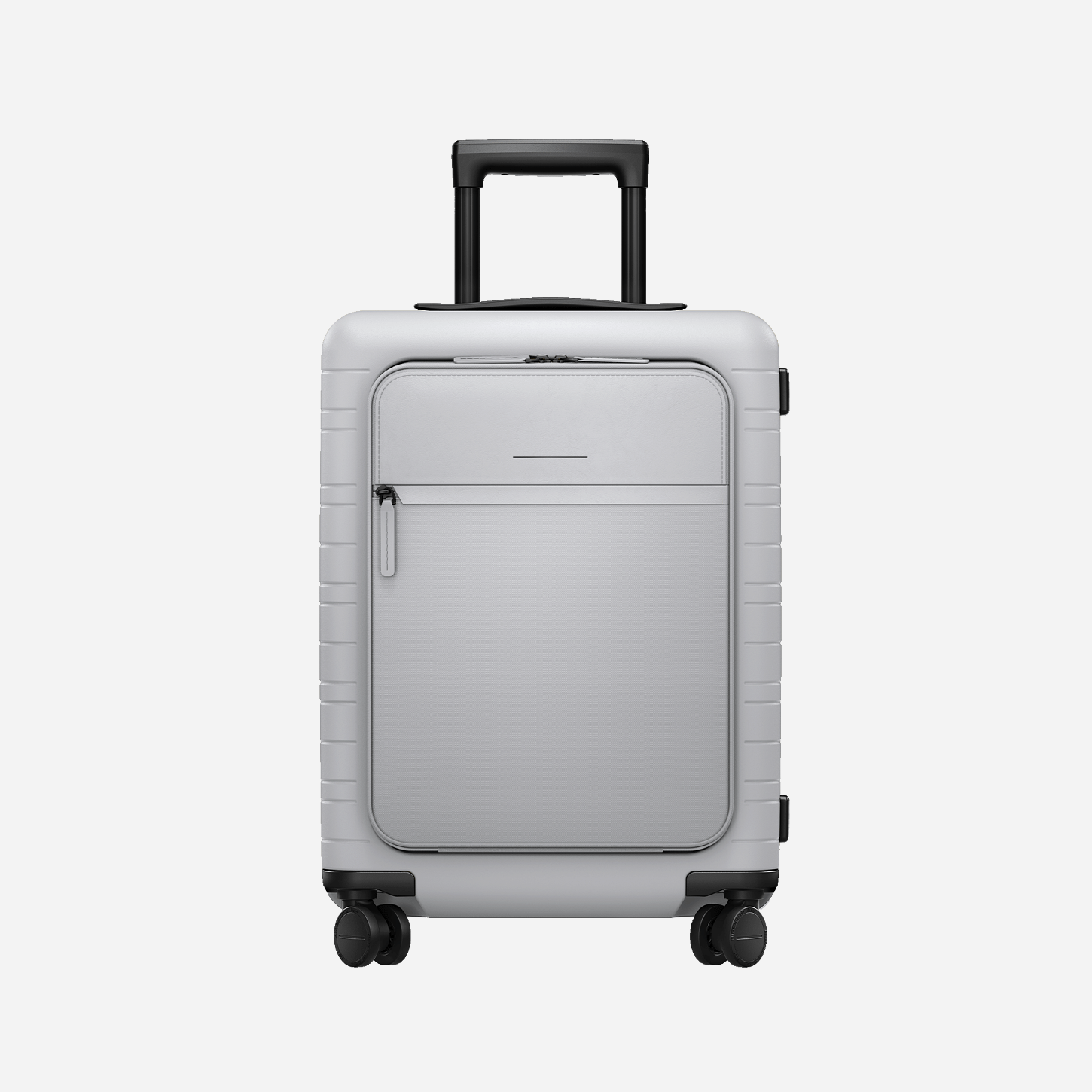 Introducing the Horizn Studios M5 — the perfect carry-on for travelers with a laptop.
This lightweight, durable hardshell fits up to a 15-inch device and is designed for the most ambitious and sustainable travelers.
Crafted from a partially recycled, aerospace-grade hard shell and finished with a recycled, water-resistant lining, this luggage is as eco-friendly as stylish. The four 360° Japanese spinner wheels make taking your essentials with you a breeze, while the TSA-approved lock gives you peace of mind. Besides the locking mechanism, the M5 features two dual-zippered mesh screens and a four-stage telescopic handle.
And if you're always on the go, the battery that comes with the M5 is removable and even doubles as a portable charger for your phone. Finally, every component of the M5 is crafted from PETA-approved, vegan materials and is backed by a lifetime warranty.
2. Aerotrunk Pangolin Carry-On
For the savvy traveler who wants to protect their laptop and stay within a budget, the Aerotrunk Pangolin Carry-On is a top choice. This carry-on luggage is designed to securely store and protect laptops up to 15 inches in size, giving you peace of mind as you travel from point A to point B.
Made with premium Makrolon polycarbonate and YKK zippers, the Aerotrunk Pangolin Carry-On is durable and stylish.
With a TSA-approved lock, you can rest easy knowing your belongings are safe and secure.
The organized internal compartment helps you keep your items in order, and with a lightweight design of just 8 lbs, it's easy to handle on the go. Plus, the included leather luggage tag is a perfect finishing touch.
With a 100-day risk-free trial, you can try out the Aerotrunk Pangolin Carry-On with confidence that you'll love it.
3. Nomatic Travel Pack
View on Nomatic
The Nomatic Travel Pack is a tactical backpack with a TSA-ready 15-inch laptop sleeve, allowing smooth access at airport security checkpoints. There's even an additional sleeve for a 13-inch tablet and an accessories pocket for power adapters and cables.
This nifty backpack is thoroughly designed to provide travelers convenience. It has a sunglass case that hides away nicely. A magnetic water bottle holder that compresses when not in use. And it's made with YKK zippers and durable, water-resistant material backed by Nomatic's lifetime warranty.
If you need more space in the backpack, it can quickly expand from 20 to 30 liters allowing you to turn your two-day trip into three. There's also no need to bring a travel wallet since there is an RFID safe pocket in addition to a hidden pocket for cash.
4. Rimowa Essential Sleeve Cabin S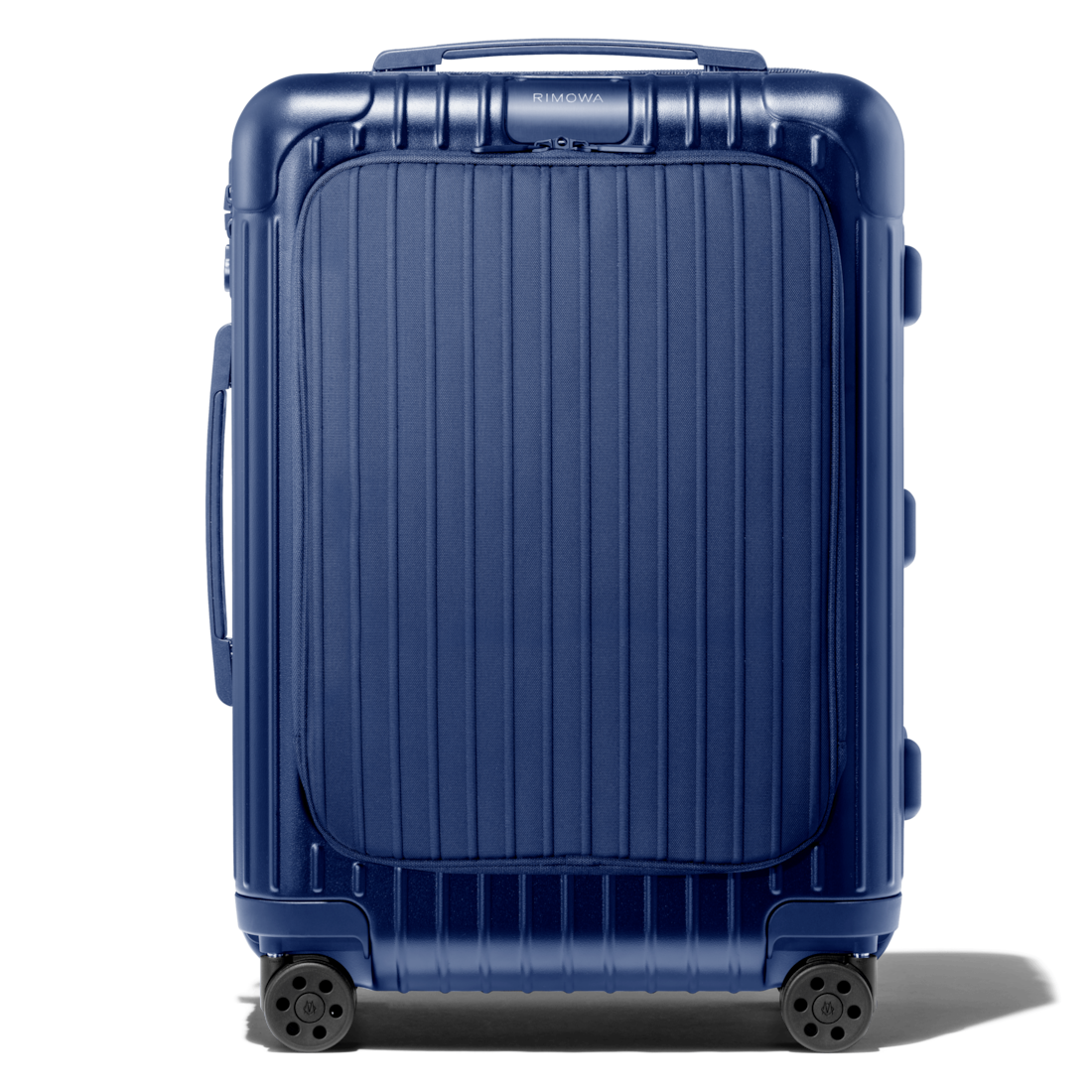 Designed in Germany, the Rimowa Essential Sleeve Cabin S is a best-in-class luxury cabin suitcase. The carry-on is built with a front-pocket-style laptop compartment that easily zips out.
This carry-on is made of lightweight, resilient polycarbonate that weighs 7.7 pounds. The multi-wheel system is also designed with polycarbonate that provides smooth steering across the airport.
In the interior are flex dividers on each side that allows you to compress your belongings in addition to the small side pocket for essentials. Maybe you won't need those packing cubes here?
One thing to note is the size (22 x 16 x 8 inches) is a little bit too wide for some airline carry-on size limits, which is common among many cabin suitcases. But most airport bag-size checkers will have some leeway.
The Rimowas Essential Sleeve Cabin S also comes with TSA-approved locks, luggage tag, sticker set, and a five-year warranty.
5. Nomatic Carry-On Pro
Are you looking for easy access to your laptop while at the airport? Then that's simple with the Nomatic Carry-On Pro, which is built with an innovative tech compartment.
The standout tech compartment can easily store your laptop, tablet, power bank, headphones, and other electronic devices. The package also includes a laptop tech case/sleeve that can be pulled out and used as a messenger bag with its removable shoulder strap.
The interior has reasonable compartmentalization with folding panels and compression straps. Though this cabin luggage was thoughtful in helping you pack more, the tech compartment does take away some space for your clothes. Therefore, this 29-liter carry-on is best for one or two-day trips unless you remove the tech case and slide it on the handle. Now, you'll be able to fit more belongings in the tech compartment.
The Nomatic Carry-On Pro is made with an extremely tough but lightweight Makrolon polycarbonate and is backed by a lifetime warranty.
6. Arlo Skye Sky Zipper Carry-On Max with Front Pocket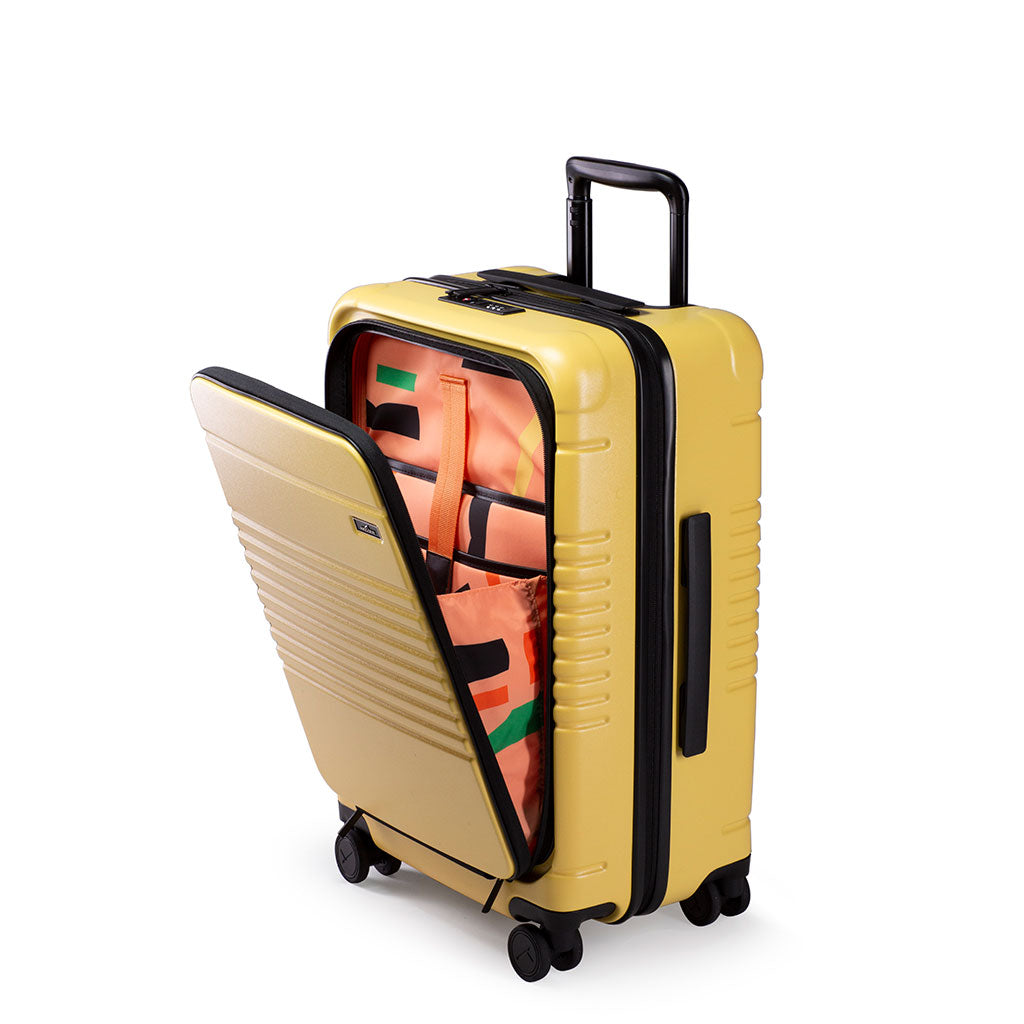 The Arlo Skye Zipper Carry-On Max with Front Pocket has a whopping capacity of 47 liters, perfect for your four to five-day trip.
This stylish cabin luggage with a laptop compartment fits a 15-inch laptop and comes in five colors: sea sage, champagne, navy, lemon, and black.
Fast Charger
We all know how nerve-wracking it can be when our phone batteries are running low while traveling.
With the included 10,050 mAh charger available with 18W USB C and A ports, the charger has blazing-fast PD technology and halfway charging capabilities that allow you to charge your phone halfway in just under 30 minutes. This feature is perfect for those who need to have a charged device all the time.
Stylish Design
The Arlo Skye Zipper Carry-On Max with Front Pocket boasts a sleek and modern design that elevates your style game. The bag is crafted from aluminum-magnesium alloy, making it durable and lightweight, and it comes in stunning colors and finishes that complement your outfit. It's like having a chic and fashionable extension of your OOTD.
Additional Features
The Arlo Skye Zipper Carry-On Max with Front Pocket has additional features that any traveler will appreciate.
These include two shoe bags, one laundry bag, a full-grain leather name tag, and an anti-microbial lining infused with natural silver fibers, neutralizing odor-causing bacteria to prevent germ growth.
Quiet, 360° Spinner Wheels
Gone are the days when you'll hear a rumble every time you pull your luggage.
The Arlo Skye Zipper Carry-On Max with Front Pocket has 360° spinner wheels that are 15% quieter than standard polyurethane options used by mass-market brands. This feature adds to the smooth and effortless mobility of the bag.
Conclusion
There is a fantastic selection of laptop carry-on luggage with wheels. From backpacks to rolling luggage, you have many pieces to choose from. It all depends on the size, style, material, flexibility, and price you would like to go for.
Laptops have been built better than ever, but that doesn't mean they don't deserve consideration when you bring them along on a trip. Measure your laptop specifications correctly to ensure they fit well within your luggage. Don't forget the other accessories like charging hubs and cables.
What's important is that you know what your traveling style is like before you make your purchase. Understand if you like using backpacks or rolling luggage, prefer being hands-free, or bringing your entire life in one small bag. Investing in your ideal carry-on is a lot of fun, and all it takes not to be overwhelmed is to remember that your luggage is for your comfort and convenience above any other features.
Related Articles:
---
Frequently Asked Questions
Does a laptop count as a carry-on or personal item?
A laptop typically counts as a personal item when you are traveling. The exact restrictions depend on the airline and travel route, so be sure to check with your carrier before packing your laptop in a carry-on bag. Generally, most airlines allow passengers to bring one small personal item (like a laptop) in addition to their one free hand luggage allowance. However, some have more restrictive regulations around the size and weight of any items placed in overhead bins or under seats. Additionally, certain airlines may require that laptops be removed and screened separately at security checkpoints (including international flights). Make sure to account for this extra time when planning your trip.
Is a laptop backpack considered a carry-on?
In most cases, yes, airlines consider a laptop backpack with a designated laptop compartment a carry-on item. It is important to check with your specific airline for their guidelines on what items are allowed on board as a carry-on. Generally, the bag's dimensions should not exceed 45 linear inches (length + width + depth). The maximum weight for a carry-on item may vary from one airline to another, so it's best to read the individual policies for each airline before traveling with your backpack in a laptop compartment.
In addition to considering the size and weight restrictions when traveling with a backpack with a designated laptop compartment, it is also essential to ensure that the bag meets any additional requirements set by the airline.
Additionally, many airlines have recently implemented policies restricting the number of personal items and/or bags allowed on board with each passenger. Therefore, it's best to check with your individual airline before traveling to ensure that you meet all of their guidelines and restrictions with your laptop backpack with a designated laptop compartment.
Overall, with careful consideration of size, weight, and other requirements set by the airline, a laptop backpack with a designated laptop compartment can usually be considered a carry-on item. However, it is always best to read and adhere to the individual policies of your airline before traveling with this type of bag.
Is a laptop part of the 7kg hand luggage?
A laptop is usually considered part of the 7kg hand luggage allowance. However, some airlines may treat laptops as a separate personal item from the main cabin baggage, so it's important to check with your airline before traveling.
Furthermore, if you carry fragile items such as notebooks or laptops in your hand luggage, ensure they are well-padded and secured against bumps and jolts during transit.
Overall, it's important to understand your airline's policy on hand luggage before you travel so that you can pack accordingly. By being aware of the limitations and regulations for hand luggage items such as laptops, you can rest assured that your belongings will be safe during transit. So don't forget to check with your airline beforehand.
How many laptops can I bring in my carry-on bag?
The number of laptops you can bring in your carry-on bag will depend on the airline or other modes of transportation. Most airlines don't have a laptop limit per passenger but may have additional limits on size and weight depending on the type of aircraft being used. It is important to check each airline's policy or the TSA rules before bringing multiple laptops with you in your carry-on bag.
In general, you should be prepared to place all laptops in a single bin or have them scanned at security. If the laptops are too large for the overhead compartment, they may need to be gate-checked before boarding. It's also important to make sure that any lithium batteries stored with your carry-on luggage meet the airline's requirements for safety and size. Finally, make sure that all laptops are powered off and securely stowed away during takeoff and landing. Following these guidelines will help ensure a safe and hassle-free experience when traveling with your laptop.
What is the best business suitcase with a laptop compartment?
The Nomatic Carry-on Pro is the perfect choice for business professionals needing extra space and laptop protection. This suitcase features a special laptop and tech compartment that can fit up to a 15″ laptop, as well as an accompanying tech case or bag. It also includes a lifetime warranty, making it a great investment for those who travel often. The suitcase is lightweight but tough enough to handle frequent trips' daily wear and tear.
Its size makes it suitable for one or two-day business trips, giving you plenty of room for your important items without taking up too much space in your luggage. With its thoughtful design and reliable construction, the Nomatic Carry-on Pro is ideal for busy professionals looking for an efficient yet stylish way to transport their laptops. So whether you're a frequent business traveler or just need an easy way to protect your laptop while on the go, this suitcase is a perfect choice.
What is the best Samsonite carry-on with a laptop compartment?
The Samsonite Underseat Carry-On Spinner is the best option for travelers needing a laptop compartment. This spinner suitcase fits easily under most airline seats and comes with a built-in USB port, multi-directional spinner wheels for 360 rolling, and the main compartment featuring a padded laptop compartment that fits laptops up to 13.3 inches.
It also includes front and side pockets for additional storage of small items like headphones or chargers. This carry-on is the perfect travel companion with its sleek design, lightweight construction, and durable materials. Enjoy convenient access to your belongings and easy maneuverability with the Samsonite Underseat Carry-On Spinner.
What is the best carry-on with a laptop compartment?
The Rimowa Essential Sleeve Cabin S is a great choice. This German-engineered carry-on bag offers plenty of storage with flexible dividers that are easily compressible, allowing you to customize the space as needed. With room for a 15" laptop and TSA-approved locks, it's perfect for one to three-day trips. The slim profile also makes it easy to store in overhead compartments or under your seat.
Whether you're headed across town or around the world, this lightweight yet durable bag will surely fit all your needs. So don't worry about lugging around a bulky laptop case — the Rimowa Essential Sleeve Cabin S has got you covered.
About the Author: Liya Kravchenkin
Liya Kravchenkin is an experienced portrait photographer. She has worked with clients worldwide and has even traveled to more than 50 countries. Liya loves photography because it allows her to capture a moment that can never be repeated. Liya also enjoys traveling, learning about new cultures, and seeing the world's unique natural wonders. Her favorite travel memories are from swimming with dolphins in the Galapagos and eating cheesecake in New York City.