Last updated on May 6th, 2021
Taking flight and heading off to a new destination is one of the most luxurious experiences in the world. And it's warming when travel is affordable for everyone. But some individuals want to make a fashion statement with a high-tech, designer carry-on. Because a demanding jet-setting lifestyle needs and deserves the best luggage quality.
This is a practical choice aside from an aesthetic choice. You will want a piece of fashion and utility that will serve you as you take to the skies and make it your port-of-call in style.
Here are some of the best luxury carry-on luggage available on the market. You will note the world-famous brand names on the list — some of them collaborations — that have stamped their mark of approval over these unique travel accessories.
Best Luxury Carry-On Luggage
1. Tumi & McLaren Aero International Carry-On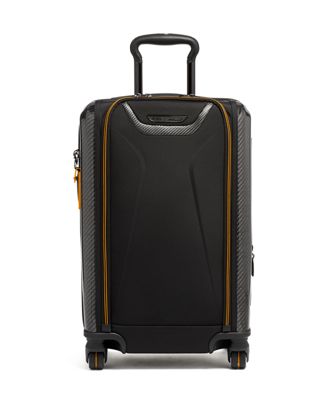 A team-up of luxury and engineering, American favorite lifestyle brand Tumi takes the thrill of motor racing to the skies in collaboration with the British McLaren supercar brand.
Featuring the sleek black style Tumi is known for, decorated with the iconic feisty orange of the McLaren brand, this is the carry-on for F1 fans. Built with the same style cues from the supercar, the case is built and accented with high-quality materials like Tegris and CX6 carbon fiber. Travelers can stay connected on the go with a USB port and inner compression straps that mimic the inner harness of the McLaren machine.
2. Dior and Rimowa Cabin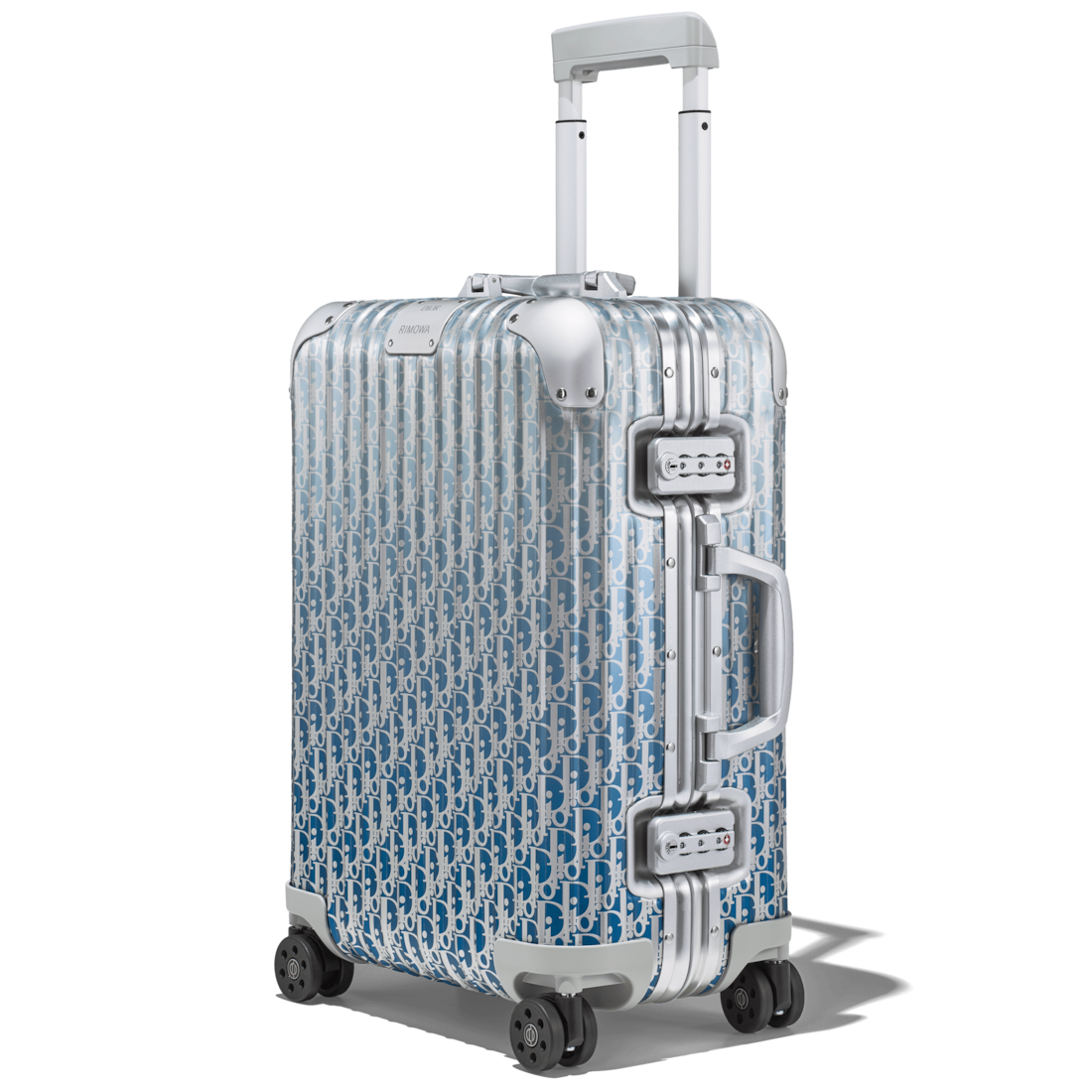 The French glamour of Christian Dior and the German engineering prowess of Rimowa come together in a stunning piece of luggage.
Featuring high-grade aluminum and emblazoned with the iconic Dior print, heads will turn when showing up to business class with this high-fashion number.
The Dior and Rimowa collaboration implemented anodizing processes to ensure the longevity of the luggage's beautiful print and finish so that the look of Dior marks each trip. Several features like the TSA-approved locks, the Flex Divider inside the luggage, the Multiwheel System, and the telescopic luggage handle make this the ultimate luxury carry-on. It's also available with a matching hand case.
3. Montblanc X Pirelli Trolley Cabin
Another great collaboration on our list, sartorial luxury brand Montblanc teamed up with the high-performance tire brand Pirelli to create a carry-on perfect for heavy travelers.
Sporting both high-grade polycarbonate and soft genuine leather details, the composition of the bag can take a beating in the cabin. Each piece is fitted with well-known emblems and lined with printed jacquard. It also comes with inner mesh separation and straps to ensure that items will be safe, secure, and damage-free by the time you reach your destination.
It will not be a bumpy ride on the way to your next pitstop with this beautiful yet practical number.
4. Nomatic Carry-On Pro
If your style is more on the minimalistic side, with some attention to the technology you bring on your trips, then Nomatic has your back.
The Nomatic Carry-On Pro includes a matching tech case that can fit laptops, tablets, and other essential devices and hold them safe and secure for the duration of your trip. You won't need an additional electronic organizer for travel with this piece.
Both the luggage and the case are fashioned from durable polycarbonate and have implemented intelligent organizational systems within. The TSA locking high-quality YKK zippers and super quiet Hinomoto wheels take Japanese engineering to create a reliable and understated design and functionality.
This is high-tech, luxurious carry-on luggage that suits no-nonsense travelers that are all about business.
5. Rimowa Cabin Original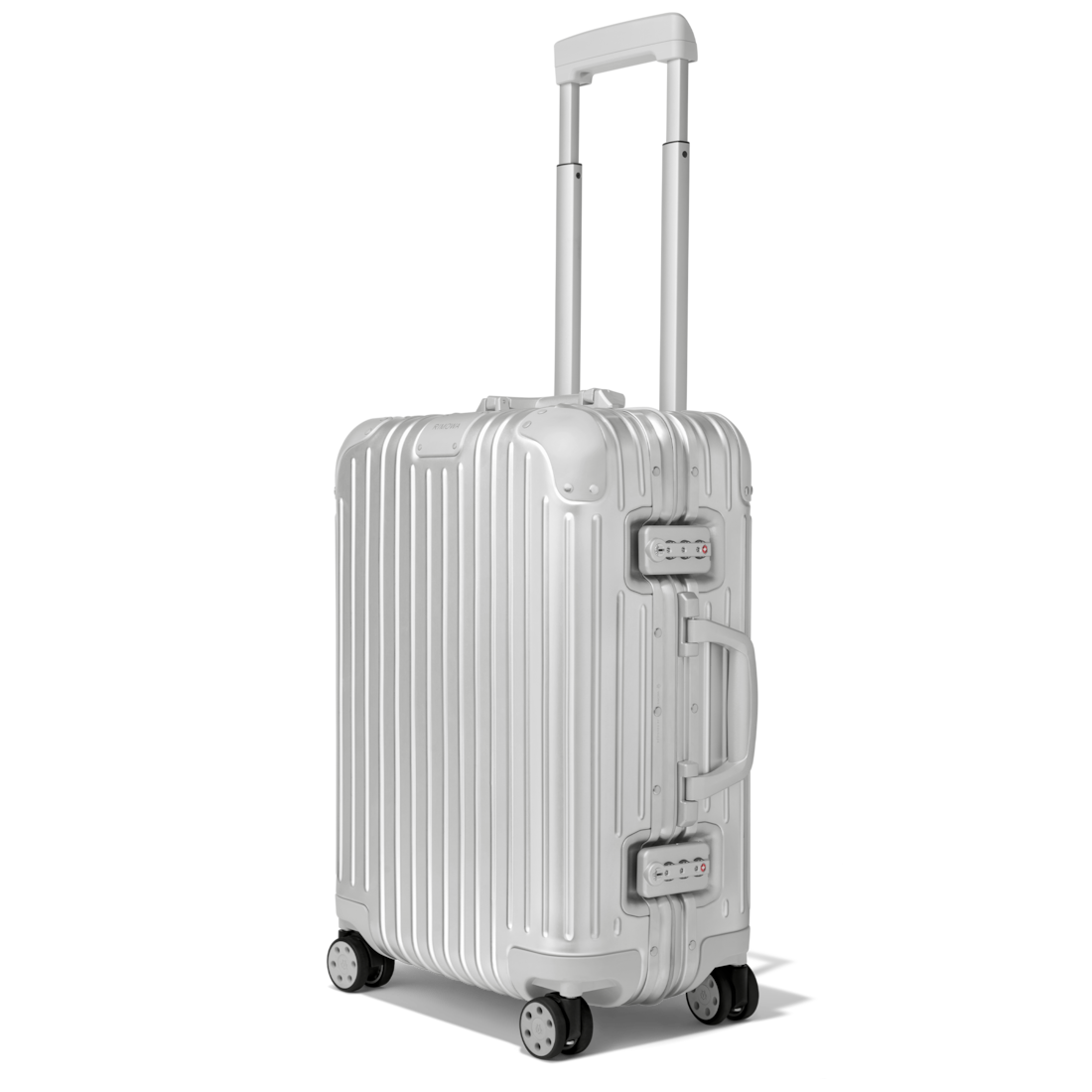 Even on its own, the Rimowa brand has taken travelers by storm, inspiring them to invest in high-quality luggage that lasts them a lifetime of unforgettable trips.
The ever-popular cabin design fashioned in aluminum is one of the most recognizable in the world. Despite its heavy-duty look and durability, this luggage continues to surprise travelers with its lightweight form factor and stylish, functional design.
The Rimowa Cabin Original comes in several muted colors and bold hues, so there is something for every personality type. It is hard to argue against such a tried and tested luggage brand.
When people spot this luggage in the airport, they know they are in the presence of dignified style and sophistication.
6. Samsonite Black Label Cosmolite 3.0 Hardside Spinner
Samsonite has been the sophisticated business traveler's to-go luggage brand, and it's not hard to imagine why. Their line of unique yet functional designs capture the hearts of fashion lovers everywhere, and the muted palettes appeal to the minimalistic crowd.
The 'Curv' material of the piece creates a tough exterior but remains light enough for carry-on travel. The fixed combination TSA lock protects the items inside, and the ergonomic carry handles make it a delight to maneuver around the airport and inside the aircraft. The inner divider pad also helps travelers organize their items within the luggage, up to their most minor belongings.
Samsonite's European craftsmanship takes it across the continent and all over the world.
7. SwissGear Hardside Carry-On Luggage with Spinner Wheels
Sometimes luxury luggage means a good, high-quality design and not necessarily a barrage of brand names decorating its surface. That is what the SwissGear luggage aims to do — satisfy its genuine jet-setting customers with practicality and longevity.
The cabin luggage is made from lightweight polycarbonate and is fashioned with 'self-repairing' zippers, so you will never have closure malfunctions. The expandable interior allows for added items in the luggage, increasing its capacity according to your needs.
It has a grand total of eight multi-directional spinner wheels that help you maneuver across the airport and into your destination. The internal organization system allows you to know where everything is, so there is no losing your travel essentials on any trip.
8. Tumi International Carry-On
Tumi's sleek designs have always impressed luxury and business class travelers. However, they're built for all kinds of travelers.
The Women's Tumi International Carry-On uses lightweight and durable materials to ensure that the luggage can take the pressure of a jet setter's lifestyle. It helps that it comes in a variety of sleek metallic colors and bright hues, matching the personality of the luggage with its owner.
It has an aircraft-grade aluminum extendable handle that is strengthened through X-Brace support, an Omega Closure System that lengthens the useful life of the zipper by using a systematic pull process, and a Tumi Tracer ID unique to each piece of luggage. Tumi has made sure that no matter where you go, this carry-on will serve you well.
9. Victorinox Swiss Army Frequent Flyer Carry-On
View on Amazon or Victorinox
Another brand that is all about reliability in all situations is Victorinox who offers a sturdy solution for frequent flyers.
The Victorinox Swiss Army Carry-On with spinner wheels comes with a packing cube with an integrated laptop sleeve, and organizational dividers help travelers make wise decisions when getting ready for a trip. 600D Ballistic Nylon fabric ensures that the softside case is up to par with many hardside equivalents, making it safe from water and scratch damage.
Of course, it would not be the Victorinox special without premium features such as LISOF dual caster wheels, a TSA-approved combination lock, and sturdy YKK zippers to keep your traveling pack secure. The built-in integrated toolset is a finishing touch that fits with the Victorinox brand of Swiss excellence.
10. Briggs & Riley Sympatico 22-inch Carry-On Spinner
The Briggs & Riley brand is known for their luggage, and their line made from 100% virgin Makrolon polycarbonate is one of their lightweight designs, making it an excellent option for those looking for fashionable carry-on.
It features a compression system that helps keep clothes wrinkle-free while allowing more items into the space — up to 17% more capacity is allocated once the items are compressed.
This expandable piece provides travelers with more carry-on space, plus the aircraft-grade aluminum implements make sure it's a sturdy case for all belongings. The hard side luggage also comes in various vibrant and subtle colors to have a matching style no matter what.
11. Gucci Globe-Trotter GG Designer Carry-On
The name of this classy luggage says it all: if you are a true luxury globe-trotter, this designer cabin luggage will be a mainstay for all your business trips and vacations.
Experienced artisans lovingly craft each piece from Hertfordshire, England, using techniques from the Victorian era that make sure the luggage is as sturdy as it is timeless.
The GG Supreme canvas carrying the famous brand's pattern is complemented with palladium-toned hardware and black leather trim, plus a matching ID tag to set your luggage apart from everyone else's.
Celebrate British luxury and design every time you take to the skies with this gorgeous carry-on.
Conclusion
There are many luxury carry-ons in the market, crafted by prestigious brands who know what it is like to have a jet-setting lifestyle. You will not only get a reliable piece of luggage but these pieces are built with beautiful, high-quality materials that will make you look and feel as rich and confident as a celebrity.
You might ask yourself, are luxury carry-ons and luggage sets worth it? Despite being skeptical of labels, these brands are highly regarded because of their excellent craftsmanship. Be prepared to invest in timeless and stylish luggage.