Last updated on August 22nd, 2022
Regardless of your reason for traveling, being in transit can be quite a drag. The entire process of packing and unpacking can be tedious and time-consuming.
Add air travel and layovers on top of that, and you'll end up with an utterly exhausting experience. Thankfully, there are now many different ways to make traveling easier.
To ease travel, one thing you can do is seek convenient and multi-tasking travel gear that you can take along with you. Multi-tasking travel gear can lighten your load, allowing you to carry fewer items during your trips.
Having the "right" bag for you can make traveling far more pleasant.
Carry-on luggage is a vital part of air travel. The right suitcase from the best luggage brands can make your traveling experience much smoother, thanks to its features, such as a built-in charging port and tech organizing compartments.
This guide goes through the 15 best carry-on luggage suitcases available.
Pin for Later
What to Look for When Buying Cabin Luggage
The right choice of cabin luggage will entirely depend on your personal preference, but there are many things you can consider as you weigh your options.
Size – Carry-on bags are generally made to fit within an airplane's overhead cabin, which means there is a maximum size for them. However, within the parameters of a standard carry-on, there are still different sizes you can choose from.
Weight – Choosing a lighter suitcase means you can carry more of your personal belongings — or travel lighter!
Price – It's important to find a suitcase that fits your budget.
Features – Does the suitcase have all the features you'd like? Does it have 360-degree spinner wheels? What about security options, such as TSA locks and double-coil zippers? Making sure you are happy with the features a suitcase has makes it more likely that you'll have a more pleasant travel experience.
Build – One of the biggest things to consider when shopping for cabin luggage is how the suitcase is built. What kind of materials is it made of? Is the exterior waterproof? How durable is the luggage, exactly?
Design – A bag's design is one of the first things you'll notice when shopping for carry-on luggage. You may want to consider it unless you're all about function over form.
Warranty – Most suitcases come with some form of warranty. When shopping for yours, make sure you check whether the warranty policy is satisfactory. Some suitcases come with an initial year-long warranty with more coverage. After the first year of warranty expires, some bags come with additional warranties. Some bags have up to five years, while others max out at ten. Then, of course, you have lifetime warranties. You can also consider if a money-back guarantee policy is important to you.
Best Carry-On Luggage
1. Best Carry-On for International Travel: Arlo Skye Zipper Carry-On Max with Front Pocket
The Arlo Skye Zipper Carry-On Max with Front Pocket fits most medium and large aircraft overhead compartments. Its strong exterior is made of impact-resistant polycarbonate to endure the rigors of travel, and the anti-microbial inner lining helps keep your items bacteria-free. The hard-side pocket on the front makes for an excellent documents storage compartment.
This suitcase has double-coil zippers and integrated TSA-lock help to make it perfect for international travel. The bag also has 360° spinner wheels to make transit a comfortable experience.
Perhaps the best feature this carry-on has is the 10,050mAh (18W, PD plus QC 3.0, USB A & C) power bank that comes with it. There is also a corresponding built-in USB charging port for portable power wherever you go.
Related: Best Power Banks for Travel
2. Best Luxury Carry-On: Rimowa Original Cabin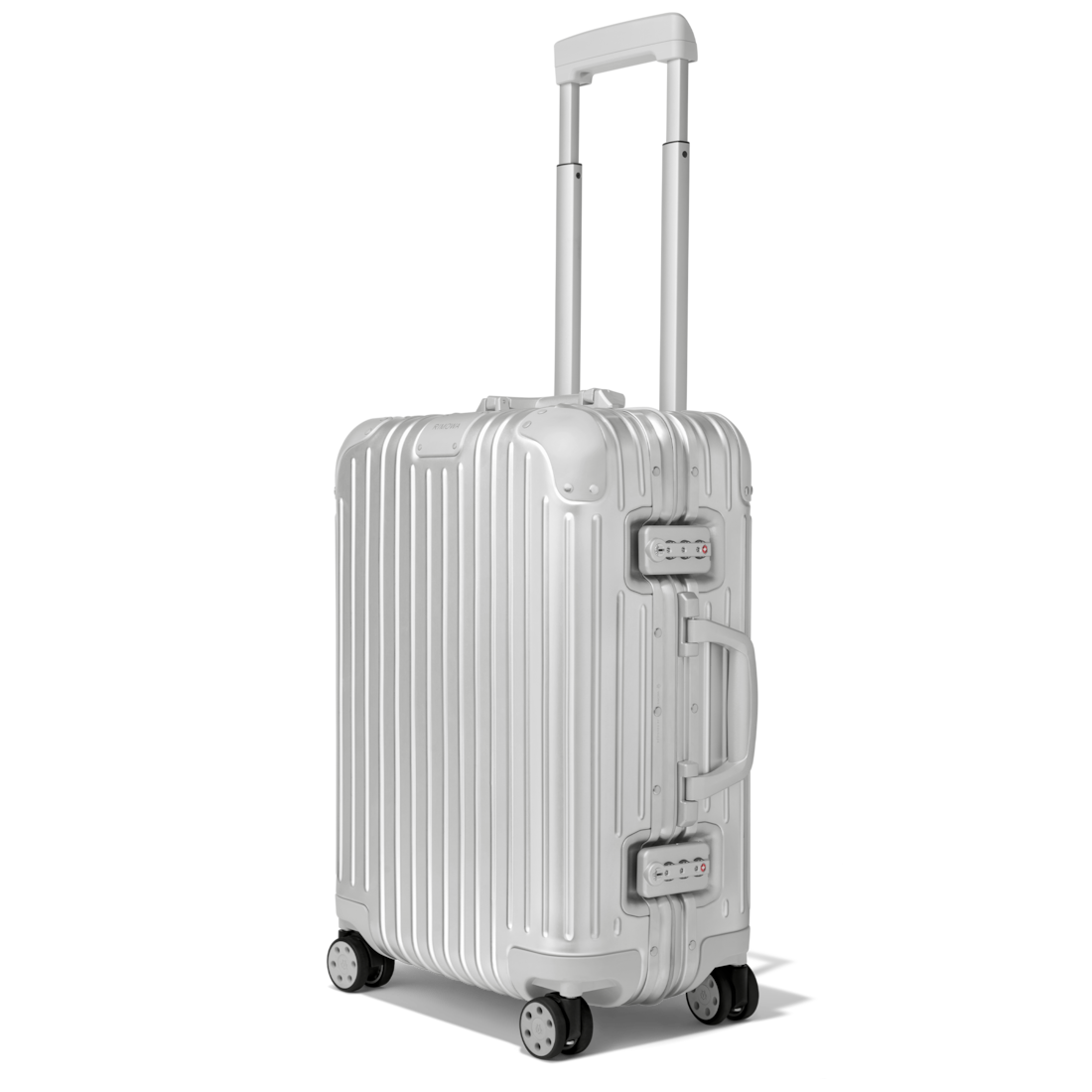 This aluminum carry-on may be on the pricey side, but its premium design makes it worth it. Easily the best luxury carry-on on our list, the Rimowa Original Cabin suitcase features a cotton lining to keep your personal items safe. To help keep your items organized, this luxury carry-on has a flexible divider (height adjustable).
The Rimowa Original Cabin has a multi-wheel system, an included luggage tag, and a TSA-approved lock. If you buy a Rimowa suitcase, make sure you register it with them to get the five-year manufacturer's warranty. Unregistered items receive a much shorter two-year warranty.
3. Best Stylish Carry-On: Horizn Studios M5 Cabin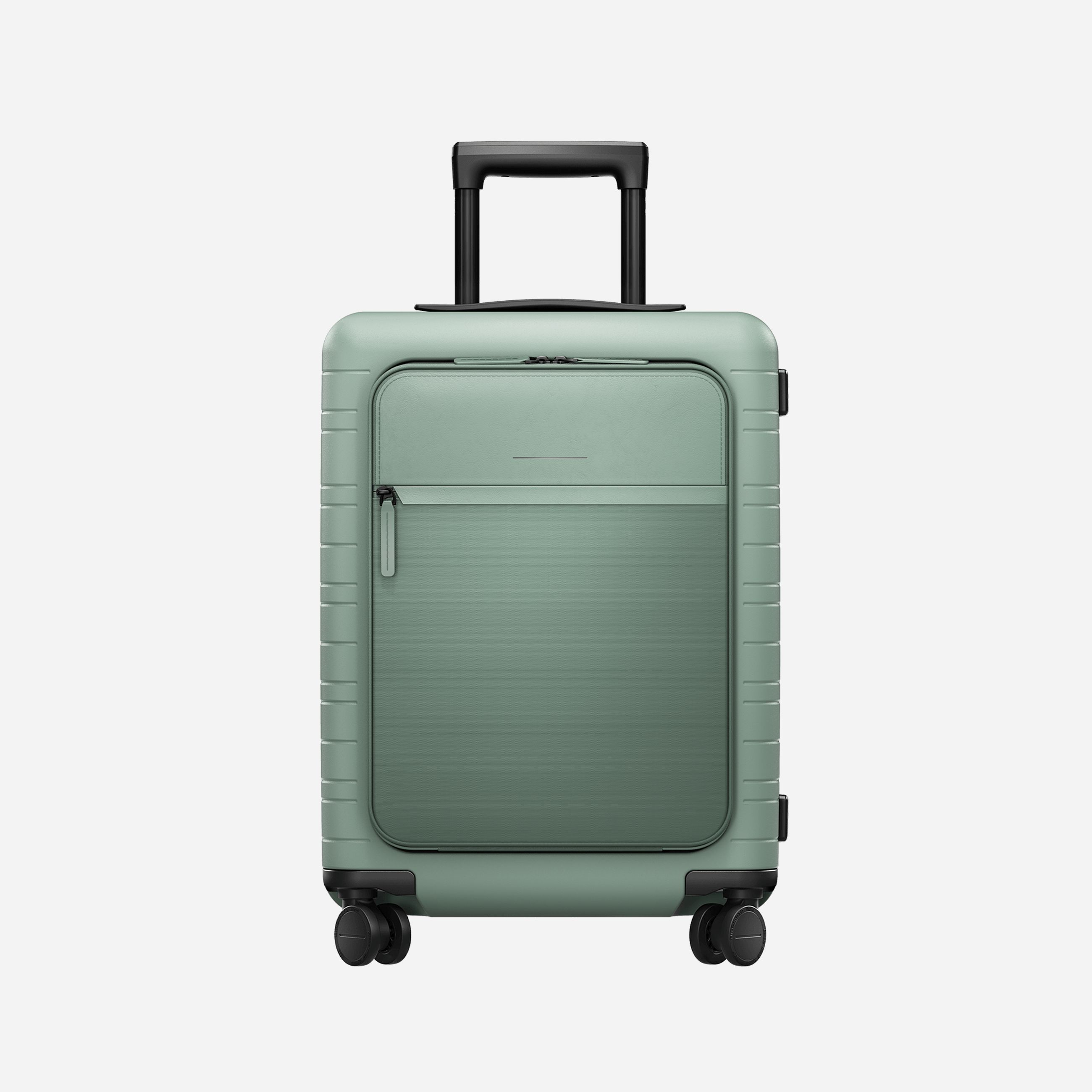 The stylish Horizn Studios M5 Cabin suitcase is proudly sustainably made. The company ships it through carbon-neutral methods using eco-friendly packaging, lessening its impact on the environment. For a pleasant travel experience, the M5 Cabin has 360° wheels and a TSA-friendly lock.
This suitcase uses polycarbonate for its exterior. But it's not just any polycarbonate — it's aerospace-grade and recycled to boot.
All the accents are made out of 100% vegan leather. Travelers who need quick and easy access to their work machines can enjoy the water-resistant front pocket. The pocket acts as a laptop storage compartment capable of holding machines up to 15″ in size.
The M5 comes in two versions: Essential and Smart. The main difference is the smart comes with a removable smart charger (power bank) to help keep you powered in transit.
4. Best Sustainable Carry-On: Paravel Aviator Carry-On
Those looking for sustainably-made suitcases need to look no further — the Paravel Aviator Carry-On makes for an excellent Earth-friendly travel companion.
Its exterior is a recycled polycarbonate material that's durable and lightweight. The inner lining is carbon-neutral and made from fifteen recycled bottles. The corners of this bag are reinforced with metal, while a TSA-friendly lock and 360° wheels make it easier to travel. You can also get this carry-on as part of a 2-piece luggage set.
5. Best Business Travel Carry-On: Nomatic Carry-On Pro
The Nomatic Carry-On Pro is the perfect size cabin luggage for business travel. Made out of Makrolon polycarbonate material, this suitcase is slim and sleek and can make a great impression. This suitcase features durable YKK zippers, silent 360° wheels, and a folding panel to help compress the items inside.
Also included with this bag is a removable tech case capable of fitting laptops up to 15″. The front compartment offers extra compartments for better organization.
Related: Luggage with Laptop Compartment
6. Best Aluminum Carry-On: Away Carry-On
This suitcase comes with an optional ejectable USB charger (separate purchase) if you want extra power on the road right within your suitcase. It has internal compression and a clip-in panel with pockets for additional organization.
The Away Carry-On is made of aluminum and can be personalized if you prefer. However, customization will mean you cannot return or exchange the item (but the warranty is honored).
7. Best Lightweight Carry-On: Bric's Capri 21″ Spinner
The Bric's Capri 21″ Spinner is one of the best lightweight carry-on luggage, coming in at a light 5.5lbs. Its advanced polycarbonate shell is ultra-flexible, helping it endure the rigors of transit better.
An internal organization system helps keep all your personal belongings in order. Capri has a TSA-friendly lock, 360° Hinomoto double wheels, and extra-secure zippers.
It also has an internal power bank pocket (not included) and an integrated battery connection.
8. Best Affordable Carry-On: Level8 Pro Carry-On with Laptop Pocket
The Level8 Pro Carry-On is a Red Dot Award-winning suitcase made of durable, lightweight, and water-resistant Makrolon polycarbonate. It has a padded and zipperless front laptop pocket that fits up to 15.6″ laptops.
Interior organization is also well-thought-out, and the bag has a built-in USB port with a power bank pocket (not included). Like most carry-ons, this bag has a TSA lock and 360° wheels.
Despite all of these features, the Level8 Pro remains one of the best affordable cabin suitcases.
9. Best Women's Carry-On: Tumi International Carry-On
The Tumi International Carry-On is a fantastic women's carry-on made of aluminum. It comes with a complimentary classic monogram.
There are two mesh zipper pockets, zip dividers, two TSA locks, 360° spin wheels, and protective bumpers. Tumi bags come with Tumi Tracer, which helps track and recover lost bags.
10. Best Men's Carry-On: Nomatic Carry-On Classic
This men's suitcase comes in perfect carry-on size and is made of sturdy Makrolon polycarbonate. Magnetic compression straps help you keep your items organized. The suitcase has silent 360° Hinomoto wheels, a folding compression panel, YKK zippers, and a TSA lock.
11. Best Large Carry-On: Paravel Aviator Carry-On Plus
If you're looking for a large carry-on, look no further than the Paravel Aviator Carry-On Plus. This suitcase has the same features as the Paravel Aviator Carry-On mentioned above, with the main difference being the larger size.
12. Best Small Carry-On: Rimowa Original Compact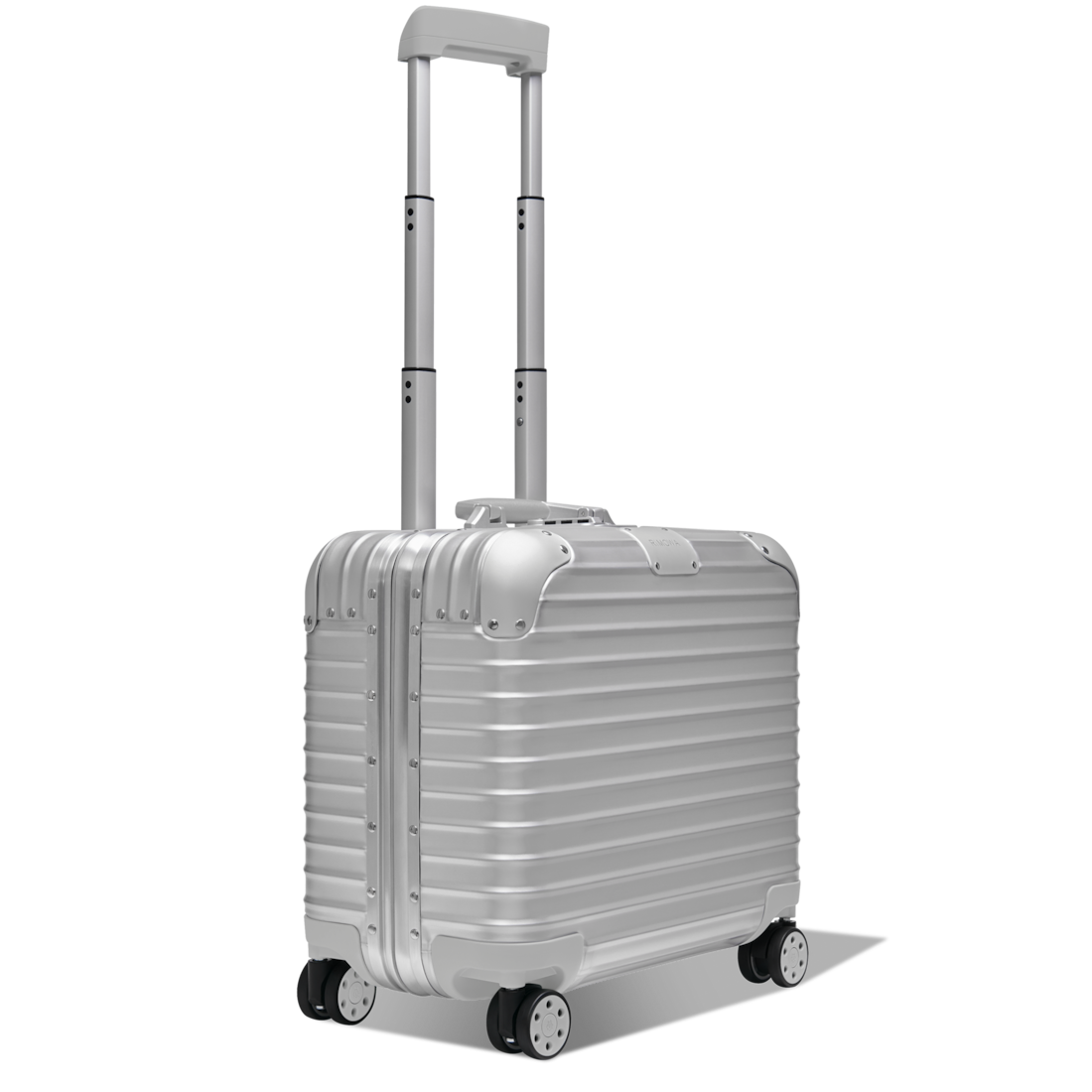 Sometimes, you just want to travel with a smaller carry-on. The Rimowa Original Compact is one of the best small cabin suitcases today.
It's a premium bag made of aluminum with a TSA lock, 360° spinner wheels, and compression straps. Although this bag is small, it's on the heavier side. However, it can fit up to 16″ laptops if you remove its included (padded) compartment.
13. Best Durable Carry-On: Horizn Studios H5 Cabin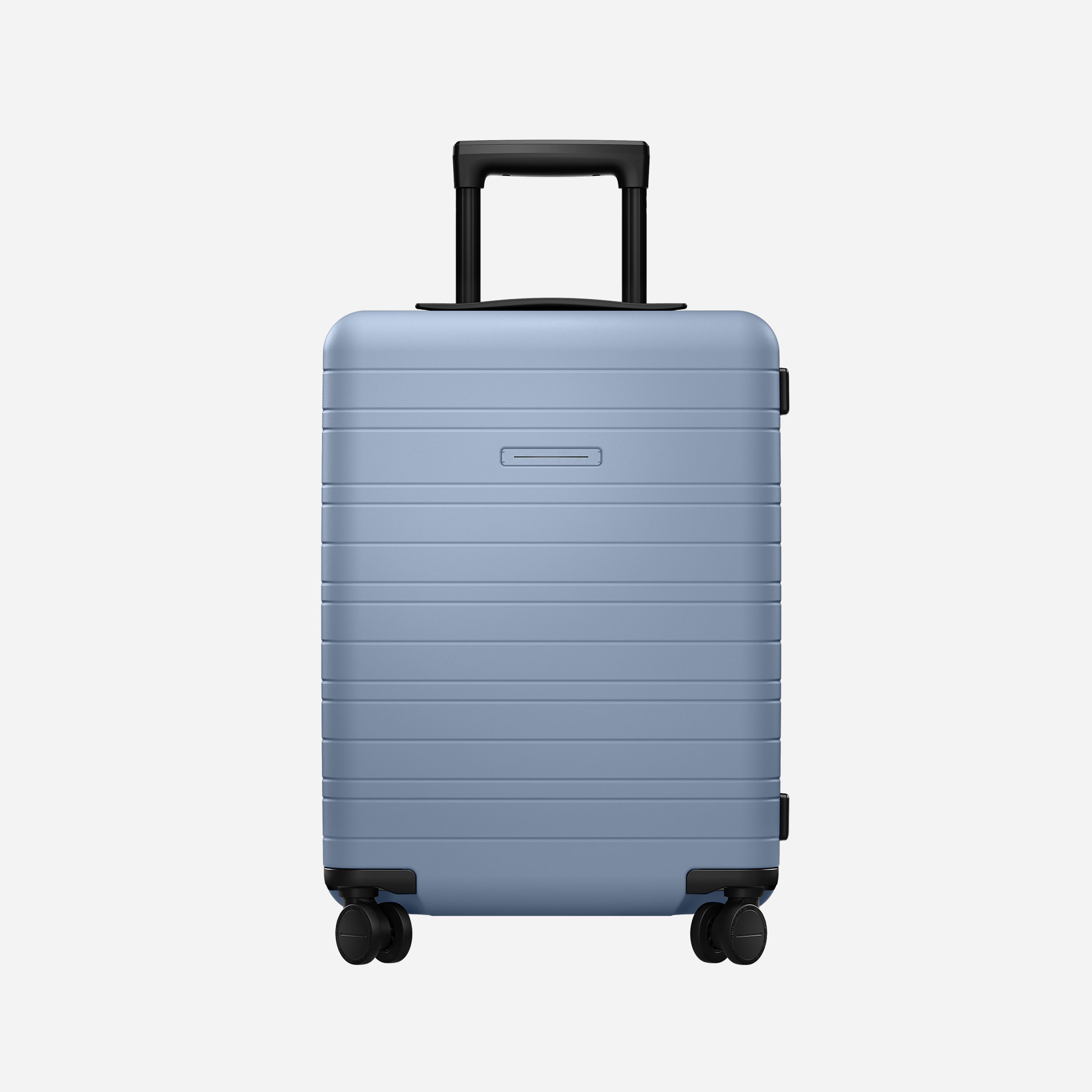 The Horizn Studios H5 luggage is one of the best durable cabin luggage owing to its aerospace-grade recycled and lightweight polycarbonate hardshell.
This suitcase comes in two versions: essential and smart. The main difference the smart version comes with a removable smart charger, 1m charging cable, and compression pad.
14. Best Softside Carry-On: Travelpro Platinum Elite
If softside carry-ons are more your style, consider this Travelpro bag. It has self-aligning 360° MagnaTrac spinner wheels, accessory pockets, a quart-sized removable wet pocket, and a deluxe tie-down system.
This softside cabin luggage also comes with a built-in USB port and a dedicated pocket for holding your power bank (not included).
15. Best Inexpensive Carry-On: Rockland Melbourne Carry-On
The Rockland Melbourne Carry-On is a perfect inexpensive carry-on that can get you through your travels.
It is lightweight and uses durable ABS plastic material. Unfortunately, it does not come with any locks (you will need your own), but it does have 360° double spinner wheels. This bag comes in 20 colors and is part of a collection with 24″ and 28″ options (purchased separately).
Wrapping Up
Traveling can be quite a pain — the transit part, at least. However, you can undoubtedly make packing and traveling a much easier experience with the proper preparation.
Choosing the right carry-on luggage is a personal experience, so only you can honestly choose the best carry-on for you. After all, your preferences and situation are uniquely your own.
When choosing a carry-on bag, consider your budget first and foremost, since establishing one will allow you to find a bag with the features you need without causing you to overspend.
After you figure out how much you want to spend, consider the other factors, such as design, durability, weight, warranty, features, and so on.
In the end, the decision remains entirely yours, but we hope that this list of the 15 best carry-on luggage has helped point you in the right direction!