Last updated on December 22nd, 2022
The enchanted islands of the Galapagos are famous for their wildlife, landscapes, and the HMS Beagle's stop with Charles Darwin.
Whatever your plans are, your trip will be more comfortable than Charles Darwin's. And depending on what activities you do, there are certain items to pack for the Galapagos. You need to bring some obvious items — these I won't mention.
So, what should you bring to the Galapagos?
This Galapagos packing list will help you sort it all out.
Pin for Later
Galapagos Packing List
1. Hiking Sandals
Hiking sandals are one of the most versatile gear you can pack for the Galapagos.
They offer the flexibility to be used at the beach on the sand, in water, and on lava rocks.
Hikes are expected in the Galapagos, whether doing it alone or with a guide. The hikes tend to transition from different terrains from aquatics to land quickly. If sand gets into the hiking sandals, you can easily remove most of the sand by shaking your foot.
And best of all, hiking sandals are water-resistant, and when soaked, dry quickly in the Galapagos sun.
I've used and have had success with the hiking sandal brands Keen and Merrell. Regular wear-and-tear on them will last a few years.
2. Sunblock
You're going to need this product even when it's cloudy or raining. The sun is intense at the equator, and the clouds don't offer much protection from the UV rays. Furthermore, the showers here are short-lived, meaning the weather goes from cloudy and rainy to full-out sunshine consistently.
Make sure to pack a minimum of SPF 50 sunscreen to do the trick in the Galapagos. The sunblock should be water-resistant and eco-friendly. Sunblock for babies is also available.
I only traveled carry-on on my most recent trip to the Galapagos in 2021. I could only bring less than 100ml of sunblock. Before, when I traveled with checked luggage, I brought a good-size bottle. You may need extra bottles of sunscreen depending on the length of your trip and the size of your family.
As you know, goods cost more in the Galapagos because of logistics. The pandemic doesn't help either. The cost of sunblock in the Galapagos is about $15 for 100ml. It's usually cheaper at the pharmacies here.
3. Rashguard Top and Shorts
Surfers often use rashguards to prevent skin burn against the surfboard. But many rashguards also provide UV protection.
I don't surf anymore, but I still use my rashguards in the Galapagos while walking around town or getting in the water.
With rashguards, you don't have to apply as much sunscreen, and it saves you some money in the long run. They come in several designs so you can also make a fashion statement.
4. Hat
A hat comes in handy again for sun protection.
Even a baseball cap provides a bit of protection.
But if you want to do it right, get a hat with a brim which will provide additional sun protection to the face and around the neck.
If you plan to buy souvenirs, the Charles Darwin Research Center in Puerto Ayora sells branded, reversible brimmed hats for $18. Many of the in-town souvenir shops also sell brimmed hats.
5. Insulated Water Bottle
You'll be drinking an aquarium's worth of water in the Galapagos.
Dehydration is a possibility with the blazing sun, hiking, water activities, and unwanted saltwater in your system.
I recommended bringing at least a 1-liter sports water bottle to the Galapagos. One that functions as a vacuum flask or thermos cooler to keep the drinking water cold.
Many hotels and hostels offer free drinking water in the Galapagos. If they don't, you can buy large jugs of water at the convenience store.
The cost of drinking water can quickly increase your budget. You'll want to check with your accommodation if they provide free drinking water.
Cruises and days tours also provide free drinking water.
6. Waterproof Camera
I don't think it's possible to visit the Galapagos and not take a picture. I see locals still taking photos of the wildlife here.
For as many cool things you see on land in the Galapagos, underwater is where the best action is, in my opinion.
A waterproof camera is almost a necessity in the Galapagos. You'll be snorkeling with sea lions, sea turtles, and marine iguanas. One of my friends lucked out and saw a hammerhead shark while snorkeling at Kicker Rock.
Furthermore, you'll want a waterproof camera made for adventures and is rugged. GoPro tends to lead the market in this category and offers impressive footage. However, they are expensive, but there are some decent GoPro alternatives on Amazon.
Olympus and Fujifilm made excellent waterproof cameras that are more of the traditional design.
If you want to get epic photos of the Galapagos, you'll also need a travel camera with a telephoto lens. This will allow you to get those shots of animals in the distance that can't be reached by foot. Blue-footed boobies fishing is something you'll want to photograph.
The problem with a standard camera system and telephoto lens is the extra volume it will take on your carry-on luggage. So, organize and pack accordingly.
7. Sunglasses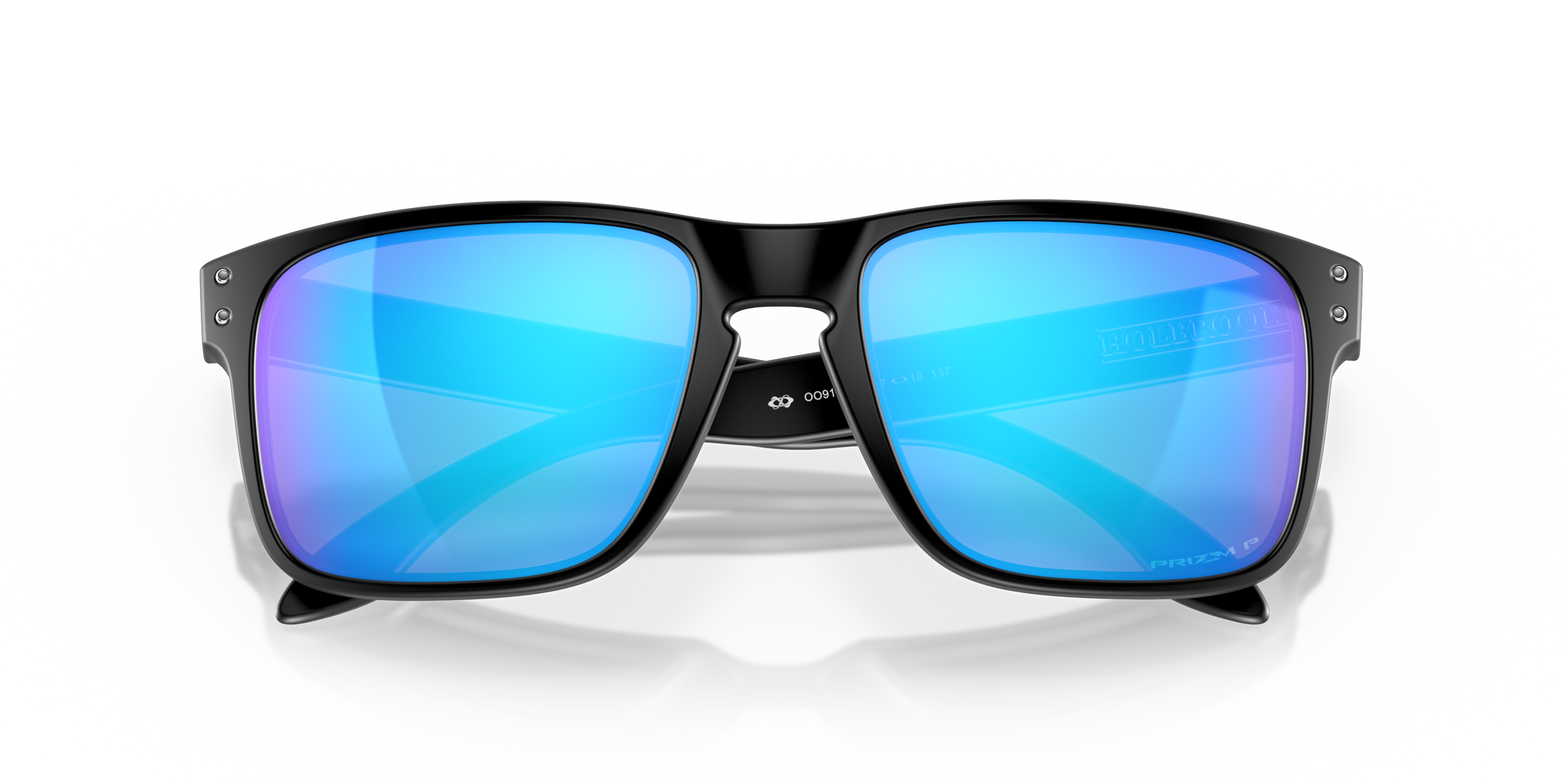 You don't want to be squinting when looking at the marvelous landscapes in the Galapagos.
Sunglasses will provide UV protection for your eyes. In addition, high-quality sunglasses add clarity to sceneries providing better visuals of the Galapagos.
I recommend getting polarized sunglasses. They're better at reducing glare when looking towards the water.
Oakley makes excellent polarized sunglasses, but they do cost a premium.
8. Daypack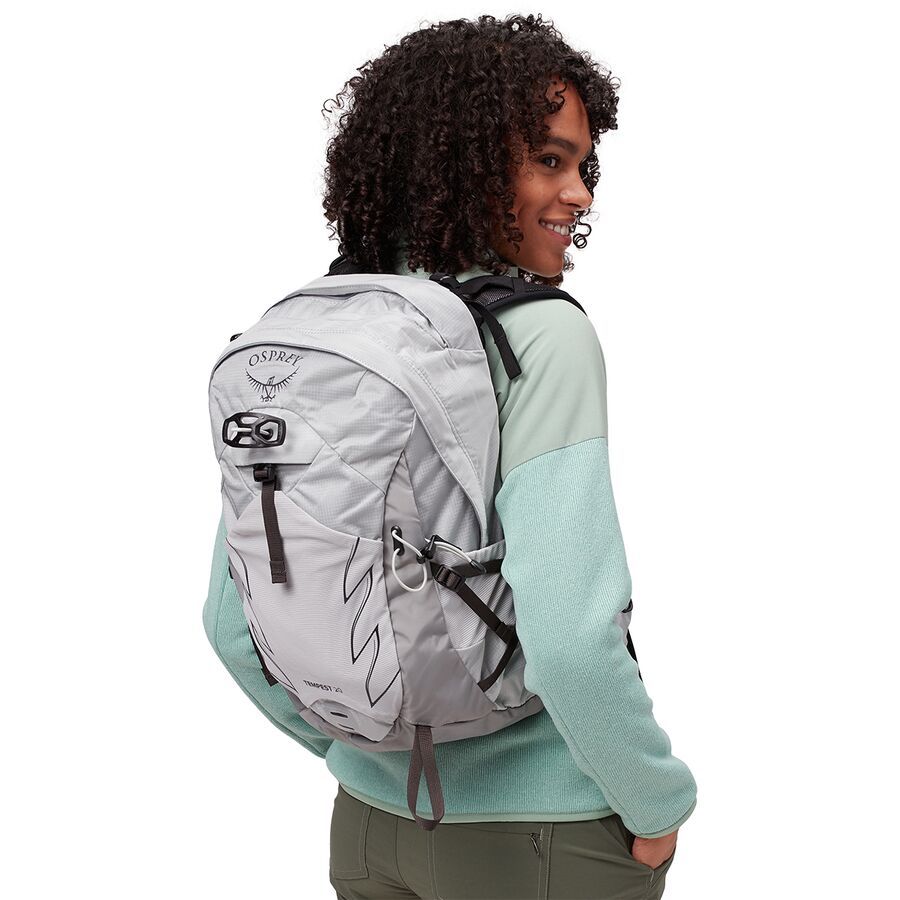 A daypack is a must to carry several of your belongings, including your water bottle and camera.
Most people that hike already have a daypack. Hiking daypacks tend to be the best for the Galapagos because they have several compartments for storage and are designed to provide ergonomic support.
If you're bringing a DSLR or mirrorless camera, you'll want to consider getting a camera backpack.
Features to look out for in a daypack:
water bottle or reservoir compartment
tear-resistant
water-resistant
camera compartment
chest and hip compression straps for back support
rain cover
dedicated sunglass compartment
9. Cut-Off Hiking Pants
Hiking pants that convert into shorts can save you luggage space.
In addition, hiking pants are breathable and super comfortable for the Galapagos. They also have extra secure pockets for your cash or hotel keys.
They're also helpful in the highlands of the Galapagos, where the weather is more foggy and cool, keeping you warm.
10. Hiking Shoes
I see a lot of travelers in the Galapagos with running or hiking shoes. I never wear them here. But they are most comfortable when walking long distances than hiking sandals.
Where hiking shoes come in real handy is on lava rocks. Hiking on lava rocks is a hazard and can cause a trip-ending injury. Hiking shoes provide more support and balance than hiking sandals on lava rocks. But I still wear my hiking sandals.
Surprisingly, you'll see park naturalists hiking with their flip-flops, and that's a talent.
11. Windbreaker or Rainjacket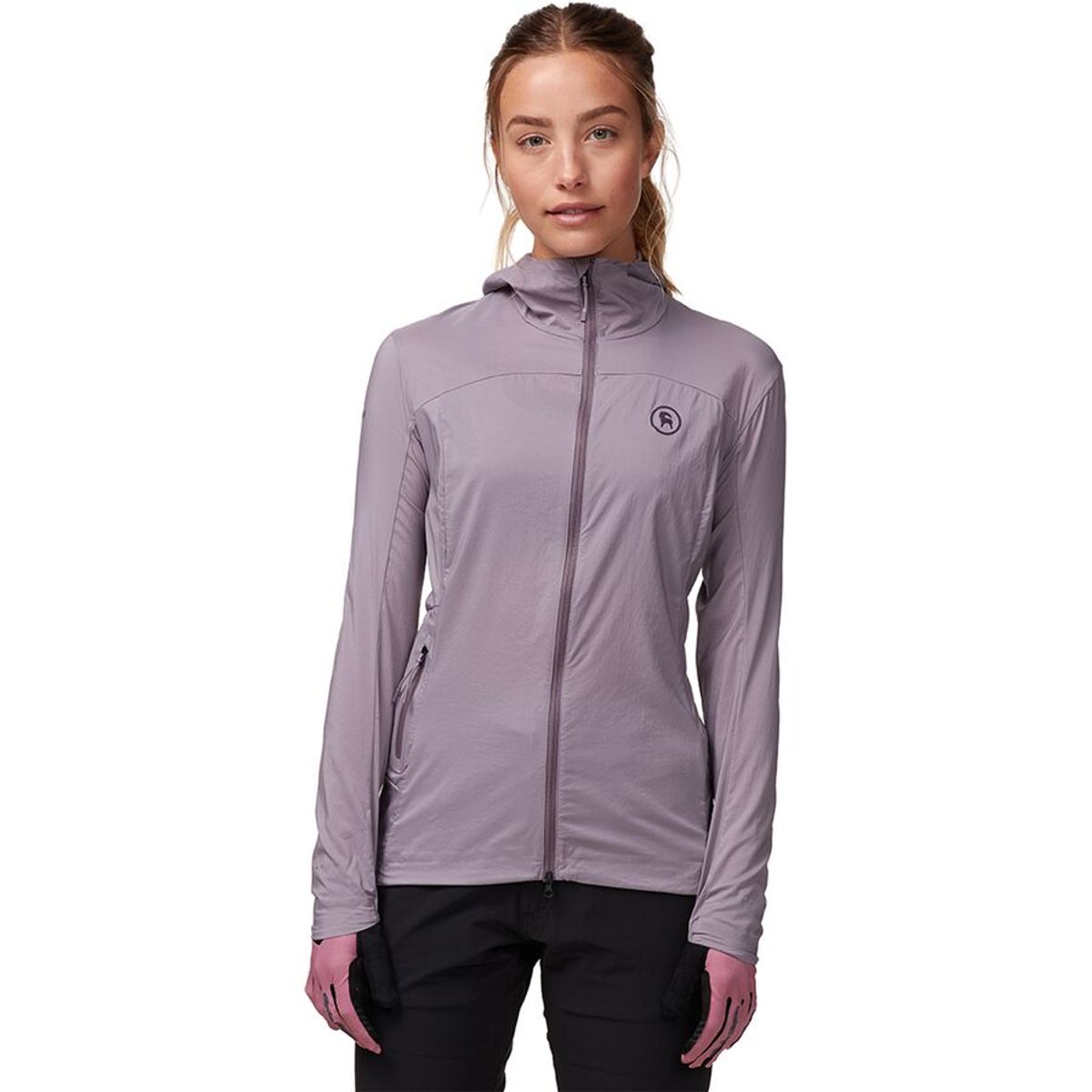 September to December is windy in the Galapagos. A windbreaker can help you keep warm.
Rides on ferries between the islands, cruises, and day tours also have the wind effect. A windbreaker is also handy here.
A sports rain jacket can also provide similar support to a windbreaker.
However, with rains short-lived here, a sweater or sports spring jacket will suffice.
12. Travel Towel
Hotels and hostels provide towels for free. So do the Galapagos cruises.
But what they usually don't provide are beach towels. And they prefer that you don't take their towels to the beach. Understandably so: sand and misplacement.
A thin travel towel will do the trick if you want to sit on the beach without all the sand touching you and getting in your belongings.
I found microfiber travel towels work the best. Since they are often thinner than regular bathroom towels, they don't hold sand well. Meaning it's easy to remove all the sand from the microfiber towel with a few air slaps.
Microfiber travel towels also fold nicely and don't take too much space in your luggage.
13. Mask, Snorkel, and Fins
Snorkeling gear can be rented for $5 a day at most tour shops on the Galapagos.
Day tours and cruises include the cost of a mask, snorkel, and fins.
The downside of renting or using included snorkeling gear is the quality, and more importantly, the right fit. This can make or break your trip, especially if the snorkel or mask leaks in water. The length of the fins is also a factor (I'm not talking about shoe size).
Ask any advanced scuba diver, and they'll tell you bringing your own gear is better.
Bringing your own snorkeling gear will significantly increase your luggage space. I brought my own back in 2016 when I was in the Galapagos for 3 months, and I brought it on carry-on, and my own gear made all the difference.
In 2021, I didn't have my own snorkeling gear. And my experience snorkeling has been sub-par. So, you know what I will do the next time I'm back in the Galapagos.
14. Multitool
I was volunteering on a biological reserve in the highlands on San Cristobal. It was located in the forest, away from any nearby town.
While chopping away the invasive blackberry (mora mora) plants with my machete, I often saw passion fruits (maracuya) hanging from the trees. I would throw a stick at them in the hot sun and knock them down.
Then I would pull out my Swiss Army Huntsman Knife and enjoy. Jeez, I feel like the soil on the Galapagos makes the passion fruit taste better than anywhere else on Earth.
A multitool is a best friend in times of need. It's not a must, but a nice-to-have in the Galapagos. Multitools are not carry-on friendly.
15. Biodegradable Toiletries
The Galapagos ecosystem is fragile. And their sewage system isn't any better. You can't even flush toilet paper down the toilet.
And even if you weren't in the Galapagos, eco-friendly, biodegradable toiletries are the way to go for sustainability.
Some products that can be purchased eco-friendly are:
soap
shampoo and conditioner
facial cream
body lotion
deodorant
16. Medication and Supplements
You probably won't forget your medication, but here's a reminder just in case.
In addition, seasickness pills are a good idea. If you suffer from jet lag or are a light sleeper, melatonin is also a good option (should not be relied on long-term).
17. Reusable Water-Resistant Bags
In addition, for organization, you'll need a Ziploc-like bag to prevent water damage to your meds, documents, etc.
But plastic bags ­are bad for the environment, especially for the Galapagos waters and marine life. Turtles often confuse plastic bags with jellyfish.
Ziploc bags are reusable, but they are still plastic and bad for the environment when they're disposed.
Luckily, there are alternatives to Ziploc bags that are eco-friendly and biodegradable.
18. Binoculars
You won't be able to get near all the animals.
Dolphins and whales are often seen in the distance, and binoculars will help you see them better.
But I still think a camera with a super-telephoto lens is better since you can also capture the moment.
19. Cash
The province of BC (British Columbia), Canada, is known for being quite expensive in some areas. More expensive than the Galapagos in some parts.
Jokingly, BC also stands for Bring Cash. And that's what you need to do for the Galapagos. Nearly all purchases are made in cash (US dollars). I've never made a purchase with a card in the Galapagos.
I've seen businesses with signs accepting credit cards, but the internet is unreliable here. And I've never actually seen someone pay with a debit or credit card.
Also, the ATMs on the Galapagos have a $300 withdrawal limit, and withdrawal fees can add up. And the ATMs do not always dispense the money but still deduct your account. They are a nuisance sometimes.
20. Flask
Drinking a beer on the Malecon or in town is legal in the Galapagos. So, bring a flask if you prefer some liquor. Drinking at National Park Sites is forbidden — I still do discretely because I saved a dolphin.
Remember, alcohol is more expensive in the Galapagos than on the mainland. But it's still about the same price or cheaper as developed countries.
21. Book
You're going to have a lot of free time at the beach relaxing or while the ship is cruising.
Bring a book to amp up your creative juices. I recommend Charles Darwin's Voyage of the Beagle for a nerdy experience. Or check out the best travel books.
22. Earplugs
Boat motors, stray dogs fighting, and roosters crowing is a reality while you're sleeping on the Galapagos. There is also construction going on in Puerto Ayora and Puerto Baquerizo Moreno.
If you're around any of these things, you'll want earplugs. Corded earplugs are the best because if one falls out, it's easier to locate.
23. Travel Insurance
With the pandemic, labor shortage in the airline industry, border restrictions, trip interruptions, and medical emergencies are at an all-time high.
I recommend getting travel insurance that includes trip interruptions due to medical emergencies including COVID, and flight cancelations.
Check out SafeyWing or World Nomads for travel insurance.
On a side note, many premium credit cards have comprehensive travel insurance coverage. Also, some employer-sponsored health plans cover out-of-country medical emergencies. Check accordingly.
What Else to Bring to the Galapagos
Ecuador requires travelers to have an outbound flight ticket. They'll want to see it before you depart for your flights to Galapagos.
Most travelers visiting the Galapagos already have a return ticket, which won't be a problem.
But backpackers, long-term travelers, and digital nomads don't always have a return flight ticket. A workaround is to buy a refundable ticket if you don't know your next destination.
The Galapagos has its own entry rules due to the pandemic and sometimes differs from mainland Ecuador. You'll need to bring proof of vaccination or a negative COVID test.
You should also fill out the TCT pre-registration form, saving you some time when buying the TCT card. The TCT card costs $20 and is payable at Guayaquil or Quito airport. You'll need another $100 cash when you arrive at Balta or San Cristobal to pay the Galapagos National Park fee.
Conclusion
In my opinion, the Galapagos is the greatest place on the planet. You can go there with nothing and have the most fantastic time of your life. But hopefully, this Galapagos packing list gives you some good ideas on what to bring there and make your time fruitful.
In addition, if you're going on a cruise, then this packing list for the Galapagos will serve you well.
Remember, this article is a suggestion, and there is no need to pack everything. You want to travel with your luggage comfortably. And as for having the best travel camera for the Galapagos, you don't need a fancy new camera. Even your camera phone will suffice for land-based photos. It's not possible to take a bad photo here.
---
Frequently Asked Questions
Do you need bug spray in the Galapagos?
No, bugs are usually not an issue in the Galapagos Islands. Sunblock is more important. The sun can be very intense in the Galapagos, so make sure you bring plenty of sunscreens and a wide-brimmed hat. Mosquitoes and other biting bugs are generally not present on the islands, although you may encounter them occasionally during wetter months. If you're worried about any potential bug bites, it's best to take preventive measures such as wearing long clothing or using citronella-based insect repellents when necessary. If you do get bitten by a mosquito or other bug in the Galapagos Islands, note that no human diseases are transmitted from these insects. Therefore, there is no need to worry about getting ill from exposure to bugs in the Galapagos.
What you cannot bring to Galapagos?
The Galapagos National Park has strict regulations about what you can and cannot bring into the islands. It is important to be aware of these restrictions before traveling there so as not to harm the fragile ecosystem of the region. Here is a list of items that must not be brought into the Galapagos Islands:
-Any kind of firearm or ammunition, including air guns and spear guns
-Vegetables, fruits, meats, etc.
-Firewood and other combustible materials that may alter the local vegetation
-Chemicals such as insecticides, herbicides, fertilizers, etc., which could affect the delicate balance in nature
-Exotic plants and animals which could adversely affect the endemic species
-Pets and other domesticated animals
-Fishing gear, including hooks, lines, nets, etc.
-Large quantities of recreational materials such as radios and loudspeakers
-Any kind of disposable plastics (straws, bags, bottles) as they are not biodegradable
-Fuel tanks or combustible liquid containers which could endanger the wildlife in the area
Furthermore, all visitors to Galapagos must register when entering the islands and obtain a valid park permit in order to protect the pristine environment of this unique destination.
Do cell phones work in the Galapagos?
The answer is yes, but there are some limitations. Cell phone coverage in the Galapagos Islands is limited to certain areas and providers. If you are traveling to the Galapagos, it's recommended that you contact your service provider before departure to ensure that their services will work in the region. While most carriers offer 3G or 4G coverage, signal strength can be weak in certain parts of the islands.
Additionally, you may face roaming charges for using cellular data outside of your home network. For these reasons, we suggest consulting with a travel agent or local tour operator for advice on which providers are available and what type of service they provide in the Galapagos Islands. It's also a good idea to purchase a local Galapagos SIM card in order to stay connected while you are there. This will ensure that you have access to the internet and other services during your trip.
Finally, it is important to note that cell phone use in some parts of the islands may be prohibited due to their fragile ecosystems, so make sure to follow any local regulations regarding cell phone usage. By being mindful of these guidelines, you can ensure a safe and enjoyable experience in the Galapagos Islands.
Can you drink tap water in Galapagos?
No, the Galapagos tap water is usually too salty to drink. It is also not recommended to drink tap water since it may contain bacteria that can cause gastrointestinal illnesses. It is best to buy bottled or purified water from a grocery store in order to stay hydrated and healthy while visiting Galapagos. Many hotels also offer free filtered water.
Additionally, you should bring your own reusable water bottles, which can be refilled with purified water for convenience. Avoid buying single-use plastic containers as much as possible due to the sensitivity of the islands' ecosystems. By following these simple tips, you can help preserve this unique archipelago and keep its environment safe for future generations.
Does the Galapagos have ATMs?
Yes, the Galapagos Islands have a number of ATMs located throughout the main towns on each island. Most of these are operated by Produbanco, one of the largest banks in Ecuador. These ATMs accept international debit and credit cards, although it is recommended to notify your bank beforehand, so they do not block transactions while in the Galapagos. When using an ATM on the islands, you may be charged a fee by both Produbanco and your own bank. It is also important to remember that these machines are only able to dispense US dollars with a maximum amount of $300.