Last updated on August 4th, 2023
You've only traveled there if you have a photo of it, right?
Well, that's not the case.
But having a travel camera readily available to capture those epic moments is a must.
Whether you want to share your travel photos on social media or view them yourself on rainy days, you're going to need a camera that can hang during adventures. That's why we created this list of the best travel cameras. Many of these cameras crossover into beginner cameras or hiking cameras and can be used for multiple purposes, including family vacations.
Camera sensor sizes also play a role in image quality, so you'll want to consider this when buying a camera.
Pin for Later
10 Best Cameras for Travel
1. Fujifilm X-T200
A travel camera should never come in the way of your adventures. The Fujifilm X-T200 is a perfect example of this — small, light, quick to shoot, and inexpensive.
The 24MP APS-C sensor with Bayer filter delivers excellent colors in JPEGs and a speed of 8 fps, and the RAW files have enough dynamic range to compete with bigger brothers like X-T30.
The kit comes with a 15-45mm lens with image stabilization, and the whole package is ideal for vacations. Fuji has one of the widest ranges of APS-C lenses, and you can consider buying the 35 mm f/2 prime lens too.
The greatest strength of the T200 is its giant, tilting 3.5″ touchscreen LCD. The camera has the vintage look and dials of a traditional Fuji but is simple enough to be used like a smartphone. The 425-point phase-detect AF, along with face and eye detection, is excellent, and you can leave everything on auto in most cases. The only drawback is that you can't pick an AF point of your choice if the camera detects a face.
The X-T200 is also a great vlogging tool. The down-sampled 4K video quality is excellent, and you get both mic and headphone ports — provided you use a small adapter cable. A few neat tricks are the 'digital gimbal' feature for stabilization and an 'HDR video' option for high-contrast scenes.
While the camera will detect faces and keep them in focus, there is, unfortunately, no subject tracking in video.
At an entry-level price, the Fujifilm X-T200 makes for a decent travel camera if you can avoid the rain. Regrettably, there is no weather sealing at this price point.
Pros
Affordable and portable
Excellent image quality and color rendition
Great for vlogging
Beautiful design
Cons
AF system is not sophisticated enough for complex situations
No weather sealing
No in-body stabilization
2. Olympus OM-D E-M5 Mark III
A direct rival of the Fujifilm X-T200, the E-M5 Mark III is a micro four-thirds camera, meaning that its 20MP sensor is smaller than an APS-C sensor. This makes the camera more compact while delivering image quality and dynamic range, which will be enough for regular travelers.
Surprisingly, although the camera is cheaper than most models on this list, the E-M5 III is weather-sealed and has impressive image stabilization and an articulating touchscreen. The body feels solid and comfortable in hand, and there are many dials for those who want to get into manual mode.
With a 121-point hybrid AF and 10 fps burst speed, the camera can handle everyday travel photography and family vacations, although you cannot expect comprehensive performance.
4K video at 24 and 30 fps is great, and so is the inclusion of a flat profile for color grading and a mic port.
Unfortunately, the so-so AF, missing headphone jack, and advanced features like peaking and zebra hold it back slightly. The E-M5 Mark III will suit a beginner travel photographer looking for a simple camera that will last long.
Pros
Rugged, weather-sealed body
Image stabilization
Good image quality
Great 4K video
Cons
AF performance is slow when compared to other mirrorless models
Menu system is confusing
Poor battery life
3. Panasonic Lumix DC-S5
Released in 2020, the Lumix DC-S5 is a full-frame mirrorless that will appeal to travelers looking for an all-rounder camera.
The 24MP CMOS sensor is housed in a stabilized, weather-sealed body, which feels like it will easily withstand harsh weather and a few bumps.
The overall image quality is excellent in both JPEG and RAW, although moiré can be a problem in some cases. There's also a high-resolution mode that can capture 96MP RAW files.
Panasonic has also updated its DFD autofocusing to provide better face and eye detection and improved subject tracking. The contrast-detect AF is decent enough for most users, but fast-paced action remains a challenge for the DC-S5, and there is some hunting during video.
The DC-S5 can take 4K/30p without any crop at 10 bit, 4K/60p with an ASP-C sized crop, and 1080p up to 180 fps. The camera also offers additional tools like zebra warnings, V-log support, and waveform view, along with headphones and mic ports.
Unlike the Z5 and a7 III, the Panasonic S5 is a video camera first, which can be used reliably for stills, too, provided you soon upgrade from the basic 20-60 mm kit lens for better results.
Pros
Outstanding build quality
Image stabilization worth 6.5 stops
Excellent for video
Good image quality in JPEG and Raw
Cons
AF performance can be sketchy
Shooting speed of only 5 fps
4. Sony Alpha a7C
Don't let the small size of this camera fool you. The Sony Alpha a7C is the world's smallest full-frame mirrorless camera, and if the 24MP CMOS sensor with Sony's state of the art 'Real Time' AF is not enough, it also comes with internal image stabilization, a fully articulating touch LCD, and a battery rated for more than 700 shots per charge.
You can pair this with several lenses, but the small size of the camera suits travel lenses like the collapsible 28-60mm kit lens or the 50mm prime.
As far as performance goes, the a7C does not disappoint. The dynamic range of the sensor and its low-light performance is top of the class. A few things that come in the way of otherwise great photos are the small EVF, the dials — all of which must be controlled by your thumb — and a confusing menu system.
The AF is quick, and once you have set up AF-C — which is for tracking subjects — the a7C will do most of the heavy lifting on its own.
4K video at 30 fps comes with a crop, but you can shoot at 24 fps to use the entire area of the sensor. Serious videographers will be happy with the headphones and mic port, zebra warnings, focus peaking, and log profile, although the 8-bit footage and rolling shutter may be limiting.
The a7C demands some practice, but there is little that this camera cannot do once you have learned its deep feature set.
Pros
Full-frame image quality in a small body
Excellent AF performance
Image stabilization
Long-lasting battery
Cons
The EVF is bit small and uncomfortable
No front dial, only 3 rear dials
Many good Sony lenses are too large for the camera
5. Canon EOS 6D Mark II
The first DSLR on this list, the 6D Mark II, is perfect for those looking for an authentic DSLR experience with an optical viewfinder and a solid-feeling body.
The 26MP full-frame sensor and DIGIC 7 processor can still hold their own. The optical viewfinder has a 45-point AF system (AI Servo, AI Focus, One-Shot), which is good enough for general use and travel photography. In live view, the 6D II gives Dual Pixel, which works well for video and subject tracking, although the shooting speed of 4 fps is disappointing.
The video feature set is also nothing mind-blowing. You only get 1080p video, and there is some noticeable softness in the footage. Apart from the Dual Pixel's ease of use and the articulating touchscreen LCD, the 6D II has not much to offer.
Overall, the 6D Mark II is a great camera, capable of delivering excellent images, especially if you already have Canon lenses. The weather-sealed body is enjoyable to use, and the buttons, dials, and OVF provide an engaging shooting experience.
The 6D Mark II offers excellent value as a full-frame DSLR travel camera, especially since you can buy high-end, EF-mount lenses at lower prices from Sigma or Tamron.
Pros
A pure DSLR shooting experience
Well-built and rugged body
Good low-light performance
built-in GPS
Cons
AF system feels outdated when compared to newer cameras
Dynamic range could have been better
6. Fujifilm X-T4
The Fujifilm flagship mirrorless camera contains all the company's best features — an excellent 26MP APS-C sensor, beautiful JPEG colors, and retro-style dials in a weather-sealed body.
What's new is 6-stop in-body image stabilization and better battery life, both advantageous when traveling and don't want the additional weight of a tripod and extra batteries.
Image quality is top-notch, and you can easily rely on the auto mode, especially for portraits, and the auto bracketing feature for perfect exposure or HDR photography. The T4 gives a speed of 15 fps, and its AF system is rapid, although you might have to tweak a few settings and use Zone AF for best results with wildlife.
The 18-55 and 16-80mm kit lenses are great and quick to keep the overall package portable.
The X-T4 is arguably Fuji's best video camera too. With 4K, image stabilization, 10-bit footage, focus peaking, and zebra warnings, it can be used for much more than just home videos. One drawback is the lack of subject tracking in video; otherwise, the X-T4 is a perfect all-rounder travel camera.
Pros
Excellent image quality
Internal stabilization
Lots of features for videographers
Retro-style dials make the shooting experience enjoyable
Cons
AF performance is not the best for action photography
No subject tracking in video
7. Canon EOS R6
Canon has combined in this mirrorless camera a superb 20MP full-frame sensor with an ergonomic and weather-sealed body — the foundation of any reliable travel camera.
The EOS R6 comes with the DIGIC X image processor that powers 4K video, 10-bit output, and log capabilities. You also get internal image stabilization up to 8 stops and a fully articulating touch LCD.
Overall, the EOS R6 has excellent specifications for both photography and video. But what makes it great for traveling and landscapes especially is the Dual Pixel AF II. You can use this camera as a point-and-shoot and never get a blurry photo. The AI-powered subject tracking, face and animal detection, and a shooting speed of 12 fps make the R6 excellent for capturing kids' events and pets running around.
The body can be bought with the 24-105mm kit lens, a good focal range for general use and wide enough for many landscape shots.
Apart from the heating issues when shooting 4K video, significant rolling shutter, and the default noise suppression applied in RAW, the EOS R6 is a well-rounded package, albeit slightly expensive.
Pros
Excellent image and video quality
Ergonomic body
Image stabilization
Cons
Heating issues with 4K
Dynamic range is slightly low and RAW files have default noise suppression
8. Nikon Z5
Unlike the Canon R6, the Nikon Z5 is cheaper and still offers an astoundingly good 24MP full-frame sensor in a super-comfortable, weather-resistant body with image stabilization.
In fact, for people who are mainly looking for a photography-only camera, there is hardly a better value-for-money model out there.
Nikon has always had a slightly better dynamic range and low-light performance than Canon and Fuji, and the Z5 is no exception. The 273-point AF system is speedy, and Nikon's subject tracking is highly accurate. Only the sluggish speed of 4.5 fps will get in the way. There are also features like timelapse, exposure bracketing, and focus stacking.
The Z5 delivers good quality 1080p videos in the video segment, but 4K comes with a heavy crop. Also, the AF is prone to sudden jumping or hunting unless it detects a face, although you do get headphones and mic ports.
In a nutshell, the camera will give amazing images and decent video for 99% of travelers and save you a ton of money.
Pros
Excellent image quality
Reliable AF in for stills
Image stabilization
Cons
4K video comes with a crop
Shooting speed is only 4.5 fps
9. Sony Alpha a7 III
A fan favorite in the full-frame mirrorless category, the Sony Alpha a7 III will serve you well for travel, action, portrait photography, and more.
The 24MP CMOS sensor provides all the dynamic range you'll need with minimal noise. Sony's hybrid AF, eye detection, and subject tracking are magical once the camera is set up to your liking.
For poorly lit scenes, you have the option of manually bracketing your exposure with a tripod so that you can merge them later into an HDR shot.
Thankfully, Sony has updated the ergonomics of this camera and added an AF joystick, which makes the A7 III much more comfortable than other Alpha cameras. The weather sealing is decent enough to keep light rain out.
The camera is also formidable in terms of video. The 4K video quality is superb inclusion of a log-gamma profile, a tilting LCD, and headphone and mic jacks make it a compelling buy.
The AF in video may be spotty in a few cases, but it's still close to Canon's Dual Pixel. Paired with a lens like the 24-70mm G Master or 24-105mm, the a7 III will make a tremendous all-purpose travel kit.
Pros
Excellent quality in both stills and videos
Image stabilization
Best-in-class AF performance
Cons
The menus and settings are confusing sometimes
10. Nikon D7500
The Nikon D7500 is Nikon's flagship mid-range DSLR, borrowing many features from the professional D500 body, including the 20.9MP APS-C sensor, the metering sensor, and a more comfortable grip.
The hefty, weather-sealed body will survive rough use easily, but the weight may not be suitable for long hikes. The 18-55mm AF-P kit lens is collapsible and may be a good choice for saving some space.
Being a DSLR, the D7500's optical viewfinder and twin dials are a joy to use and provide a much more engaging experience than modern mirrorless cameras. There's also a partially articulating touch LCD to make it easier to click photos and take video.
The sensor might have a slightly lower resolution, but the image quality and metering are beyond excellent, and it makes the camera's readout speed and face recognition faster.
With a speed of 8 fps and a 51-point AF system with 3D tracking, the D7500 is a capable action and sports camera. The video quality in 4K and full HD is great, but you'll have to find a workaround for the heavy crop in 4K and wobbly video autofocus.
Pros
Top-class image quality and a wide dynamic range
Rugged body that will last long
Impressive viewfinder AF and subject tracking
Cons
Body size may not suit photographers wanting to save space
Video AF is prone to hunting
4K is cropped
5 Best Adventure and Action Travel Cameras
1. Olympus Tough TG-6
As the name suggests, the Olympus TG-6 is one tough camera that is small enough to fit your jacket pocket. You cannot change lenses, and the resolution is limited to a small 1-inch 12MP sensor. However, the 25-100mm equivalent range is suitable for general use, and the aperture of f/2 – f/4.9 is bright.
The Tough TG-6 is waterproof up to 15m and also shockproof, freezeproof, and dustproof. Built like an absolute tank, you can drop this camera on a bumpy road, and there won't be functional damage. The image quality is decent enough only for social media, and you have the option of shooting RAW, although instead of full manual, there's only an aperture priority mode.
The TG-6 offers excellent macro shooting modes, along with GPS, altimeter, compass, thermometer, and an accelerometer. There's also 4K video, which with the basic 25-point AF system, gives smartphone-like footage. The camera will not replace fancy DSLRs, but it was never meant to.
For mountaineers who want something to record memories and not break down, the TG-6 is the perfect travel camera. Scuba divers can purchase a separate housing for dives down to 45m (147ft).
Pros
Waterproof, freezeproof, dustproof
Ability to shoot RAW
Capable of taking good close-up shots
Cons
Image quality is not very good
Low resolution
2. GoPro Hero9 Black
The GoPro action cameras have become synonymous with vlogging and travel — for good reason. Their latest Hero9 Black is matchbox-like small, waterproof, and stabilized for super-smooth videos. It gives sharp 20MP photos and has a built-in timelapse feature. The Hero9 can also be used for direct live streaming and as a webcam for your laptop.
The reason why this tiny action camera suits travel photography is its ease of use. There's a touchscreen at the back and a small screen in the front so that your selfies turn out perfect. You can shoot both 5K video at 30 fps and 4K/60 fps, with a lens range of 16 to 39mm, which is basically digital zoom.
Given the fantastic stabilization, superb video quality, and wide-angle perspective — along with an automatic horizon leveling to reduce distortion — the Hero9 continues the legacy of waterproof, pocketable adventure travel cameras.
Pros
HyperSmooth stabilization works well
Front and rear LCD screens
Great video quality
Cons
Not versatile if you want to zoom in
Battery life is decent, but carry a spare for longer trips
3. Insta360 One R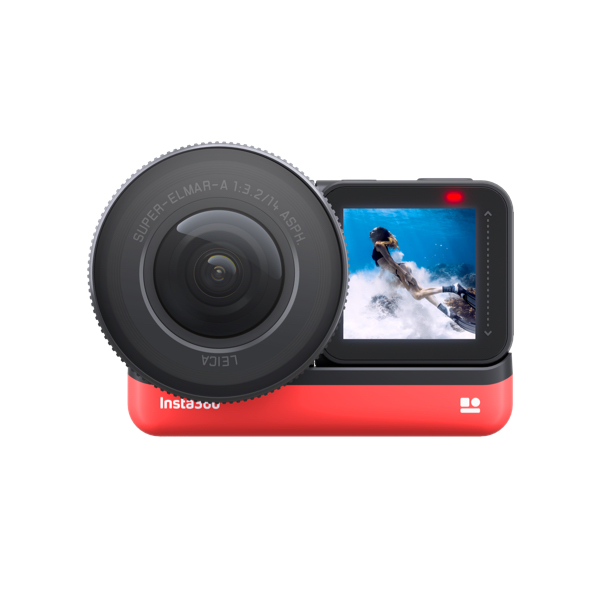 The Insta360 One R is a modular action camera, meaning that it's made of small parts that snap together like Legos.
The One R comes in three versions: a '1-inch edition' that gives a 1-inch sensor and a Leica lens, a '360 edition' that has a smaller sensor and 5.7K video, and a '4K edition' that gives 12MP photos and 4K video without 360° video; all of them having in-body stabilization.
All the lenses of the three editions are interchangeable and can be bought separately. The 360 edition is in the middle of the price range and perhaps the most suitable for travel. You can use it for 18MP photos and 360° videos, and it offers useful features like RAW support, slow motion, subject tracking with voice command, editing out the selfie stick to give a drone-like feel, and timelapse. Both the image and video quality are excellent, matching GoPro models.
Being a modular body, the main module with the touchscreen and the internal electronics is reversible. Therefore, you can attach it such that the screen faces you while taking selfies, although the touch is not very responsive, and the menus are confusing.
While the build quality is not as good as GoPro, the Insta360 One R is also waterproof and affordable enough to make it a good traveler's companion.
Pros
Options to change lenses and add more features to the base edition
Great stabilization
Good video quality and 360° video effects
Cons
Build quality doesn't inspire confidence
Menus are confusing, and the slow touchscreen makes it easier to use the phone app for changing settings
4. AKASO Brave 7 Action Cam
The cheapest camera on this list, the AKASO Brave 7 is a beginner's action kit with fewer features. The size is small enough to be pocketable and includes a remote control for wireless shooting.
The camera has its bases covered: 20MP photos, 4K video at 30 fps and 1080p at 60 fps, a 2-inch rear touchscreen, and a smaller screen at the front to preview your selfies and vlogs.
The camera is waterproof (IPX7 down to 1 meter), and with the included housing, you can dive down to 131 feet (40 meters).
Pros
Affordable
20MP photos and 4K video get the job done
Includes diving housing
Great alternative to GoPro
Cons
App needs improvement
electronic image stabilization not the greatest
5. Insta360 One X2
Shaped like a small TV remote, the Insta360 One X2 is a highly portable option if you only want to capture photos and videos without worrying about settings.
There are lenses on both sides and one touchscreen display. You can capture the whole scene in 5.7K 360° video, or use the primary lens for optically stabilized wide-angle videos and photos with automatic horizon leveling.
The waterproof X2 also has the invisible selfie stick feature, which removes the stick from your videos and makes it look like you are shooting using a drone.
Using the Insta360 phone app, you can also remove moving objects and crowds, add stop motion effects, clone objects or make a timelapse.
The One X2 is a highly creative tool, and once you use a fast-enough phone and master its app, there are many cinematic effects to be applied.
If you want to capture the whole scene on your travels, the One X2 is the standard in 360 cameras. It's a great travel camera for beginners.
Pros
Dual lens for 360° video capture
Great image quality
The app provides endless effects
Cons
Slightly expensive
Requires practice and a good smartphone
Conclusion
The best travel camera for you depends on your travel style.
If you're an explorer, then you'll want a water-sealed camera body. In addition, you'll need a wide-angle lens for landscapes or a telephoto zoom lens for wildlife.
If you're an urban traveler on vacation, you can use an everyday camera like the Fujifilm X-T200 with its 15-45mm lens, which will also be great for family and friend photos.
If you're not into editing travel photos or producing sharp images, then you can get away with using your smartphone camera. As they say, the best camera is the one you have with you.
---
Frequently Asked Questions
What is a good camera to buy for vacation?
The Fujifilm X-T200 is the best entry-level travel camera for capturing all of your vacation memories. It is lightweight and equipped with an interchangeable lens to help you get the best shot in any scenario. The 24.2MP stills at 8 fps shooting speed will allow you to capture moments quickly and accurately, while the 4K UHD video and HDR movie mode let you record beautiful videos that are as clear as they are vibrant.
And best of all, it's affordable — so it won't break the bank on your next vacation. With the Fujifilm X-T200, you can confidently take stunning photos or videos without having to worry about missing a moment because of your equipment. Whether it's a family trip or a solo adventure, the Fujifilm X-T200 has you covered.
Is a DSLR or mirrorless camera better for travel photography?
That really depends on your needs and preferences. If you want the best travel camera, there are a few features to look for. First, consider size and weight. A compact mirrorless camera such as a Sony Alpha or Fuji X series will usually be lighter or smaller than a DSLR like a Canon EOS or Nikon D series. This makes them easier to carry around while traveling without being too bulky.
Second, look at image quality and low light performance — which is especially important when shooting in dark environments or at night time. Mirrorless cameras have typically better low-light performance than DSLRs due to their larger sensors and more advanced technology, but some newer DSLRs have caught up in this regard.
Lastly, you'll want to figure out your budget and what features best suit your needs. Mirrorless cameras tend to be more expensive than DSLRs, but they offer a lot of the same features with improved performance. If you're looking for the best travel camera that offers great image quality and low-light performance, a mirrorless camera is probably the best option. On the other hand, if you're on a tighter budget or need extra features such as long battery life or weather sealing, then a DSLR could be a better choice.
Ultimately, it all comes down to personal preference and which type of camera best suits your needs.
How do I choose a camera for travel photography?
When choosing a camera for travel photography, there are several factors to consider. The best travel camera should be weather-resistant, have great low-light performance, and be versatile enough to handle different types of shots. Consider your budget when making a purchase and research the best cameras in your price range. Additionally, if you plan on taking long-distance shots or zooming in on objects, it may be worth investing in an additional telephoto lens for extra reach and image quality. Finally, read reviews from other photographers to get an idea of what features they find most useful in their travels. This will help narrow down your options and ensure you make the best choice for your needs.
Is it worth getting a camera for travel?
Yes. Investing in the best travel camera will provide you with much better image quality than a smartphone. With the right camera, you can also attach a telephoto lens for long-distance shots of wildlife or people that would be impossible to capture otherwise. It's an especially worthwhile investment if you're planning on taking lots of photos during your travels. Not only will it capture unique moments and memories, but it can help take your photography skills to the next level. The best cameras for travel come in all shapes, sizes, and price points, so there's one out there to fit your budget and style. So don't just rely on your phone — get yourself the best travel camera and unlock the potential of capturing beautiful images no matter where you go.
Is a GoPro good for travel?
The answer to this question depends on your individual needs. If you enjoy capturing memories and moments with photos and videos, a GoPro can be useful for travel. GoPros are small and portable, making them easy to bring along with you wherever you go. They also have features like waterproofing, stability control modes, slow-motion capabilities, time-lapse settings, and more that make them great for traveling. Additionally, GoPros offer high-quality images and videos that can help capture the beauty of your travels in vivid detail.
However, it is important to consider whether or not investing in a GoPro is worth it for you. These cameras can be expensive and require additional accessories such as tripods and cases, which may add up quickly depending on how you intend to use them. Additionally, some features that the camera offers may be unnecessary for your needs and usage.
Ultimately, whether or not a GoPro is good for travel depends on what you need from a camera and how you plan to use it. If you think a GoPro will be beneficial for capturing memorable adventures along your travels, then it might be worth investing in one.
What is the best travel camera?
The Sony Alpha a7 III is the perfect option for those who are looking for an all-around camera that is compact, lightweight, and easy to use. The Sony Alpha a7 III features a 24.2MP full-frame sensor paired with an advanced autofocus system, 5-axis image stabilization, 4K video recording, and many other impressive capabilities. It's capable of producing stunning images with vibrant colors and rich detail due to its BIONZ X image processor. Its high ISO sensitivity can handle low-light situations, making it great for capturing shots in challenging lighting conditions.
Moreover, the ergonomic design provides comfortable handling even during extended periods of shooting. With its robust construction and fast operation speed, the Sony Alpha a7 III is the ideal camera for travel photography. It's the perfect combination of features, performance, and portability. So if you're looking for a reliable camera to document your journeys, look no further than the Sony Alpha a7 III.
About the Author: Liya Kravchenkin
Liya Kravchenkin is an experienced portrait photographer. She has worked with clients worldwide and has even traveled to more than 50 countries. Liya loves photography because it allows her to capture a moment that can never be repeated. Liya also enjoys traveling, learning about new cultures, and seeing the world's unique natural wonders. Her favorite travel memories are from swimming with dolphins in the Galapagos and eating cheesecake in New York City.