It's a nice thing to know that you are taking clear and steady shots. There are instances where one is walking through a rocky road or an uneven surface. You have taken several pictures, but they are still slightly blurred. You'll need to have the right equipment to avoid that problem. And that would be a tripod.
Various brands offer tripods that have specifications to cater to the different needs of photographers. It may be a tripod with an extended height, a sturdier material, a more flexible tripod, and other factors.
Apart from the tripod's features, it's crucial to note what to look for when buying your tripod. The tripod's weight, its height, how much it can carry, etc. These factors can make or break your choice of a tripod.
Tripods help take more aesthetic photos by stabilizing the camera or using different vantage points. Below is a discussion of the best tripod brands, their featured tripods, and what to look for when you decide to buy one for yourself. The featured tripods cost a premium, but we do have a list of tripods under $100.
The Best Tripod Brands
1. Manfrotto
Created in 1972, Manfrotto, until now, has proved itself by producing and innovating high-quality photography accessories along with exceptional designs. They are also known for their camera bags, photographic filters, lighting control solutions, and accessories for smartphones, action cameras, and drones.
Some famous ambassadors for this tripod brand are Adam Barker, Dave Krugman, Dixie Dixon, Juliana Broste, and Paul Zizka.
Top Pick: Manfrotto 055 Aluminum 3-Section Tripod Kit
The Manfrotto 055 Aluminum 3-Section Tripod Kit is a must-have tripod kit for professional photographers. It provides a chance to showcase their creative abilities.
It contains a sturdy aluminum tripod that comes with the highest quality standard. The Manfrotto 055 changes the 3-section aluminum tripod, guaranteeing better-than-ever camera stability.
It has quick power locks that contain high locking power, ensuring maximum camera stability. Its design allows a single-handed opening of all the leg sections in one go. It also provides positioning freedom as it lets users independently set each leg to any preset angle.
The tripod has a crucial feature, and it's the 90° column, allowing it to extend horizontally or vertically. When users want to switch from the horizontal to the vertical column orientation, they can easily do so as this doesn't require any disassembly and can even be possible with a camera attached to it.
The top casting of the Manfrotto 055 has an Easy Link attachment that supports photo or video accessories (LED light, flash) on an extending arm or bracket, going beyond the boundaries of the functionalities of tripods.
2. Peak Design
It started in 2010 when Peter Dering went on a 4-month trip around the world, and he learned that carrying a big camera was such a hassle. He returned home and spent ten months designing a tiny device that would make carrying a camera easy. Peak Design also manufactures travel bags, bag organizers and accessories, camera accessories, and mobile accessories.
Top Pick: Peak Design Carbon Fiber Travel Tripod
View on Amazon or Peak Design
The Travel Tripod provides pro-level stability, load capacity, and a deployed height, yet can pack itself to the diameter of a water bottle. This redesign of the Travel Tripod is the result of 4 years of engineering. This design also eliminates wasted space when it's packed.
It provides a more efficient setup and takedown. It contains an ergonomic camera quick release. It has fast-locking legs and deploys in seconds, without having to flip it, unlike traditional tripod legs.
This tripod has a 20lbs weight capacity that is perfect for a full-frame DSLR + telephoto lens. The Travel Tripod has a built-in mobile mount that secures any phone or case. It's ideal for travel photography as its materials are weather and impact-resistant.
3. Vanguard
Founded in 1986, Vanguard is a global company with total product ownership, resulting in unmatched quality control. Aside from tripods, Vanguard also makes photography bags, binoculars, spotting scopes, and hard cases. They have received several prestigious awards, such as but not limited to TIPA Awards, Good Design Award, and Reddot Award. 
Some famous ambassadors of this tripod brand are Reza Malayeri, Mike Moats, and Dylan Morrison.
Top Pick: Vanguard Alta Pro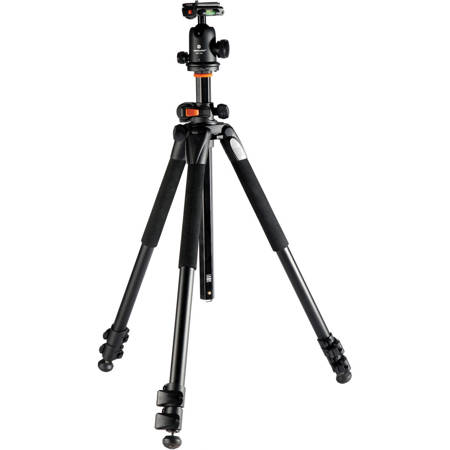 The Vanguard Alta Pro tripod has excellent flexibility, camera stability and provides even more angle possibilities.
The tripod's Multi-Angle Central Column (MACC) allows users to move its central column from zero to 180-degree angles in several horizontal and vertical positions, allowing ease of doing macro-photography and wide-angle shots.
It has a fluid-like SBH-100 ball head that can rotate 360 degrees and contains smooth locking knobs, an excellent loading capacity of 15.4lbs, and fine-tuning features.
The Vanguard Alta Pro has 3-section aluminum alloy legs that can adjust to 25, 50, and 80-degree angles to allow extreme low-angle photography. It also has an Instant Swivel Stop-n-Lock (ISSL) system that focuses on repositioning the central column in a single movement, all while maintaining the stability of the Vanguard Alta Pro.
4. Benro
It started in 1995 with Yicheng Hardware manufacturing the brand's products. A few years after, they cooperated with a Japanese company to produce camera tripods. Since then, they have opened several offices across the globe. Benro is one of the leading brands in photography, serving customers all over the world. 
Aside from camera tripods, Benro also produces filters, smartphone gear, camera accessories, stabilizers, and more.
Top Pick: Benro Slim Carbon Fiber Lightweight Travel Tripod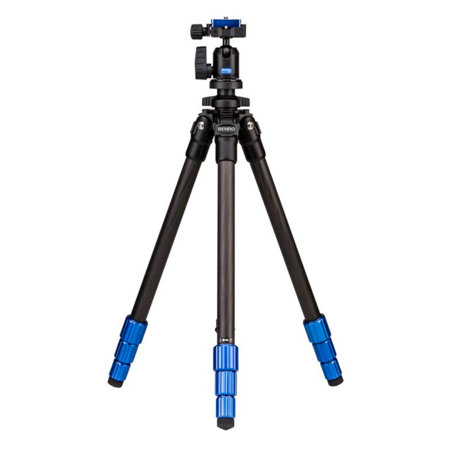 If you are looking for a lightweight, slim, but sturdy travel tripod, the Benro Slim Carbon Fiber Lightweight Travel Tripod is an attractive choice. Its most highlighted feature is its slim profile shoulder, allowing for a more compact design.
It has a maximum load of 8.8lbs but only weighs around 2.2lbs. This tripod is perfect for compact DSLR cameras and mirrorless cameras.
The anodized aluminum twist locks located at the tripod legs allow for added stability when shooting. Do you want to get low for those ground shots? The grooved columns are reversible to enable the use for low to ground shots.
To beat windy conditions, a weight hook located under the center column lets you add weight. The removable single-action ball head allows for easy operation and quick panoramic sweeps.
5. Fotopro
Established in 1994, Fotopro is a global brand that produces and caters to a wide range of photographic equipment. It also manufactures mobile device accessories and action camera accessories. A few of its famous ambassadors are Alex McClure, David Swindler, and Andy Mann.
Top Pick: Fotopro X-Go Max Tripod Kit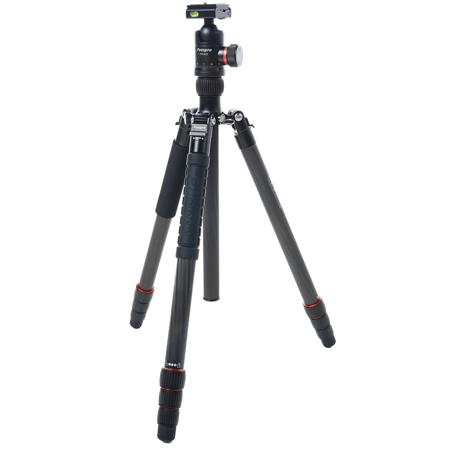 The Fotopro X-Go Max Tripod uses high-quality carbon fiber, making it lightweight and robust. It also features a panning range that can turn 360 degrees and a separate panning lock for convenience.
The Fotopro X-Go Max Tripod Kit is a versatile tripod. It's a 4-section twist-lock tripod that can turn into a monopod when you remove one of its tripod legs and attach the ball head.
Because of its handiness, the tripod legs are adjustable to three various positions based on the kind of terrain you are working in: standard, wide, and ultra-wide. The legs are also spiked to ensure stable footing on every surface.
6. Geekoto
Geekoto started in 2019, and its goal is to create quality products while considering the artist. The brand also has products like off-camera flashes, LED lights, and accessories.
Top Pick: Geekoto Pro Dreamer Tripod
The Geekoto Pro Dreamer Tripod is a flexible, portable, and convenient tripod kit. It has a compact size, making it easy to carry. It has a ball-head that can rotate to 360 degrees, and you can get free angles, which allows perfect shots and excellent panorama.
The tripod has a maximum load weight of 17.6lbs, making it a great companion for DSLR cameras, and it can handle heavier loads while being stable compared to similar products. This tripod is suitable for various shootings: landscape, outdoor, indoor, travel. It also lets you do an inverted shooting, capturing static landscapes from a low angle.
Its legs are adjustable to three opening angle levels to help stabilize inclined levels and challenging terrain. This tripod can easily disassemble and turn into a monopod, making it a great travel companion.
7. Sirui
Founded in 2001, Sirui manufactures products that are innovative and contain the highest quality. It also produces stabilizers, anamorphic lenses, and smartphone gimbals.
Famous ambassadors of this tripod brand are Guerel Sahin, Richard Fox, and Jassi Oberai.
Top Pick: SIRUI Traveler 7C Carbon-Fiber Travel Tripod
The SIRUI Traveler 7C Carbon-Fiber Travel Tripod has a solid construction that provides excellence in its performance and functionalities and is efficient in outdoor shooting.
The tripod is portable and has a tight fit, and this can be stored by simply folding up its legs. It also has a detachable tripod leg that can instantly transform into a monopod to follow any subject, even on rugged ground.
It also features quick column adjustments. Users would need to stretch the center column up or down to enable different working heights when shooting outdoors. It's also reversible to create shots at a macro or low-angle view.
The SIRUI Traveler 7C Carbon-Fiber Travel Tripod has a head base that can turn 360 degrees to capture a panoramic or path-lapse shot.
8. K&F Concept
K&F Concept established itself in 2011. They specialize in designing and producing photography and video equipment. It's also known for its lens filters, camera bags, surveillance cameras, smartwatches, and more.
Raymond McBride, Paul Monaghan, and Christian Redermayer are some ambassadors of the K&F Concept.
Top Pick: K&F Concept Compact Aluminum Tripod
This compact aluminum tripod has a tube of quality magnesium alloy, is light and stable, and can reverse to 180 degrees, making it easy to carry outdoors. It contains a ball head that can rotate 360-degrees, helping improve camera activity range, making it easier to capture panoramic photos, and providing better effects than ultra-wide-angle lenses.
The weight of this tripod, including its ball head, is 2.99lbs. It also has a load capacity of 22lbs. Its folded height is 18.1″, enough to help you have a convenient journey.
Equipped with a powerful and quick flip leg lock, the K&F Concept Compact Aluminum Tripod has a rapid-release lock that reduces the time of setting the tripod, helping professionals meet outdoor photography needs.
9. 3 Legged Thing
Founded by Danny Lenihan in 2010, 3 Legged Thing aimed to create a well-engineered tripod that could revolutionize the industry. It also tackles products like L-Brackets, camera bags, monopod gears, and accessories.
Top Pick: 3 Legged Thing Carbon Fiber Travel Tripod System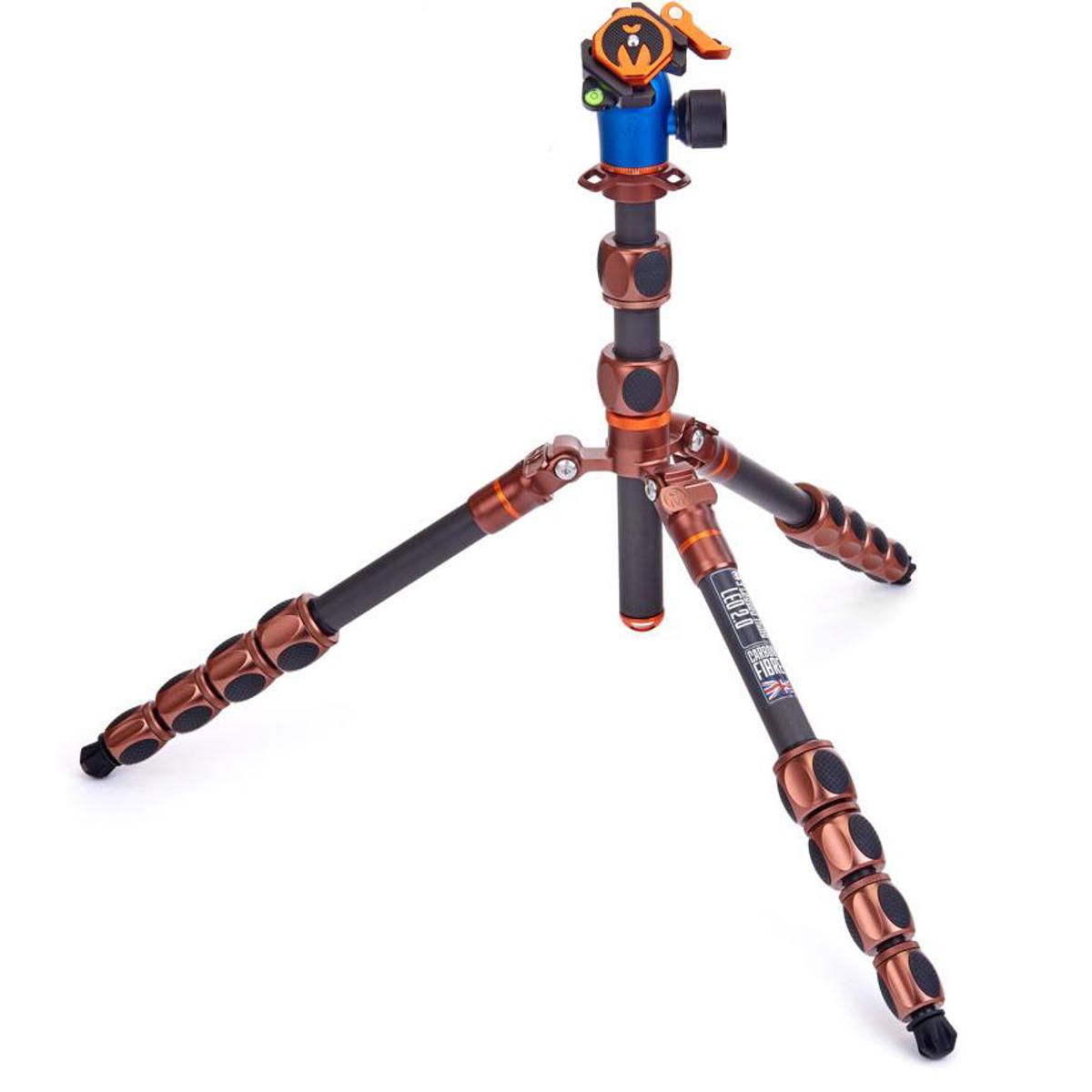 The Leo 2.0 is an ultra-compact, professional travel tripod. It caters to the needs of professionals, and it is the perfect addition to a photographer or videographer's kit.
The tripod has a maximum load of 30kg (66lbs), perfect for any setup, from mirrorless cameras to heavier DSLR systems. This tripod system is also an excellent traveling companion as it is incredibly compact when folded.
10. Joby/GorillaPod
Established in 1996, Joby has always tried to create functional and innovative yet easy-to-use products for photographers. Joby also tackles smartphone cases and accessories, camera accessories, vlogging microphones, etc.
A few ambassadors for this top tripod brand are Benjamin Brandon, TJ Lee, Jon Reyes, Jessica Brugali, Miranda Wilking, and many more.
Top Pick: GorillaPod 5K Kit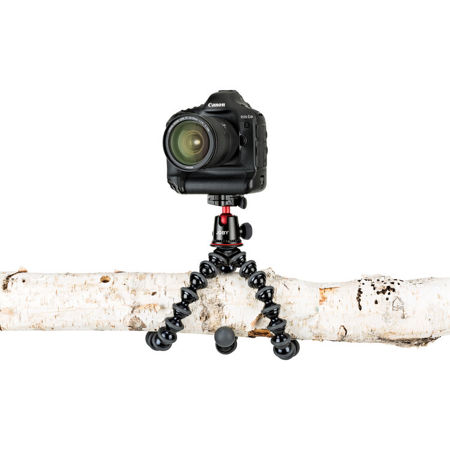 Whether this is for capturing images or vlogging, the GorillaPod 5K Kit can hold pro gear of up to 5kg. This tripod contains the perfect hand grip for vlogging. It also features a 360-degree panning bed to encourage optimal position control.
The GorillaPod 5k is great for travelers and hikers as it takes a stable shot on any surface with its rubberized rings and foot grips, and it can also grip branches or bars for a wider choice of angles. It's excellent for changing the perspective and taking a worm's eye view of subjects.
What to Look For When Buying a Tripod
Deciding which tripod to purchase can be a challenging experience. There are several variables to consider before finally making a choice.
Tripod Weight Rating
One thing to look for when shopping for a tripod is the maximum weight that it can support. You should determine how heavy your equipment is and choose the tripod that supports at least twice its weight. The pressure you apply on the camera or when your hands are resting on the tripod must come into play.
Tripod Height
It would be best if you buy a tripod that matches your height to avoid bending down to look into the camera's viewfinder, which has to be at eye level when installed on the tripod.
If the tripod has an attached head, its tip should be level with your jaw. If the tripod comes with a separate head, the tip of the tripod should be leveled with your shoulder when you're standing straight.
The tripod's height when folded for transport or storage should also factor into your decision.
Tripod Weight and its Material
How heavy the tripod is is a crucial factor when you're picking a tripod. It's best to avoid buying tripods that are extremely heavy when you need to travel with them.
The materials used for the tripod's construction would affect its weight. The common materials are:
Aluminum – This material was the strongest and lightest material that tripods use. However, it is heavier compared to the other materials, but it is stable enough to support heavy things and quite affordable.
Carbon fiber – This material is 30% lighter than aluminum. Carbon fiber is the most expensive, but it is a solid material that supports extra weight. Investing in a carbon fiber tripod is an excellent decision if you want it to last for years.
Basalt – Tripods from basalt contain glass fiber on the inner core and basalt layers on the outside. This material is an excellent alternative to carbon fiber as it's cheaper. However, when it comes to toughness and strength, it doesn't come close to aluminum and carbon fiber tripods.
Tripod Head
The head is one of the essential parts of a tripod. It secures the camera and is responsible for controlling the camera movement. Make sure that the tripod head can support as much weight as it can.
The most common tripod heads are:
Pan-Tilt Head – This tripod head is the most common one. It contains either a single handle in charge of the horizontal movement of the camera or a dual handle to control both horizontal and vertical areas.
Ball-Head – It only has a single control that loosens or tightens the grip. While it is a very flexible head, it can also secure the camera in place.
Gimbal Head – This tripod head is a specialized tripod good for heavy and long lenses. It is ideal for fast-action photography, and it effectively balances DSLR cameras. It's also effortless to use as it is very flexible.
Conclusion
To sum up, the tripod is an essential tool when taking photos. It provides a massive advantage to getting clearer and steadier shots.
How a tripod feels and its key features are essential to remember when purchasing one. Because of several tripod brands and models to choose from, you will have to consider the essential things you are looking for in a tripod.
Even after showcasing the different brands and their respective tripods, it all just comes down to the photographer's preference at the end of the day. Some would still choose to purchase tripods that they have already used or with a familiar brand. If it works and it satisfies your photography needs, feel free to continue using it.