Meta Description: Thinking about going on a camping trip to refresh your body and mind? Make sure you have the best backpacking stove in your pack.
A steaming cup of coffee or tea on a calm, peaceful morning is the ideal way to begin a day when you are out backpacking. A hot and tasty meal after trekking through challenging trails can get you ready for the next adventure. Backpacking stoves can improve your outdoor experiences in ways that few other gears can.
Check out our list below for the 11 best stoves for backpacking that can help sweeten your upcoming backcountry trip.
Best Backpacking Stoves
1. MSR WindBurner Personal Stove System
View on MSR or Backcountry
The MSR WindBurner Personal Stove System is an excellent choice for solo backpacking. It takes minimum effort to set up and dismantle. You get a speedier boil with the windproof radiant burner and control valve technology than similar mini-stoves. In addition, it comes packed as a complete system so that you can use it right away.
Take into account that you would have to re-boil water several times if you require more than 1 liter.
The MSR is ideal for solitary or minimalist backpacking treks. We wouldn't recommend full-on cooking in the 1L pot because it's mostly for heating water. However, you can carry the stove with assurance while traveling into hilly areas. As it is designed for tougher weather situations, you don't have to worry about its durability.
If you wish to have the perfect coffee out on your treks, we suggest getting separate coffee filters for a delicious brew.
Pros
Windproof function
Compact and durable
Integrated parts
Can be used as a cup
2. Jetboil Flash Cooking System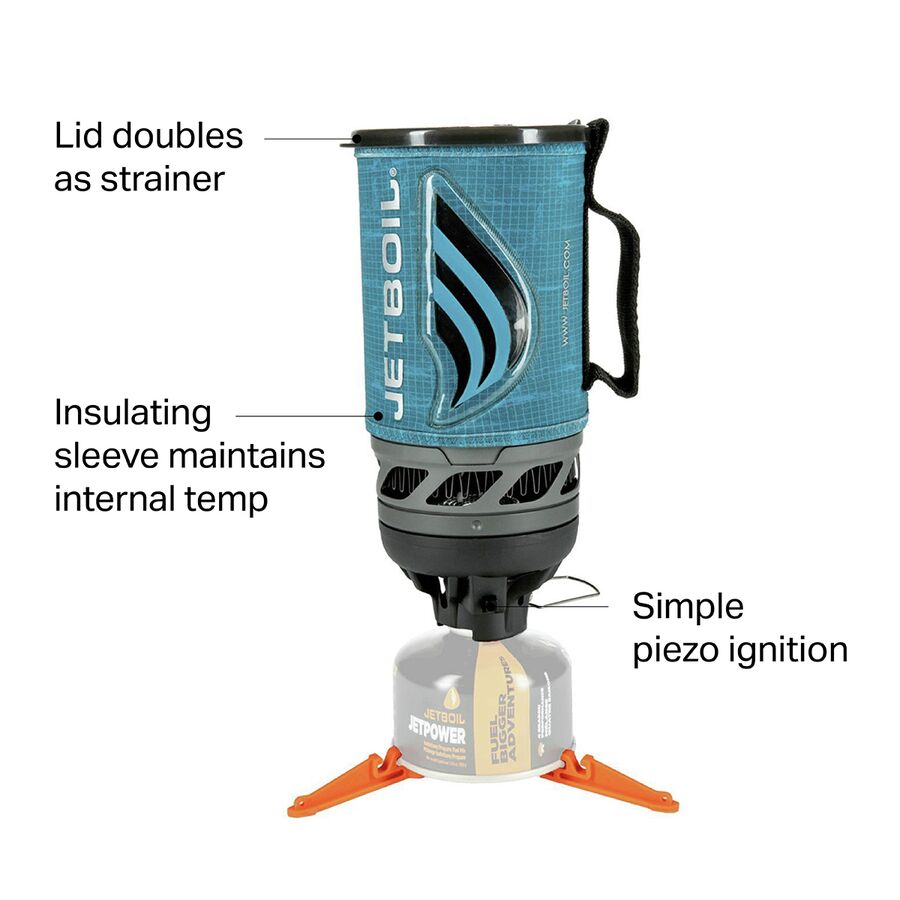 View on Backcountry or REI
The Jetboil Flash is a minimal model that includes everything you need to boil water quickly. It's less expensive than many other competing integrated canister stoves and quite reliable when there's no wind. In addition, we appreciate how it has a color-shifting heat indicator that helps you see when the water is ready before it bubbles over.
Because of the well-insulated pot, the Jetboil Flash is among the most fuel-saving stoves. However, if you're going to use it outside in inclement weather, make sure it's in a covered location.
The Jetboil Flash is a fantastic little buddy for any quick camping or mountaineering expedition. If you enjoy food that just has to be boiled (like frozen cuisine or instant noodles), this is the cooking system you need.
Pros
Lightweight and compact
Helps avoid messy situations
Container comes with measuring lines
Cons
Might now work as well in windy conditions
3. GSI Pinnacle Dualist HS
The complete set from GSI Outdoors is a well-constructed cooking system. It allows you to store a full backpacking meal set for two, including a burner and fuel in a reasonably tiny pack. The robust nylon bowls, cups, and Teflon-coated pot are ideal for travelers since they are durable and easy to clean.
Yet, the pot is perfectly sized for two people. It has quick boil times and adds to relatively low fuel consumption. You won't have to wait forever for a hot meal with this equipment.
GSI Pinnacle would be perfect for couples or two friends out on a hike. The design is thoughtful, and the compact size makes it easy to carry.
Pros
Uses minimal fuel
Cleaning the pot is easy
Fast boiling time
Cons
Measurement markings on the pot are not clear
4. Optimus Crux Lite Stove with Terra Solo Cook System
The Optimus Crux is an excellent lightweight, canister-shaped backpacking stove for use in warmer weather. It's small, robust, quick, and comes with a handy case that conceals the furnace behind a fuel canister.
It is one of our absolute favorite canister stoves for hiking in warm weather. It distinguishes itself from similar canister stoves due to two distinct traits. First, a foldable stem enables the burner to collapse into a small overall unit. Second, the pot stand on the stove extends up from above the burner, resulting in a sturdy and sleek design.
The foldable stove is placed in a cushioned neoprene sleeve. And the sleeve is connected to the foot of the fuel canister. This container occupies the difficult-to-pack space behind each canister.
Moreover, when stowed under a canister, the stove occupies almost no extra room in your luggage. This is fantastic for lightweight backpackers.
Pros
Small and lightweight
Great heat distribution
Offers easy transportation
Comes with an efficient carry bag
Cons
Not the best at simmering
5. Camp Chef Stryker 100 Isobutane Stove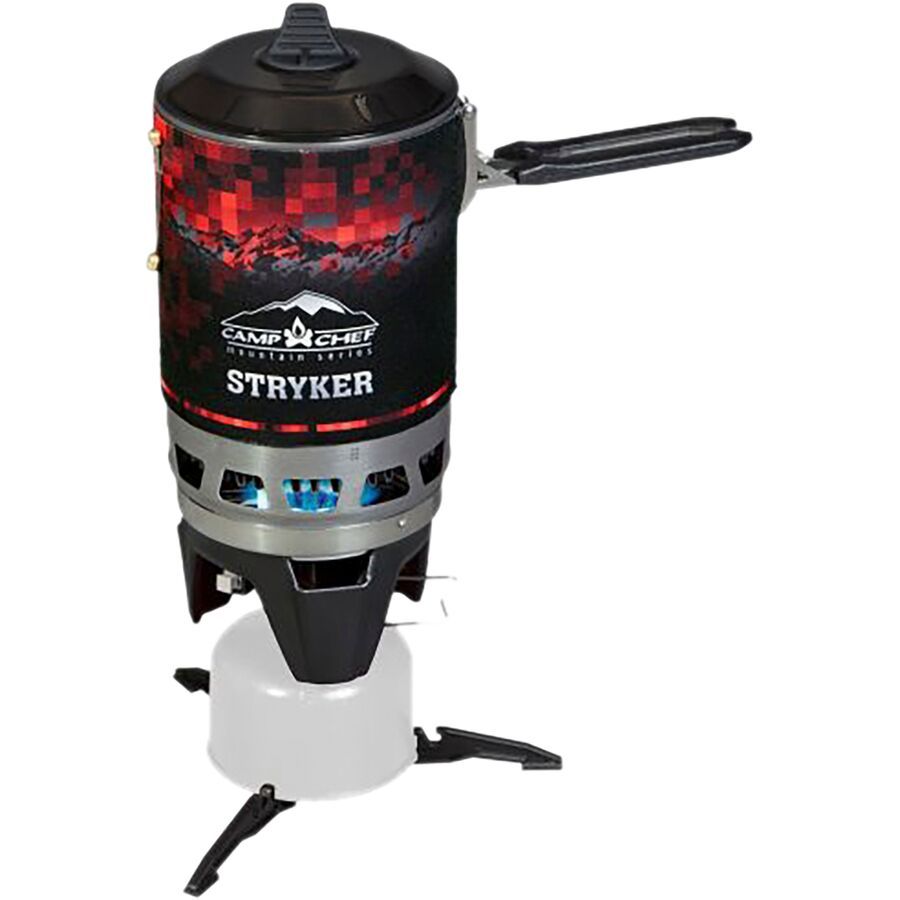 The Camp Chef Stryker 200 uses little gasoline and still provides adequate service. Because of its large 1.3-liter pot capacity, the stove is ideal for parties of three or four people looking for a fuel-efficient and simple-to-use stove.
The backpacking stove provides quick, compact, and practical capability. The economical, all-in-one design combines a stove and an insulating cup with heat ring technology. It's perfect for reduced fuel use and increased heating ability on the trek. The lightweight burner has a matchless ignition.
The Stryker is designed to heat water for beverages and dried meals right out of the box. However, with some extra bucks of additional pot support attachments, the Stryker gets some diversity and can cook a proper meal for a few people. Just keep an eye on the stove since the tall and top-heavy unit just asks to be toppled over.
Pros
Robust build
Secured cover
Convenient handle for better grip
6. BLUU MOUNT Backpacking Stove
Use the BLUU MOUNT stove to make fantastic ramen or basically anything that requires boiling. You might not be a fan of instant food, but they can taste noticeably better with this stove. It uses heat exchange technology that is highly efficient.
Also, it includes windproof circuitry to ensure that your meals are not disrupted. To bring a half-liter bowl of water to a boil, pour water into the pot and wait 2 minutes. This stove's steady functioning at various severe elevations or cold climates makes it one of the best stoves for backpacking.
Thanks to the style of the stove, you may readily pick it up even when it is turned on. The pot forms an integrated unit to provide proper heat exchange from the burner to the pot. As a result, it functions seamlessly in snow and heavy winds. Even if the gas canister runs out of fuel, the burner will continue to operate.
Pros
Easy to simmer at low temperature
Boils fast
Complete package for cooking
Cons
Might be too large for some people
7. Mokoala Backpacking Cookware Mess Kit
Camping and backpacking in the natural surroundings is an exciting activity for everybody. So head out with your family or friends on a sunny weekend to have an intimate experience with nature. And for such camping, a cooking mess kit from Mokoala is probably the ideal solution for you.
This lightweight camping cookware mess kit will be your constant buddy whether you go backpacking or camping. The heat-resistant plastic grips keep your fingertips secure. For minimizing scratches, the cooking equipment should never be cleaned with a dishwasher. Avoid using a steel or hard wool scrubber as well.
Each piece comes with a nonstick coating for easy warming and cleaning with an aluminum alloy and long-lasting substance. In addition, the hard-anodized aluminum is durable that would allow you to enjoy numerous camping trips over the years.
Pros
Cup is made of quality stainless steel
Compact and lightweight
Necessary accessories included
Cons
Nonstick coating can get scratched up
8. Fire-Maple Fixed Star 3 Cooking System
The Fire-Maple Fixed Star 3 Cooking System is the ideal stove for whipping out a quick meal while backpacking. The cooking system is capable of boiling around 800ml of water in a little over 2 minutes. So you won't have to wait an agonizingly long time by the stove.
In addition, it is tiny, making it ideal for motorbike adventures, dual sports, traveling, and SUV camping.
All components, along with the fuel canister, may be carried in the pot, giving up additional room in your backpack or bag. The folding grip design keeps all accessories near and secures while being stored.
The rigid anodized aluminum pot has a locked stainless steel handle for stable and comfortable cooking usage. The handle on the pot is outstanding and, indeed, one of the finest compared to other similar camping cooking systems. Once you unload the equipment, it may appear to be top-heavy. But, when put on the fuel canister platform, the entire cooking system balances out properly.
Pros
Secure locking handle
Fast boiling
Extra potholder included
Cons
gas canister not included
9. Bisgear 12pcs Backpacking Cookware Stove
The Backpacking Cookware from Bisgear is a superior anodized aluminum kit for outdoor fire cooking. The kit includes the best camping frying pan-pot and a stainless-steel spoon. It also has a lightweight aluminum pot, a cylinder stand, a mesh bag, and more. Enough to meet all of your camping needs, from the heating source to the essential equipment.
It's a terrific alternative for people who enjoy compact cookware. In addition, you will be able to quickly store these things in a mesh bag for convenient transit. 'Lightweight' aluminum goods are known as heavy, but not in this case.
Moreover, all of the components in the set are simple to use. The bigger pots can hold enough food for small groups, while the smaller one is adequate for a single person. The Piezo ignition on the range turns on the heat. Because of its speedy meal preparation, it is incredibly efficient.
Pros
Easy to clean
Included mesh bag offers convenient carrying
Foldable handles
Cons
Not suited for dishwasher
10. Odoland 6pcs Backpacking Cookware Mess Kit
The Odoland 6 Piece Camping Cookware Kit is ideal for everyone who enjoys the outdoors through backpacking or camping. Each cookware set comes with a little burner, two pots, a spork, a cleaning cloth, and a mesh bag.
In addition, the stove and pot handles are foldable, which ensures space-saving. This would be excellent outdoor gear to carry whether you go camping, backpacking, trekking, or simply for a cookout.
Each pot is robust and lightweight. They are made of non-toxic anodized aluminum and have sturdy construction. It swiftly transfers heat and is a must-have survival item that is intended to endure a while. The anti-slip pot handles and silicone cup protectors are heat-resistant and can adequately safeguard your hands from harm.
You can store all the belongings together, including the fuel tank. The set is built explicitly for minimal camping. The Odoland 6 pcs Backpacking Cookware Mess Kit is an excellent choice for solo campers.
Pros
A complete cooking package
Space-saving
Foldable handles
Slip-resistant pots ensure more safety
Cons
Suitable propane tanks might be tricky to find
Best Backpacking Wood Stove
BioLite CampStove 2+
View on BioLite or Backcountry
The Biolite CampStove 2+ is a wood stove with a power bank. Essentially, instead of getting costly propane or butane gas fuel, you can gather twigs or bring a bag of wood shavings with you and create a fire.
Biolite discovered a technique to collect energy using a heat probe within the stove. Heat is then transformed into stored energy, which you can use to power gadgets or operate the inner fan. Surplus energy is saved in the internal battery. So, next time you bring out the stove, you'll already have some backup power.
Once you've produced enough heat/fire, you may utilize the fan to create a super-hot fire. The fan's four settings let you fine-tune the flames. This means that you can not only keep your water boiling, but you can also use the fan to control the intensity of the heat.
Furthermore. the Biolite CampStove 2+ includes the FlexLight, a portal light that plugs into the USB socket to provide extra light when cooking at night.
Pros
Multipurpose and reliable
Honeycomb mesh protects from the burn chamber
Comes with great packaging
No need to carry fuel
Cons
Not practical when it rains
Conclusion
A dependable stove that can operate on easily accessible local fuel or wood is necessary when backpacking or camping. If you don't venture out often, then the cheaper stove systems will suffice. But if you're outdoors often in some of the best places to hike, then a premium, lightweight backpacking and camping stove will be required.
Before venturing out, get familiar with the eccentricities of your stove. Unleaded gasoline burns filthier than any white gas or a canister, so make sure you know how to cleanse the fuel lines fast. We hope you'll find the best backpacking and camping stove system from our list.