A life spent traveling means many compromises and adjustments have to be made — especially compared to the norm. It's true, backpackers and digital nomads these days have to find ways to make their lifestyles suit their needs, which includes how they keep fit and healthy while traveling.
Even those who aren't long-haul backpackers or digital nomads can still benefit from having ways to stay healthy on the go.
One great way to get some calming exercise and meditation during travel is through yoga, but it's a struggle to do yoga without a great yoga mat. Thankfully, yoga mats also happen to be multi-purpose and can be used for other types of exercise.
Most knowledgeable travelers want their belongings to be lightweight and compact, just for convenience and ease. The same applies to travel yoga mats — because who would want to lug around a bulky mat that weighs 10 pounds? In this list, we've put together the 10 best travel yoga mats to make it easier to work out while traveling.
Pin for Later
What to Look For in a Travel Yoga Mat
Whether you're going on a week-long,  luxury meditation retreat or a solo short trip, there are a few things to consider when buying a travel yoga mat.
1. Lightweight
The lighter weight a mat can be, the better. This means the mat won't be using up much of the weight limit if traveling by plane. Besides, it's a good idea to have a lightweight mat overall since lugging all the extra weight around can be quite a pain.
2. Compact, Foldable, and Easily Packed
Most items meant for travel can benefit from being compact and foldable. The same applies to yoga mats. Although most yoga mats can be rolled, it doesn't mean that travelers can find space for a bulky rolled mat in their luggage. Some may opt just to carry the rolled mat separately, especially if it has its own carry straps or case, which makes this criterion probable.
3. Robust and Durable
Naturally, any yoga mat should be robust and durable enough to endure any workout session or yoga practice over a long period.
4. Correct Size
The right travel yoga mat should be the right size for the person without extra area. It should just fit your body lengthwise.
5. Easy to Clean
A yoga mat can get really sweaty and grimy over time, so it's a good idea to have one that can easily be cleaned and dried. For example, some yoga mats have built-in straps that allow them to be hung up to dry.
6. Enough Grip
Workout sessions and yoga practices can get sweaty and slippery. A good yoga mat will provide enough grip and "stickiness" to prevent any slipping and falling. Look for mats with the right kind of material to provide grip, wick sweat and moisture, and prevent bunching up.
7. Within Budget
Yoga mats vary in price, so it's best to look for a compromise of all the best features in a product that falls within budget.
With that said, let's take a look at the 10 best travel yoga mats out on the market today.
Best Travel Yoga Mats
1. Manduka eKO Superlite Travel Yoga Mat 1.5mm
The Manduka eKO Superlite mat is one of the best yoga mats for travel. It's thin, one of the most lightweight on this list, and is certainly robust enough to handle just about any yoga practice.
This mat also happens to be one of the most eco-friendly choices, especially since it is made with sustainably harvested tree rubber. The company also uses a non-toxic method for softening the mat.
The Manduka eKO Superlite uses polyester and cotton to ensure that sweat gets wicked away and users get a firm grip. The mat also uses body-friendly materials and no harmful dyes, toxic plasticizers, or PVCs.
2. June & Juniper Lightweight Travel Yoga Mat 1.5mm
Another contender for the best lightweight travel yoga mat is by June & Juniper.
This mat comes in two gorgeous printed designs painted by an artist from New York: Ocean Breeze and Secret Garden. The mat is made using rubber and microfiber to help wick away moisture and sweat.
On purchase, the June & Juniper mat comes with a carrying strap and a knee pad. If travelers don't want to carry this mat rolled up, it can also be folded up and placed into any backpack or suitcase.
This mat is reversible, and both sides have a purpose. The rubber side offers excellent grip and is perfect for certain yoga practices and other workouts that get yogis sweating. Meanwhile, the microfiber side is perfect for wicking away sweat and is lovely for hot yoga. The mat is made using eco-friendly materials and also does not bunch up during use.
3. Lululemon The Reversible (Un) Mat Lightweight 1.5mm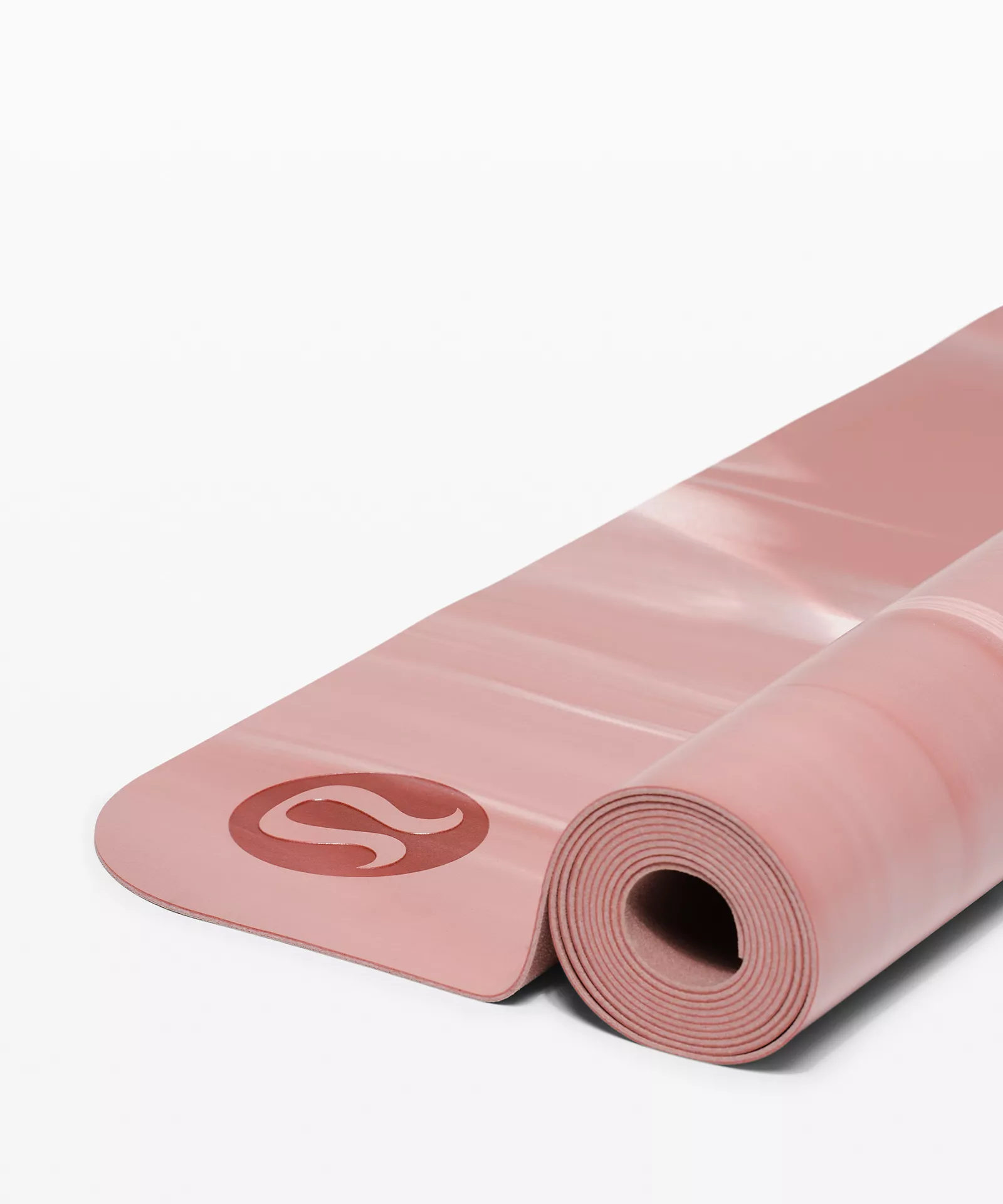 Lululemon's (Un) Mat is reversible and lightweight, as it should be. It was designed specifically for users who travel or commute a lot. The fact that it's the thinner, lighter version of the best-selling original Lululemon mat makes it a great choice all around.
This mat can fold to easily fit bags or luggage, which is another reason why many choose it as their yoga travel companion. One side of the mat is grippier for any sweatier activities, while the other is moisture-wicking.
Unfortunately, because of just how thin this mat is, it can be slightly uncomfortable during use. Some use additional knee pads or blankets and towels under their knees and elbows. Some users have complained that this mat has a bit of a strong rubber smell that lingers, although many have observed that the smell goes away over time as long as the mat is cleaned regularly.
4. YOGO Ultralight Folding Yoga Matt 1.5mm
The YOGO Ultralight mat was an easy choice to include in this list of the best travel yoga mats. It's incredibly light and quite portable, owing to its foldable nature and built-in carry strap.
This travel yoga mat is so portable that it can be folded to a newspaper size. Needless to say, it can fit in just about any bag or piece of luggage — even in weekender bags or large purses.
This eco-friendly mat is extra grippy thanks to it being made using renewable and sustainable tree rubber. With every purchase, the company will plant one tree. Users can choose from four colorways.
Something that sets this mat apart is that it can be washed in the shower, thanks to its moisture-wicking nature. It can be hung to dry using its straps.
5. Liforme Travel Yoga Mat 2mm
Although it's easily one of the most expensive yoga mats on this list, the Liforme Travel Yoga mat also happens to be one of the best. This mat was designed with body alignment in mind, and markers are on the mat itself so that users know exactly where to put their hands and feet.
The mat is exceptionally soft and smooth while still providing a fantastic grip. It's PVC-free and completely non-toxic and is made using biodegradable materials, and will decompose in a landfill within three to five years. Unfortunately, this mat cannot be folded, only rolled. It also happens to be one of the heavier ones on this list.
6. Jade Travel Yoga Mat 3.2mm
Globetrotting yogis swear by the Jade Travel Yoga Mat. At 3.2mm, this mat is one of the thickest on the list. But despite this fact, it can still fold up into a portable, compact piece.
The extra thickness does add to some extra heft, and travelers will most likely feel this mat in their luggage since it weighs about 3.5 pounds. This mat is one of the more high-maintenance ones on the list — it shouldn't be used in the sun and shouldn't be cleaned with regular mat cleaners. Jade recommends using a mix of dishwashing liquid, white vinegar, and water.
Jade is an environmentally-friendly company that plants a tree for every yoga mat they sell. The mats are made using earth-friendly tree rubber that is all-natural and free of synthetics.
7. Gaiam Foldable Travel Yoga Mat 2mm
The Gaiam mat was designed specifically for traveling yogis. As a foldable mat, it's highly portable and compact. And at 2mm thick, it's thicker than some of the other mats on this list. But also much more comfortable to use.
Despite this extra thickness, it's ultra-lightweight, and users will hardly feel it in their bags.
Travelers can choose from several different beautiful designs to suit their tastes. The company offers a lifetime guarantee protecting against manufacturing defects (does not cover wear through use). Made from PVC, this mat isn't exactly the most eco-friendly. However, it's free of toxic ingredients. Users should also keep this mat away from prolonged use in the sun.
8. SKL Travel Yoga Mat 1.6mm
The SKL travel yoga mat is one of the most compact and portable ones on this list. The company knows its audience and included a carrying case for this travel mat to be chucked into bags without any worries of cross-contamination. Germophobes rejoice.
This mat is durable and hard to tear, making it robust enough to handle frequent travel and use. However, some users may find it slightly uncomfortable for the knees and elbows because of how thin it is.
The SKL Travel Yoga Mat comes in four different designs and is made using suede and natural rubber. This mat is thankfully machine-washable to help travelers keep it clean. SKL's mat is odor-free and non-toxic while also providing plenty of grip to prevent any slip.
9. KUYOU Foldable Yoga Mat 1.6mm
Much like the Liforme mat, the KUYOU travel mat is made with a body alignment system printed to help yogis get their hand and foot placement right.
However, unlike the Liforme mat, the KUYOU is much more affordable. It's one of the most affordable on this list, despite also coming with a carrying case and stretch band straps. This foldable mat is made using natural rubber on one side and suede on the other, providing strong grip and moisture-wicking properties.
Despite being thin and lightweight, this mat is also machine-washable for user convenience. Yogis also report this mat is quite durable and thankfully tear-proof, making it a great travel companion.
10. Primasole Folding Travel Pilates Mat 6.4mm
Last but not least and rounding off the list is the Primasole Folding Travel Mat. Primasole is an Amazon Limited brand established back in April of 2019.
Their travel mat is the most affordable on this list, but also happens to be the thickest — and arguably one of the gentlest on the joints. Despite its thickness, this PVC mat remains quite lightweight, only weighing around 2 pounds. The PVC material is durable and easy to wipe clean, although it isn't the most environmentally friendly.
Travelers can choose from seven colors of this mat, ensuring that there is a choice to suit anyone's taste. Although it's foldable, it doesn't come with a carrying case. So it may still be slightly too bulky for some travelers' tastes.
Conclusion
The right travel mat will combine all the best possible qualities while also sitting within the budget. It's just a matter of finding one that suits your needs, is lightweight enough and convenient to pack, and provides the right amount of grip to ensure a great yoga session. The right yoga mat should also be durable enough to endure many trips.
We hope that this list of the best travel yoga mats has been helpful and provides some guidance for shopping and finding the best possible fit.