Last updated on April 14th, 2022
Water bottles are essential pieces of outdoor gear. Backpacking often requires strenuous activities, so proper hydration is a must. If outdoor life keeps calling to you, you need to own at least one reusable water bottle that fits your needs to accompany you on the most daring of adventures.
We have compiled a comprehensive guide on choosing the best water bottle and our top picks to help you invest correctly.
The Ideal Hiking Water Bottle Size 
Generally, 16-24oz bottles can keep a person hydrated throughout the day, and the volume does not amount to a burdensome weight. But when you know you'll need more water, bottles that can carry up to a liter (33.8oz) of water will do the job.
Other than the capacity, the diameter and the height of the bottles also need careful consideration. For example, if your bottle is too wide, it will be hard to hold or fit in your bag's side pocket, and if it's tall, it will be hard to fit it in a backpack.
Pin for Later    
Best Water Bottles for Hiking and Backpacking
Below, we have compiled numerous options for hikers with diverse preferences. Whether you like lightweight plastic, insulated steel, or filtered bottles, you'll find an option in the list.
1. Grayl UltraPress Purifier
Best Overall Backpacking Water Bottle
Grayl showed that it took customer feedback seriously by introducing the UltraPress Purifier. Previously, the acclaimed Grayl Geopress dominated the filtered water bottles market but came at the cost of a higher weight and bulk, making it inconvenient to carry.
The UltraPress Purifier comes as a lightweight, less clunky version of the Geopress: similar superior filtration and purification experience with an easier-to-use design.
It can be used in the murkiest of waters, purifying up to 16.9oz (499.7ml) and delivering pristine results through electroabsorption and activated carbon.
The Grayl Ultrapress Purifier is the best backpacking water bottle because it can remove common protozoa, bacteria viruses, heavy metals, plastics, pesticides, and more, making it a must-have for adventurous trips. 
Pros
Excellent cleaning capabilities
Cheaper than the Geopress
Lightweight
Fits in cup holders and outer bag pockets due to its smaller diameter
Cons
Holds a smaller volume
Filter has a shorter lifespan than the Geopress.
Cap not tethered to the bottle
2. Iron Flask Sports Water Bottle
Best Overall Hiking Water Bottle
The Iron Flask is an excellent option for those who prefer insulated bottles. Made of durable stainless steel, the bottle comes double-walled and vacuum-sealed. In addition, the powder coating allows for a firm grip and a variety of colors — 24, to be exact.
Though many bottles offer additional lids of different types, they come at a cost. On the other hand, the Iron Flask comes pre-equipped with three caps: a stainless steel lid, a flip lid, and the carabiner straw lid. Further enhancing customization, the bottle comes in six sizes.
The Iron Flask is the best water bottle for hiking because it's easy to carry, well priced, and comes in various sizes.
Pros
Affordable
Offers good insulating capabilities
Durable
BPA free
Available in multiple sizes and colors
Comes with three lids
Cons
None of the caps is leak proof
Not dishwasher safe
3. LifeStraw Go Water Filter Bottle
The LifeStraw Go is a small, lightweight BPA plastic water bottle with an integrated straw-filter system. This bottle is designed with one specific purpose in mind — to filter water as you drink, providing you with clean water wherever you go.
If you are looking for an easy-to-use water filter bottle for hiking trips near water sources, LifeStraw Go is a decent option.
The filter has a hollow fiber membrane and an integrated activated carbon capsule system. It can clean up to 4000 liters of water, claiming to clean 99.9999% of waterborne bacteria and 99.9% of protozoan parasites, though not viruses.
It is to be noted that the Go filters only as you draw water out through the straw, so it is not intended for any other use such as washing a scrape, etc.
Pros
Easy refilling as the bottle has a wide mouth
Takes all bad taste out of the water without leaving its own chlorinated taste
Leakproof
Lightweight, easy to pack
Easy to take apart and clean
Durable
Cons
Takes a fair amount of force to suck the water through the straw because of the filter
The filter and straw can trap flavor, so it can only be used with water
Not versatile
4. CrazyCap UV Water Purifier & Self Cleaning Water Bottle
The CrazyCap Purifier is an ultralight, easy-to-use system designed to purify water against viruses, bacteria, and protozoa through UV Light.
When prompted, the bottle's lid emits UV rays that destroy the DNA of particular microorganisms. CrazyCap simply requires the user to fill up the bottle and press on its top twice to clean 0.5 liters of water in 60 seconds. The light can even be used to clean contaminated surfaces. The cap has a 60-second mode and a 90-second one (The Crazy Mode).
The bottle itself is made of steel and offers double-walled vacuum insulation. The cap is charged through a USB cable, requiring a charging time of 1.5 to 2 hours, and the battery can last you about 60 filter cycles of 17oz of water. You can sterilize the bottle simply by emptying it and turning on crazy mode.
It is to be noted that CrazyCap is not a filtration system, so it does not claim to remove particulate matter, heavy metals, or synthetic chemicals.
This bottle is a highly convenient water purifier.
We recommend it when you plan to camp near a clean water source that may contain microorganisms but not urban pollutants. It is also an excellent option for international travel.
Pros
Lightweight, especially when compared to other purification systems.
Durable: does not deform easily
Very simple to use
Fast charging and a good battery life
Self-cleaning
Cons
It does not filter any particulate matter
Low volume
5. Arc Bottle Water Bottle With Time Marker
Sometimes, we need a decent, lightweight, non-insulated water bottle when the weather's perfect. The Arc Water Bottle is ideal for those times.
It's made of frosted, ultralight BPA-free plastic and comes with a screw-on stainless steel lid: designed to be minimalist and sleek.
In addition, it comes with time markers to let you monitor your water intake: fill it in the morning, drink to the marker each hour, refill at lunch, and repeat.
This bottle is very convenient for health-conscious folks to take on short hikes, and it can hold up to 37oz of liquid. Plus, a reusable Tritan plastic bottle is non-toxic to the environment so that you can be sure of a wholesome experience.
Pros
Lightweight
Decent capacity
Time markers
BPA-free
Cons
Not very durable: the plastic is not shatterproof; some face problems with the lid as well
Reported to not age well: the markers wear off if used roughly
6. YETI Rambler 26oz Bottle, Vacuum Insulated
The Yeti Rambler 26 is a favorite of many. It features a double vacuum insulated stainless steel body and a Chug Cap with an integrated drinking spout, making for an easy-to-use water bottle.
The Rambler is further known for its sleek look and multiple color options: the diameter makes it a non-bulky bottle, and the carrying handle built into the cap further makes it an easy partner to move around with.
The bottle provides the advantages of a wide mouth and a drinking spout simultaneously. As the spout can be removed with the cap, the slightly larger-than-average width of the mouth makes it easy to clean; it does not retain taste from previous beverages either. Not that the spout can not be used with hot drinks.
The durability and insulation capabilities of the bottle are next to none, making it perfect for hikes that involve climbing.
Pros
Very durable
Wide mouth and drinking spout duo
Easy to use
Dishwasher safe
Superior insulation
Leakproof
Cons
Heavy, may not be suitable for overnight adventures
Slightly pricy
7. Hydro Flask Wide Mouth
The Hydroflask Wide Mouth lives up to its value in price. It is mainly stainless steel, offers superior durability and insulation, and is not as heavy as other insulated bottles.
In addition, it is designed to prevent condensation and comes in a matte finish, allowing a firm grip. It does not retain flavor and is very easy to clean.
If you prefer wide-mouthed bottles, you should definitely consider this option. It comes in a variety of color options too!
Pros
Very Durable
Insulated: maintains temperatures for a considerable amount of time
Does not retain flavor
Easy to clean
Leak-Proof
Non-slippery
Cons
On the pricier side
May be considered heavy
8. Earthwell Woodie Water Bottle
Eearthwell is renowned for its dedication to producing durable, eco-friendly stainless steel drinkware. Moreover, 1% of each sale goes to environmental nonprofits and charities.
Their Earthwell Woodie 27oz bottle is designed for nature lovers with its timeless design, muted tones, and wood-topped cap.
Made of single-walled stainless steel finished with a powder coat, the bottle is durable and easy to grip. Reviews further note that it makes water taste surprisingly fresh. The top surface of the screw-on cap can be chosen to be made of maple or walnut wood, with a steel handle grip fixed into the cap.
The ultralight nature makes it useful for camping and short hiking excursions. It is definitely one of the most impressive bottles for outdoor enthusiasts and nature lovers in the market.
Pros
Comes with a lifetime guarantee
Offers a firm grip
Durable
Environmentally friendly materials
Cons
Cap is not dishwasher safe
Does not offer double-walled insulation, though it reportedly maintains temperature
9. HYDRO CELL Stainless Steel Water Bottle
Made of double-walled, vacuum insulated stainless steel, the Hydrocell Stainless Steel bottle is leakproof, durable, and serves its purpose well.
The bottle comes equipped with a steel screw cap and a bonus sports cap with a straw for cold beverages. In addition, it is further oxidation and corrosion resistant with a condensation-free exterior.
Hydro Cell offers this bottle in various sizes and colors coupled with a large selection of paracord handles, bottle boots, and replacement caps sold separately. So if you want a plastic-free insulated bottle, do give serious consideration to this option.
Pros
Durable
Well-Insulated
Customizable
Condensation Proof
Comes with two caps
Cons
Not Dishwasher Safe
Some sizes do not fit in slightly narrow cup holders
Small percentage of buyers report defects in the straw or the design
10. Camelbak Chute Mag 25oz Bottle with Tritan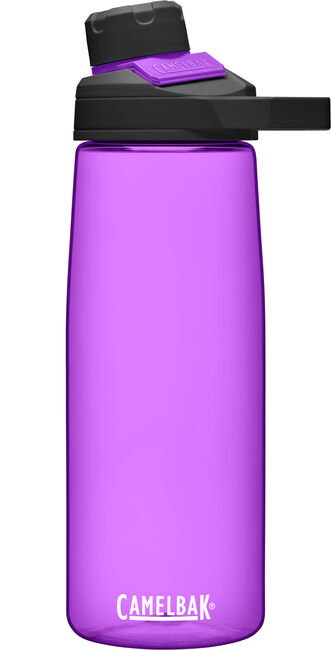 The Camelbak Chute Mag is another lightweight plastic bottle free of BPA, BPS, and BPF. It features a simple, easy-to-use design with a delightful innovation: a magnet that helps stick the cap to the nook when you're drinking water from it.
This little detail shows its usefulness when you need to drink water on the move, making sure the cap doesn't snap back at you like other mechanical tethered caps.
The latest version of the Camelbak is made of fifty percent recycled material, further adding to its value.
Pros
Affordable
Convenient cap
Lightweight
Durable
Odor and stain resistant
Cons
Non-insulated
Flow of the mouthpiece may be heavy for some
11. Vapur Solid Flexible Water Bottle
Collapsible water bottles are a must for camping experiences. The ultralight Vapur Solid Flexible Bottle stands out from the rest of the items in the list as it stands only when full.
This anti-bottle can be collapsed into a flat sheet to roll or fold when empty, making it highly convenient to carry. It is almost 90% lighter than rigid bottles and is durable, leakproof, and dishwater safe.
Pros
Ultralight
Flexible
BPA free
Does not carry after tastes
Cons
Flexible bottles can be hard to drink from
Sharp edges
Not very durable when used roughly, it can develop a leak
12. Nalgene Wide Mouth Water Bottle
The Nalgene Wide Mouth has been a well-loved staple for backpackers for a long time. Made of BPA-free Tritan, it can hold up to 32oz of any hot or cold beverage.
The material is further known for its ultralight nature, durability, and resistance to odor and stains. This bottle also comes in multiple colors and has markers printed on the surface to help with tracking water intake.
Its wide mouth with a screw-on cap makes it easy to fill and wash, and the size is compatible with most of the filtration units. A loop attached with the cap facilitates taking it on travels as well.
The lightness, durability, affordability, and versatility of the Nalgene Wide Mouth make it ideal for any hiking adventure.
Pros
Lightweight
Affordable
Durable
Versatile
BPA free
13. Klean Kanteen Insulated Classic Bottle
Powered by 100% Carbon Neutral manufacturing and delivery processes, and a certified member of the B Corp movement, Klean Kanteen is another brand that strives to keep itself eco-friendly by providing alternatives to single-use products.
This stainless steel Insulated Classic can hold up to 20oz of liquid, with double-wall insulation promising to keep drinks hot for 24 hours and iced for 63 hours. The opening is wide enough to fit ice cubes, and the size fits in most cupholders.
Moreover, the brand offers many cap options, including loop caps, sport caps, etc., but they have to be purchased separately.
The bottle comes in a 32oz and a 12oz option, and offers seven powder coating colors to choose from.
Pros
Good insulation
Multiple compatible caps
Dishwasher safe
Cons
Bottom is malleable and dents easily
Users cannot choose a cap despite having multiple cap options while purchasing. Any caps of preference have to be bought separately
14. GSI Outdoors Microlite
The GSI Outdoors MicroLite is an insulated stainless steel water bottle with 17, 24, and 33oz options and has screw-top and flip cap options. This model stands out from other insulated bottles because its 2mm walls make the bottle three times lighter than regular insulated bottles.
The design is compact, slim, and condensation proof, letting hikers carry it easily. If you prefer insulated water bottles but are not a fan of their weight, this is the perfect bottle to take on walks, hikes, and camping.
Except, be a little wary of rugged terrains and rough climbing experiences as the bottle can dent due to its thin walls.
Pros
One of the lightest insulated bottles in the market
Well insulated
Compact
Cons
Lid is reportedly weak
Bottle can dent
Why Use a Reusable Water Bottle?
Natural systems are precious and fragile. Those who yearn for the feel of forest floors beneath their feet are connected to nature, so they play their part in helping the environment.
Even when made of plastic, reusable water bottles are better for the environment. Their durability lets them be reused, ensuring that fewer resources are utilized. Each refill prevents another disposable bottle from being made.
They come customized per the needs of hikers, climbers, and backpackers, ensuring that carrying them does not get burdensome.
Furthermore, they cost less over time. So, even if you do not go backpacking often, investing in a reusable bottle will be economical and healthy for the environment.
Should Your Water Bottle Be Insulated or Non-Insulated?
Though insulated bottles maintain temperature, they are heavy and hold less water than non-insulated water bottles of the exact dimensions.
On the other hand, non-insulated bottles are lighter, making them easier to carry. Whichever one of these you go for is a matter of preference.
Insulated bottles are better for short, light excursions, whereas uninsulated ones will serve you well for extended backpacking trips or strenuous climbing activities.
How to Carry a Water Bottle While Hiking or Backpacking
For short hikes and light bottles, the ideal way is to carry the bottle in your hand so you can sip from it anytime. However, you can utilize side pockets of backpacks and hiking vests for longer adventures and rugged terrains or invest in bottle sling or belt bags. Some water bottles can be easily attached to carabiners and paracords as well.
Conclusion
Having a water bottle is essential for backpacking. However, ensuring hydration does not mean buying disposable water bottles whenever you find them. Investing in bottles made for easy use and carrying can let you keep your cost and efforts minimum while contributing to reducing wastage. If you go on outdoor trips often, you need to invest in a decent reusable water bottle.