Backpacking in the great outdoors and sleeping under the stars in a cozy tent — sound like the perfect weekend? If the answer to that is a big yes, the first thing you need is a backpacking tent.
Now, the best tent is light enough to carry for miles. At the same time, it has to be durable enough to stand up to the hardship of outdoor camping. Apart from that, there are other factors, such as spaciousness and comfort.
Some people camp with a partner and require a 2-person tent. Others prefer to backpack and sleep solo but still need that extra space.
So, keeping all the factors in mind, here are ten options for you to consider when buying tents for camping and backpacking.
Pin for Later
Best 2-Persons Tents for Backpacking and Camping
1.  Mountain Hardwear Aspect 2 Tent
Best Ultralight 2-Person Tent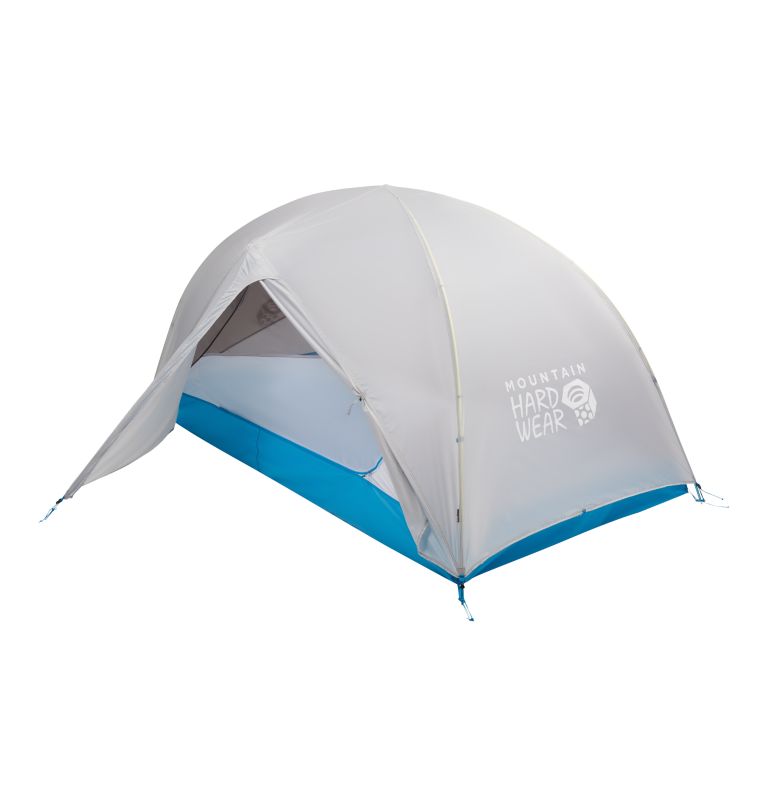 Trail Weight: 2lbs 14.7oz
Mountain Hardwear is one of the top companies making featherlight DAC NFL poles. The Aspect 2-person tent has two entry vestibules and dual sliders, assuring proper ventilation. It also has three pockets, allowing you to store snacks and other necessities. You will also get double mesh doors and double sliders to ease entering and exiting the camp.
Additionally, a mapped solid canopy offers protection against wind and dust, and a mesh canopy aids in stargazing. However, be careful when packing this camp as its mesh is weak and can be easily damaged.
Pros
● Ventilates perfectly by letting the top zippers down
● Spacious and light
● Sturdy zippers
Cons
● Mesh can snag if not cared for properly
2.  MSR Elixir 2 Backpacking Tent
Best 2-Person Tent with Footprint
View on MSR or Backcountry
Trail Weight: 5lbs
If you are looking for a durable tent in foul weather, then MSR's Elixir 2 is a perfect choice. Its overall durability in rain and wind is award-winning. The innovative pole structure offers additional rigidity. Also, there are several guy points and stake points for easier anchoring. MSR has also included a removable footprint for additional ground protection in this model.
The double-sided doors face opposite directions and are easy to open and close with just one hand. However, the doors are not big enough for you to get in and come out that easily.
Pros
Durable in rain and wind
Strong pole structure
Footprint included for additional ground protection
Cons
Small doors make it difficult to get out of the tent
3. Marmot Tungsten 2P Tent with Footprint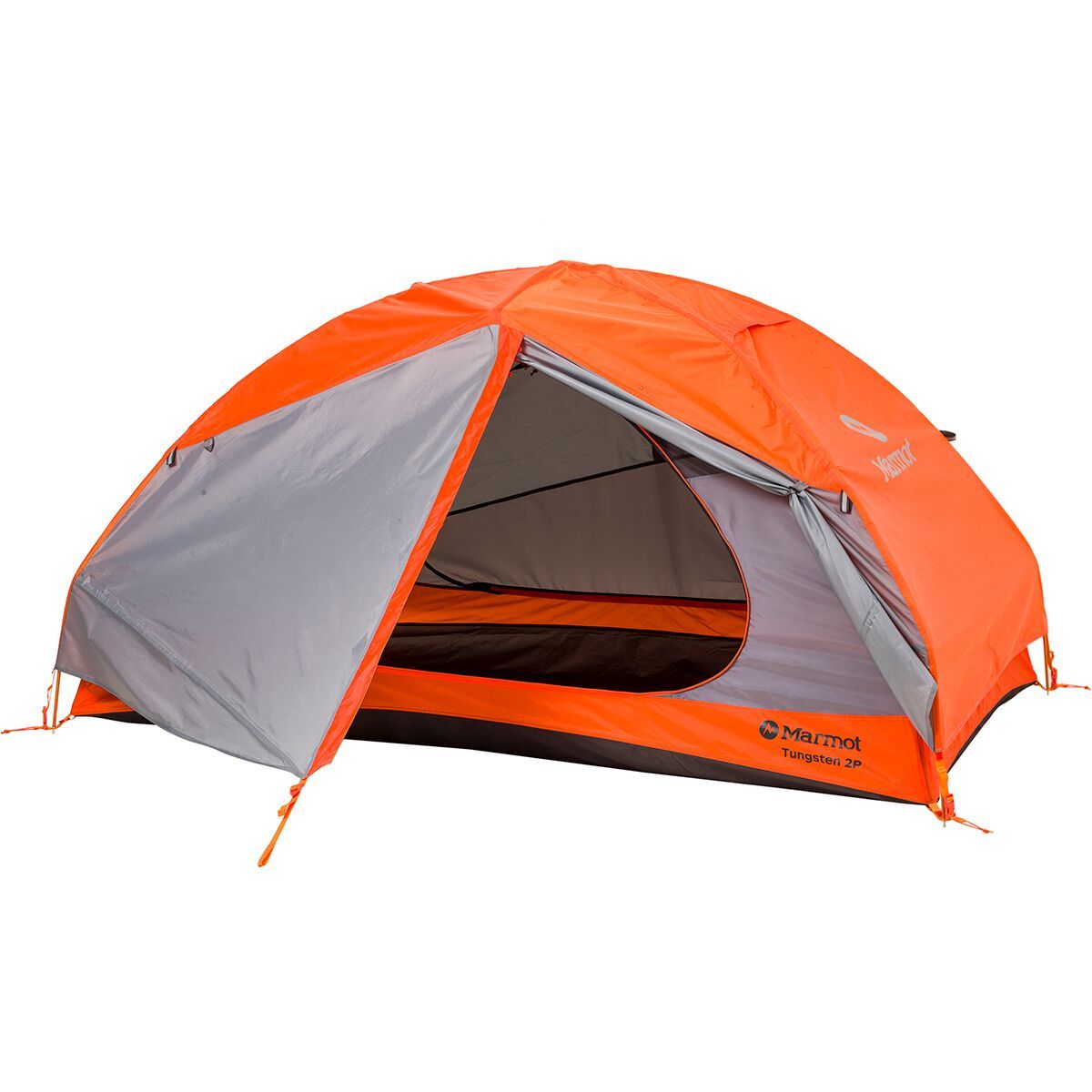 View on Backcountry or REI
Trail Weight: 4lbs 13oz
Tall campers can finally rejoice because this tent from the Marmot Tungsten comes with plenty of headroom space. It offers a 42-inch headroom space, sufficient space for any camper to sit comfortably. A larger fly and a conventional three-pole setup make this one pretty easy to erect for beginners. Besides spacious interiors, two doors make it easier for campers to get in and come out without bothering their partner. 
If you are looking to experience the outdoors with an affordable tent, this one's for you. It has pre-bent poles at the bottom to form vertical interior walls for more headroom. Such attention to detail is commendable in a budget-friendly tent.
Pros
Suitable for beginners
Ample headroom of 42 inches
Easy to erect and takedown
Budget-friendly with spacious interiors
4. ALPS Mountaineering Lynx 2-Person Tent
Trail Weight: 5lbs 12oz
The Lynx 2-Person tent from ALPS Mountaineering is a freestanding two-pole tent that is simple and easy to set up. The tent body clips to the poles nicely in a crossed manner to erect it. Also, it is one of the roomiest tents you will find on the market. It's amazingly spacious for two adults.
This tent is unique as it has two smaller interior pockets and a detachable gear loft. Moreover, you can keep headlamps, sunglasses, and other equipment, as it is conveniently spacious. The vestibules of the tent are of adequate sizes. However, the fly is, at times, hard to unzip as the tent's fabric gets in the way.
Pros
One of the roomiest tents for two people
Ample storage space within the tent
Vestibules of adequate size
Cons
Becomes transparent at night due to sidewall windows
5. REI Co-op Passage 2 Tent with Footprint
Trail Weight: 4lbs 2oz
REI's Passage 2 checks all the boxes for backpacking tents for beginners. First off, it is easy to pitch, takedown, and store. Secondly, the price point makes it pretty reasonable. Thirdly, it is durable and long-lasting. All in all, Passage 2 is a solid and straightforward tent.
As it weighs around four pounds when packed, this tent is heavier than a couple of other options on the list. However, other features of the product make up for this downside. It is spacious, sturdy, and perfect for a cozy car camping shelter.
Pros
Spacious design
Includes footprint and pole splint
Convenient design that's easy to set up and takedown
6.  Big Agnes Salt Creek SL2 Tent
Best Spacious 2-Person Tent
View on Backcountry or REI
Trail Weight: 3lbs 15oz
Big Agnes Salt Creek SL2 Tent has ample space to store all your things, and you will still have enough room to chill inside. The tent has three doors: two zipper doors and an overhead door. The vestibules are 10 sqft. large, suitable for multi-day boots and backpacks.
You can convert the overhead awning door into a vantage point for stargazing using trekking poles. Even then, you have 10 sqft of extra space for storage. The mesh pocket near the foot further allows you to stow your flashlight, books, and socks. This awning can easily handle 10-mph wind, though anything more than that would be difficult to withstand.
Pros
Large vestibules of 10 sqft
Ample room for all your things
Sufficient space for two people to sleep side-by-side
Cons
Footprint and extra stakes are not included
Awning cannot handle gusty winds.
7. REI Co-op Co-op Half Dome SL 2+ Tent with Footprint
Trail Weight: 3lbs 15oz
REI's classic Half Dome model got an upgrade that made it more lightweight and spacious. Unlike most two-person backpacking tents, you can fit two adults comfortably side by side. Also, it is a fully freestanding, simple structure that weighs around 4lbs when packed. However, it does not have the flimsiness of other semi-freestanding and ultralight tents. It is durable and offers protection from all seasons.
As this tent is completely symmetrical, you cannot really put the poles in the wrong places. REI has also color-coded the poles for your convenience. Thus, you do not need to review a manual before setting up this tent.
Pros
Affordable and durable
Spacious interiors for two people
Simple setup and design
8. Hyke & Byke Yosemite Hiking & Backpacking Tent
Trail Weight: 3lbs 4.3oz
The Yosemite Hiking and Backpacking tent is super light and fits perfectly within a backpack. It's easy to set up, as all you need to do is throw the rainfly over to set it up. After you stake out in the front and back, you can roll up the little curtains to create a cozy setting.
The camp is easily accessible from both sides. Thus, you do not need to crawl over to the other side of your partner to go out and pee at night.
Pros
Easy to set up, unwind and pack
Ample headroom and legroom for two people
Easy access from both sides
Cons
● Expensive 2-person tent
9. Clostnature Lightweight Backpacking Tent
Trail Weight: 5.4lbs
Clostnature's lightweight tent is ideal for backpacking because it weighs just 5.4lbs. It is one of the most spacious 2-person tents on the market. In fact, three people can even fit in it. The ventilation is the best thing about this tent. Its walls are made entirely of mesh and have a cover to protect you from all elements. 
It has two D-shaped doors for easy access and two vestibules for extra storage. The tent even comes with a lifetime warranty.
Pros
Spacious entranceway and decent storage
Rainfly with PU 5000 coating
Accommodates up to three people
Cons
Thinner floor material unsuitable for everyday use
10. Coleman Sundome Tent
Most Affordable 2-Person Camping Tent
Trail Weight: 7lbs 2.6oz
Lastly, Coleman Sundome tents are another 2-person tent for camping. It is people's favorite for its simple design, small packaging, and affordability.
To add to that, there is enough ventilation, a rainfly that does the job, and two ample storage pockets. So, whether you are a beginner or a pro camper,  Sundome will not disappoint you with its features.
Pros
Small package and simple design
Budget-friendly
Adequate ventilation
Sufficient storage space
Cons
Poor quality of netting material and fiberglass poles
Heavy
Conclusion
Weight and space are the two critical factors when considering a camp. Our list of the 10 best 2-person tents summarizes weights and storage capabilities. Compare the choices given above with your specific requirements, and you will indeed find something that suits your needs.