When you are fastpacking, thru-hiking, or backpacking, it's vital to carry minimum weight around, especially when it's long-haul in the best backpacking places in the world. But what will you do when you need shelter during rain or protection from bugs? This is where one-person tents for backpacking comes to play. They are lightweight, can be used for sleeping in, and offers protection against bad weather.
Given how popular solo backpacking has become over the years, you will find a range of single-person tents in the market. This can get confusing for most. So, to make things easier for you, we've compiled a list of the best 1-person tents for backpacking.
Pin for Later
Things to keep in mind when buying a single-person tent:
weight
interior space
weather resistance
footprint provided
durabilty
Best One-Person Tents for Backpacking
1. ALPS Mountaineering Lynx 1-Person Tent
Trail Weight: 3lbs 5oz
The ALPS Mountaineering Lynx has a polyester construction that can resist water and UV damage. So, you know you'll be safe in case the weather takes a wrong turn. You can make use of the waterproof fly to get the most protection.
The tent weighs a total of 4.1 pounds, and the 2-aluminum pole design sure does help. It comes with a gear loft, tent stakes, and guy ropes, so you bet setting up the tent will be done quickly.
In addition, the Lynx tent has a freestanding design. So, you need not worry about guy lines, simply pop the tent open and start using it. This tent comes with a vestibule at the entrance for extra space, which is rare to find in a single-person tent. You can keep your dirty shoes, extra gear or just use them for more leg space.
2. REI Co-op Passage 1 Tent with Footprint
Trail Weight: 3lbs 11oz
If you are backpacking during summer, spring, or fall, this 3-season REI Co-op Passage tent is an excellent choice.
It comes with adjustable ceiling vents for ventilation and better airflow. On top of that, the fly door can be rolled up to reduce condensation and improve airflow. You could be looking at the beautiful night sky without having to worry about bugs and the like. You will get the utmost comfort while using this tent, courtesy of its symmetrical rectangular floor.
The REI Co-op Passage 1 is a freestanding single-person tent, so you won't need to worry about guy lines while setting up. Furthermore, this tent has an X-pole configuration. It helps setting up the tent even easier and increases vertical space at the vertical ends of the tent. You will find a stake-out vestibule that provides a somewhat sizeable covered area that can be used to store your gear, dirty shoes, or to simply hang out. 
3. MSR Hubba NX Solo Backpacking Tent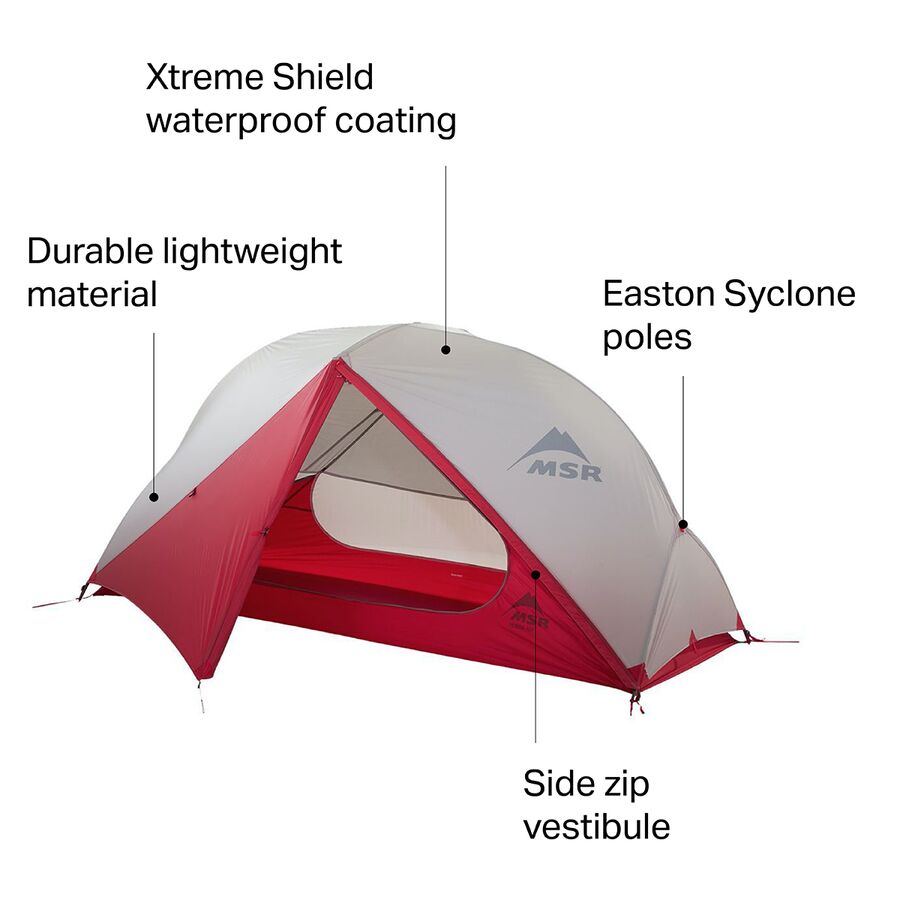 View on MSR or Backcountry
Trail Weight: 2lbs 7oz
The MSR Hubba NX Solo Backpacking is a solid ultralight tent that is both comfortable and provides sufficient protection against water. This is one of the lightest 1-person tents on our list, at only 2lbs 7oz.
Being lightweight reduces the baggage you have to carry and increases your mobility. What we like about this tent is that it has an optimized symmetrical geometric and non-tapered floor. This maximizes the total internal space you will be getting and lets you comfortably live inside the tent.
Additional features such as its D-shaped, StayDry door and vestibule with built-in rain gutter and an adjustable rainfly kickstand offer ample ventilation. You will not feel suffocated and have a pleasant stay.
Aside from being easy to carry, the tent can be stored in a compact compression stuff sack for better portability. And the hub and pole style, along with color-coded clips, makes the setup super easy. Although the rainfly could be improved, this a decent backpacking tent to have.
4. Clostnature 1-Person Tent for Backpacking
Weight: 3.7lbs
If you are looking for an affordable single-person tent for backpacking, then you should consider Clostnature. This 3-season tent has a 210T polyester rainfly and bathtub, PU 5000 waterproof coating that is sure to keep you dry when the weather gets bad.
The interior walls are constructed by a mesh material that offers great ventilation, so there are no chances for you to feel suffocated. This tent weighs 3.7lbs. and comes with a D-shaped entry and exit door with a large vestibule for extra storage.
Even if you have no prior experience setting tents up, the Clostnature is a freestanding tent with a two aluminum pole design. Not only is the setup going to be quick, but packing can be done compactly.
If you're looking for an affordable tent with good protection against bad weather, more than enough space for one person without adding too much weight, then go for this tent.
5. Marmot Tungsten 1P Tent with Footprint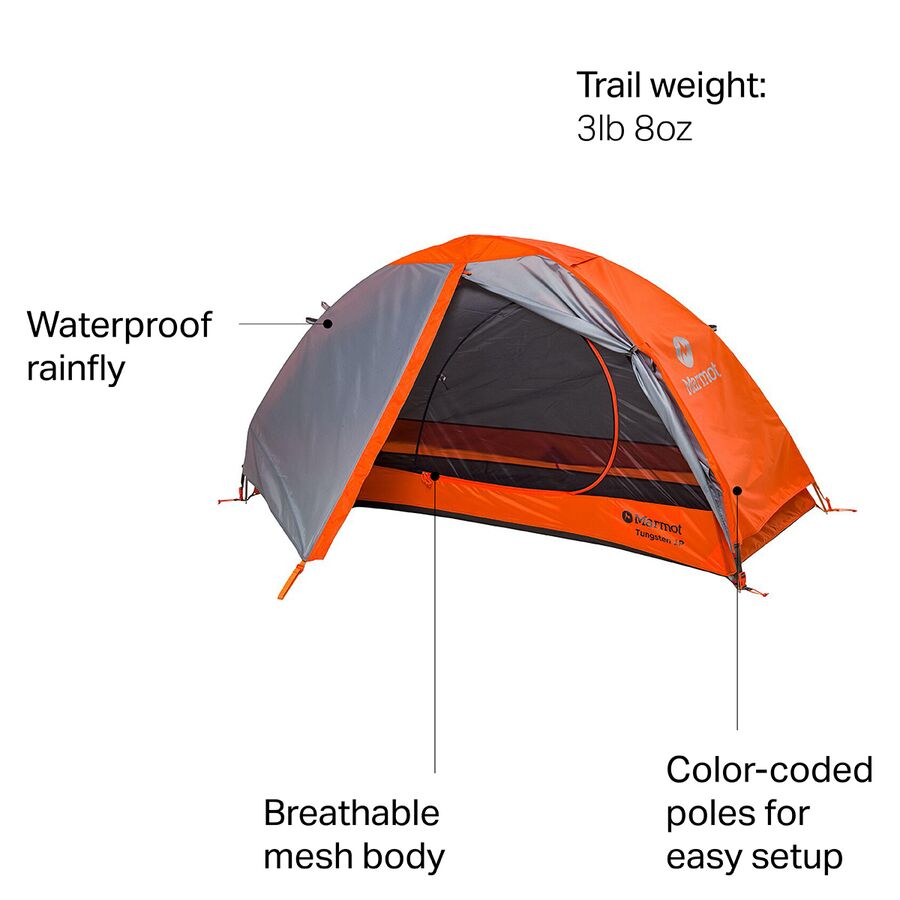 View on Backcountry or REI
Trail Weight: 3lbs 8oz
If you prioritize space, you'll be pleased that the Marmot Tungsten 1-person tent will give you just that. The tent has a pre-bend construction that ends up forming the vertical interior walls. This means that the lower area of the tent is bent that creates extra space in all four corners of the tent.
The clips are placed strategically, which further creates more interior space. Plus, the catenary cut floor with straight edges adds more foot space.
Being a 3-season tent, proper ventilation needs to be kept in mind. The body of the tent is mainly constructed by mesh, including the fly. The fly is full-coverage and has vents that will let air in and keep water out to have enough breathability and comfort. You get mesh pockets at the side of this ultralight tent and attachment hooks above so that you can store your things, as well as a diffusive pocket for the headlamp. 
6. Mountain Hardwear Nimbus UL 1 Tent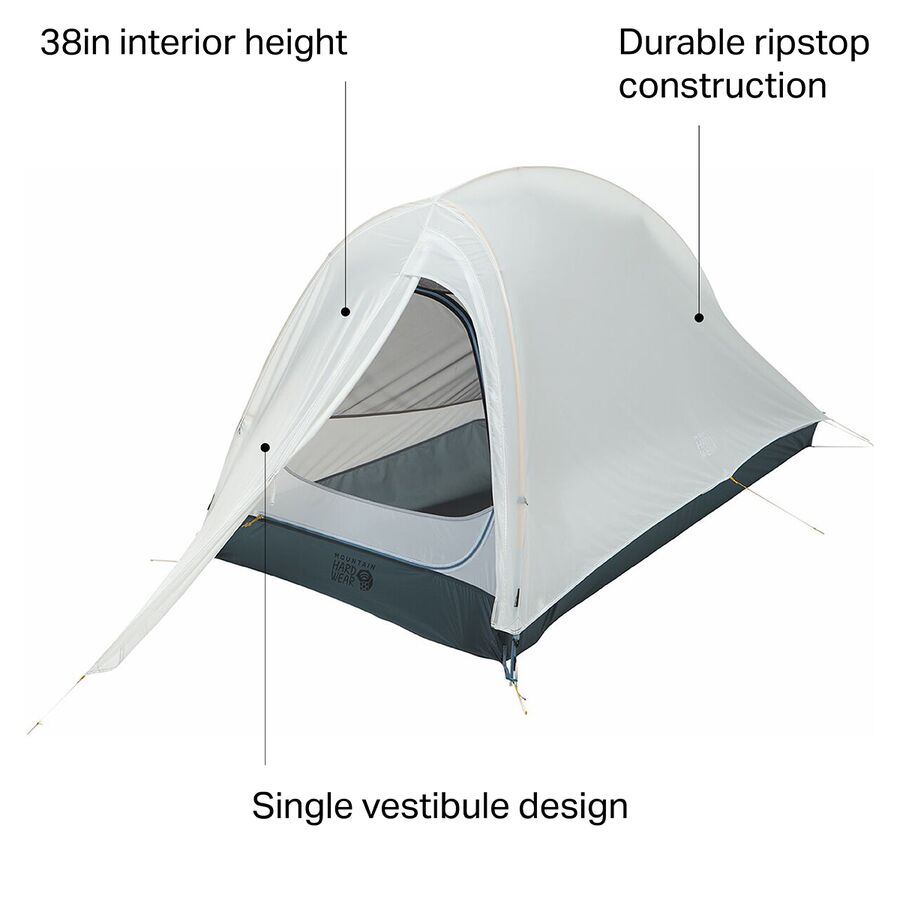 View on Mountain Hardwear or Backcountry
Trail Weight: 1lbs 12oz
The Mountain Hardwear Nimbus is an ultralight single-person tent for those of you who do not want to carry too much weight. The tent weighs less than 2 pounds, making it one of the lightest in the market. The body is constructed by 15D nylon, including a silk-nylon rainfly that offers protection and is durable.
Speaking of durability, the tent has a silicone coating that increases tear strength and prevents the tent from yellowing over time. The included DAC J-Sticks are also meant to last long and are a lightweight way to hold down your tent.
If you wonder how much space you will get in this 1-person tent, you will be pleased to know that the Mountain Hardwear Nimbus has a pre-bend pole design that expands and creates more livable space. This is a reliable tent with top-class strength, and a translucent fly skips dyeing process that saves water and reduces chemicals.
7. Big Agnes Copper Spur HV UL1 Tent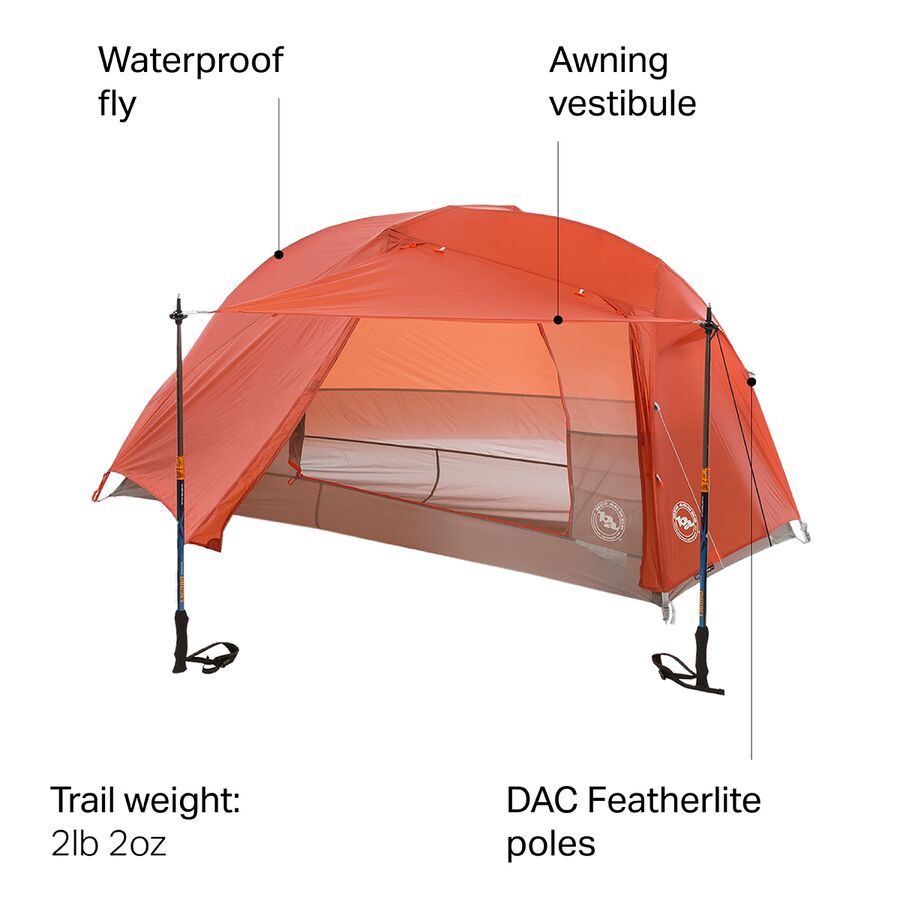 View on Backcountry or REI
Trail Weight: 2lbs 2oz
Just because you are using a 1-person tent does not mean that you can't get ample living space. With the Big Agnes Copper Spur, you will get a wing-style vestibule that expands into a covered living space. A thin UL material is used to construct the tent, making it extremely lightweight at under 3lbs.
The fabric of mixed denier and double ripstop nylon gives superior tear strength and puncture resistance without putting too much weight. The mesh material, along with a dual low vent vestibule door and high-fly vent, provides ample airflow and prevents condensation in every kind of weather.
The tent corners are built with TipLok Tent Buckle that combines three functions, rainfly attachment, and tensioner which secures pole tip capture and stakes out the loop. This waterproof tent has several interior loops to attach gear lofts, camp lights, and any other things you might want to.
8. Bessport Camping 1-Person Tent
Weight: 4.4lbs
The Bessport Camping Single-Person Tent is constructed using high-quality 68D polyester fiber for one person and a waterproof 210T coating. This will effectively keep you safe against water and is a 4-season tent. You can use it during rainy or snowy days without having to fear getting wet. The Bessport camping tent weighs 4.4lbs, making it lightweight enough to carry it around with you.
The no-see mesh walls allow for a freestanding design to set up your tent quickly without much hassle. You will get a 7001 and 7075 aluminum rod and 6 reflective guy lines that ensure that the tent is strong enough to endure harsh wind and bad weather. The brand claims that you can perfectly set the tent up in just 6 minutes. This spacious 1-person tent provides 2 D-shaped doors and 2 vestibules to give you maximum space.
9. Naturehike VIK 1-Person Ultralight 4-Season Backpacking Tent
Weight: 2.3lbs
The Naturehike VIK 1-person tent is a minimalistic and straightforward tent for those who do not like many colors. Having said that, this does not mean that this tent is less than any of its competitors.
The 4-season tent is built using 15D nylon, has a silicone coating, and PU 2000 mm, while the tent floor is 20D nylon, also has silicone coating and PU 4000mm. This ensures that no water will enter the tent no matter how heavy the rain is. The tent comes with a free footprint that makes sure that the bottom of the tent is protected.
You will be amazed by how much attention is paid to small details. You will find small magnets along with the door of the tent that will automatically close. No need to worry about zippers and such. The setup can be done within 5 minutes by following the easy instructions, even by those new to camping.
10. Hyke & Byke Zion 1- Person Backpacking Tent
Trail Weight: 3.1lbs
For a convenient single-person tent, the Hyke & Byke Zion backpacking tent is a great option. It is made from ripstop, non-stretch polyester that ensures the longevity of this tent by preventing wear and tear. The footprint is 5000mm waterproof and will effectively keep water out.
This is a lightweight tent at just 3.1lbs. The 12 7000-series aluminum alloy tent stakes and reflective guy lines do a good job of keeping this tent's weight down. If you are wondering about storage, then you will be pleased to know that the mesh ceiling has a detachable loft pocket to attach your tent light.
The two-vestibule design can safely store your gear or dirty shoes outside without taking up too much space on the inside. For a quick and easy setup, you can use a pole that clips the tent into place.
11. Camppal 1-Person Backpacking Tent
Weight: 2.71lbs
The Camppal tent is suitable for our tall campers. It has a total extended length of 8.2ft long enough for a tall person to sleep comfortably. Not only do you get enough space to sleep, but the additional space can be used to store your gear and other belongings.
This 4-season tent has a waterproof value of 3500mm, and the 4 bottom corners come with seam taping. This does a good job at keeping water from entering the tent even when the rain is heavy. No matter how bad the weather gets, the aluminum pole construction is robust, and there is anti-tearing and ripstop fabric that prevents wear and tear. Setting up this tent is easy and can be done in just 3 minutes.
Conclusion
Though weight is an essential factor while backpacking, a more spacious tent provides better sleep in the backcountry. Roomy comfort inside the tent is important after a day's hike. Decisions.
Whatever you choose, you can't go wrong with this list of the best single-person tents for backpacking.